Addressing the Chicago oversight board president's recommendation about citizen complaints
Police Board President Lori Lightfoot wants to make it completely OK to lie in a complaint against a Chicago police officer
---
The president of Chicago's civilian police oversight board wants to remove from the police union's contract the requirement that citizens sign sworn affidavits to make a complaint against a cop. You read that right — Police Board President Lori Lightfoot wants to make it completely OK to lie in a complaint against a Chicago police officer. 
Saying that the requirement for an affidavit is something "that's gotta change," Lightfoot apparently believes that it "intimidates citizens" and prevents them from filing legitimate grievances. She said it is "a very big issue that stands in the way of legitimacy related to the investigation of citizens' complaints." 
During a City Council committee hearing on police accountability, Lightfoot then called on the public to generate "a groundswell of support" for changes to the contract.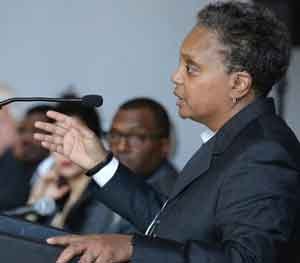 OK to file false claims against CPD officers
The Chicago Tribune reported that "Fraternal Order of Police leaders long have maintained that the affidavit requirement prevents a flood of frivolous complaints," and the FOP is exactly right.  
The suggestion that citizens not be held under penalty to tell only the truth while lodging a complaint is ludicrous on its face. It's illegal to file a false police report and it's illegal to perjure one's self in court. Why would it be okay to allow individuals to file false complaints? 
While people are very rarely prosecuted for making false allegations against police — some administrators say doing so would discourage the filing of legitimate complaints — the mere threat of that consequence very likely prevents many people with a beef against police from filing false claims. 
If the affidavit requirement is removed, while there would be no consequences for an individual filing a false complaint, there would certainly be a host of negative outcomes for the agency and the individual officer. Most notably, even if a complaint about an officer is found in an investigation to be untrue, that complaint could remain on that cop's record. And for the agency, the sheer number of complaints could have a crippling effect — when an untruthful allegation is made, tremendous police investigative resources are wasted.
A wrongheaded reform recommendation
The Chicago PD is under investigation by the U.S. Department of Justice amid several recent controversial officer-involved shootings— particularly the fatal shooting of Laquan McDonald by Officer Jason Van Dyke — and there have been cries in that city for police reforms. 
Indeed, police in that city can make certain improvements in the way they do business. However, Lightfoot's absurd suggestion that would allow a flood of false complaints to paralyze the agency is not only counterproductive, it's potentially dangerous. 
During an investigation, the officer against whom the accusation is made may be taken off the street and placed on administrative leave. This presents the very real cost of having fewer cops on patrol to keep neighborhoods safe. This would result in an even greater increase in crime in a city that has been ravaged by violence all year — at least 462 people have been killed in the Windy City so far in 2016. Chicago needs more cops on the streets, not less. 
The suggestion has little chance of being adopted — the FOP will vehemently fight it — but that Lightfoot even made such a proposal makes a person slap their forehead and say, "Wait. What?!"
What do you think? Sound off in the comments section below.