Conn. man's car is a mobile tribute to fallen police officers
With a license plate that reads, "FALLEN," the 2010 Scion now bears the names of 347 law enforcement officers
---
By Jesse Leavenworth
Hartford Courant
SIMSBURY, Conn. — Kayle "Rooster" Knight said he didn't choose an iconic American cop car for his moving memorial to fallen police officers because he's not a cop and doesn't seek to play one.
But the Simsbury man said he admires men and women in law enforcement and resolved to showcase his respect when "the war on cops" escalated. For the past three years, Knight has inscribed his 2010 Scion xB with the names of police officers and canines who died in the line of duty, in accidents and from illness, particularly COVID-19.
The decaled names of those who died through the end of September fill much of the small car's body. Connecticut cops' names are on the hood, including state Trooper Brian Mohl, who died in recent flooding, and New Haven police Officer Joshua Castellano, who was killed in a car crash in Las Vegas last month.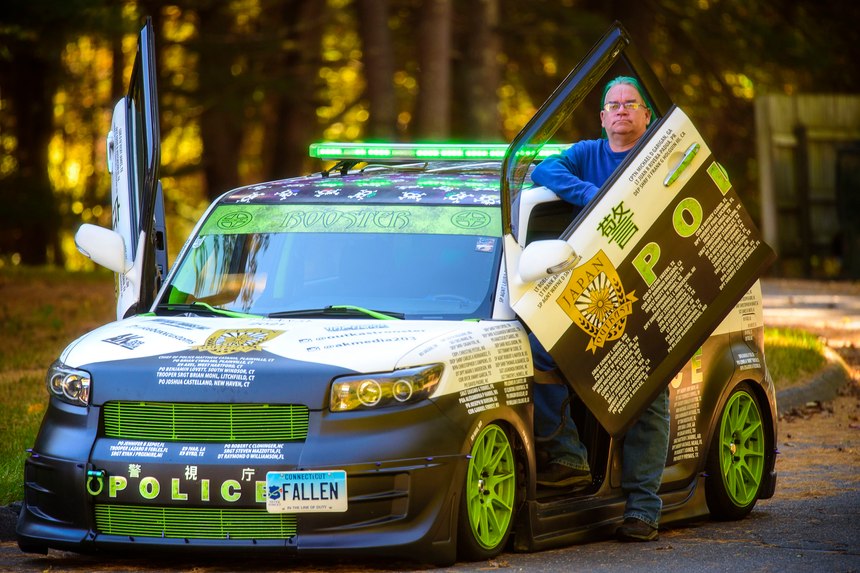 The black and white replica of a Japanese police car is Knight's daily transportation and he also takes it to car shows. At the close of the past two years, he has taken photos of the fully decaled car, posted the pictures on Facebook and then scraped off those names and started with a fresh slate on Jan. 1.
Knight gets names from the Officer Down Memorial Page, run by a nonprofit organization. With a license plate that reads, "FALLEN," the Scion now bears the names of 347 officers, troopers and other law enforcement agents, including police dogs, along with their ranks and the states where they served. Knight updates the rolling roster every month.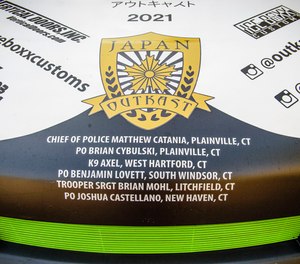 The married father of one daughter is disabled with amyotrophic lateral sclerosis, Lou Gehrig's Disease, a progressive neurodegenerative malady that causes muscle weakness and paralysis. Now age 50, Knight said he was told at age 18 that he would not make it past 21, but he beat the odds and traveling to 20-40 car shows each year is how he chooses to enjoy the time he has left.
Knight grew up in Virginia, where his mother and father served as Virginia Beach police officers. Living in Connecticut for the past 15 years, he said he has made many police officer friends, particularly in Simsbury. The local department recently posted photos of the xB on its Facebook page after Knight donated a best theme trophy from a recent car show.
"We thank Rooster for his years of support and honoring the lives of the fallen!" the post said.
[RELATED: Photos: Nation pays tribute to fallen LEOs during Police Week]
Knight got his nickname from a red mohawk he started sporting after hearing the ALS diagnosis as a young man. He said he decided then to live life on his own terms. The disease has paralyzed his left arm, Knight, whose hair is now colored green, said, so he does all the work on the car one-handed.
He said he'll continue the mobile tribute, his way of supporting those "who sign up every day" to serve others and put their lives on the line.
©2021 Hartford Courant. Visit courant.com. Distributed by Tribune Content Agency, LLC.
McClatchy-Tribune News Service