Discovery of murder victim in 2019 earns Ill. cop top department award
Officer Jeffery Waddell's sense that something wasn't right in an ordinarily uneventful neighborhood led him to taking a murder suspect into custody
---
By Jennifer Johnson
Pioneer Press Newspapers, Suburban Chicago
PARK RIDGE, Ill. — When Park Ridge Police Officer Jeffrey Waddell started his shift on a late July day in 2019, he never imagined he'd stumble upon an apparent homicide in the course of his normal duties.
Murders are rare in Park Ridge; coming across one that hadn't even been reported to authorities yet is even more unusual.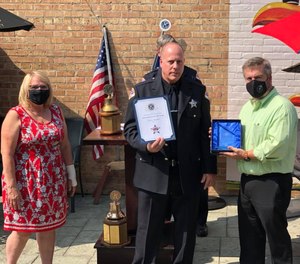 Leaders within the Park Ridge Police Department say it was Waddell's instincts and sense that something wasn't quite right on an ordinarily uneventful residential street that led him to uncover the body of Judith Krystyniak inside her home and immediately take her 47-year-old son, David, into custody. For this, Waddell was named Park Ridge Police Officer of the Year for 2020, an award that was presented to him in September.
"Even though I got recognized individually, it was a team effort because there were a lot of officers who did a lot of work on the case," said Waddell. "Our detectives did a lot, the crime scene guys from (the Major Case Assistance Team) task force did a lot of the investigative work. It was nice (to be honored), but I still feel it was a team effort."
Waddell was on patrol with the police department's social worker on the morning of July 29, 2019 when the pair drove by the Krystyniak home on Courtland Avenue. Waddell was familiar with David Krystyniak, he said, as he had assisted on some mental-health-related calls involving him.
"As soon as I pulled up to the house, I saw a bunch of things in the driveway that didn't make sense," Waddell recalled. "There was food scattered around, a gallon of milk and just random things you wouldn't have in your driveway."
When no one came to the door or answered the phone, Waddell and the social worker left, but returned a few hours later to follow up. This time, someone was there to meet them outside: David Krystyniak, Waddell said.
In making conversation with the man, Waddell said he detected something "was off." When asked several times where his mother was, Krystyniak gave conflicting answers, the officer noted, prompting him to ask if he could come inside the house. Krystyniak agreed, Waddell said.
The house was "a little more in disarray than it had been in the past," Waddell noted, and on the kitchen table there was something unusual.
"There was this big, long sword," he said. "I took possession of it and secured it because it was strange that it was sitting on a kitchen table."
Concerned that Krystyniak's mother had not come out to speak with him as she had during past visits, Waddell began looking around the house. In the family room, Waddell described seeing a large green garbage bin tipped onto its side with blankets and pillows thrown on top of it.
"I wasn't expecting to find what I found, but something wasn't right," he said. "With my foot, I moved a few blankets — I didn't want to touch anything — and I then I could see his mom laying in the garbage tote. There was blood and right at that point, I knew we had a crime scene. I got David out of the house immediately and put him in handcuffs. He didn't resist or anything. He was like, 'OK, OK.'"
The Cook County Medical Examiner's Office would later rule Judith Krystyniak's death a homicide. David Krystyniak was subsequently charged with first degree murder in the death of his 74-year-old mother, whom court documents say was stabbed with a samurai sword.
David Krystyniak entered a not guilty plea in October 2019 and remains in Cook County Jail custody without bond as his case continues through Cook County Circuit Court. His next court appearance is scheduled for Dec. 14, according to the Cook County Sheriff's Office.
A message left with Krystyniak's public defender was not returned. She earlier stated that Krystyniak had been diagnosed with a mental illness and had missed several court appearances following his arrest due to reported mental health issues while he was in Cook County Jail custody.
Waddell acknowledges that the moment he discovered Judith Krystyniak's body, his police training "just kicked in" and he focused on what he needed to do in that moment, which was securing the crime scene and taking a possible suspect, David Krystyniak, into custody for questioning by detectives.
"I don't think it was until a few days had gone by that it set in," Waddell said of the experience. "I had a few sleepless nights after that. But at the time it happened, your instincts just take over. There's adrenaline and you're focused on what you need to do."
David Krystyniak was known to the department as having a mental illness, but there had been no indicators of previous violence, Waddell said. Waddell's involvement with the family included being present at the home when David Krystyniak's mother requested he be taken to the hospital by paramedics and did not want to go, the officer said.
Park Ridge police frequently assist with calls that involve individuals dealing with mental health challenges, Waddell said.
"Typically, when somebody calls the fire department for a mental health transport, it is our protocol to respond for safety purposes," he said. "A lot of times we have multiple contacts with people at certain houses. First-timers do pop up, but we tend to go back to the same houses, unfortunately."
Officers receive mandatory training in de-escalation techniques, which are used in cases where a mental health issue is present, Park Ridge Police Chief Frank Kaminski has said.
"A lot of times our guys have rapports with these people," Waddell noted. "A lot of times they listen to the officer instead of their mom. Even with David, I didn't really know him, but I felt I'd been there enough times that I knew how to approach him."
Waddell said the training officers receive, known as crisis intervention training, has been helpful in teaching them how to properly respond and talk to individuals who may be experiencing troubling mental health episodes.
"We spend a lot more time dealing with these type of incidents," he said. "Sometimes you're at a home for an hour talking to a person, trying to convince them that this is what they need to do. In the old days, you would yell at them to get in the ambulance; that doesn't always work. Now we get better training and education that helps us deal with them."
A police officer for 25 years, Waddell served as a school resource officer at Maine East High School from 2012 to 2017 and at Maine South High School from 2002 to 2007. He is also a field training officer for the department, providing training to newly hired officers, and is the beat team leader for the department's Beat 5, which is located on the southern end of Park Ridge.
During a year that has seen protests against police happening across the country following the deaths of several black citizens at the hands of police officers, Waddell shared that locally, he has seen an outpouring of support.
"I feel like the majority of us are doing the right thing day in and day out," he said. "We are here to protect people and I think our citizens in Park Ridge, the majority of them, do appreciate it. I see it a lot. People will stop you on the street and say 'thank you.' You can be in line at Dunkin' Donuts and someone will say, 'Let me buy you a coffee.' People are really gracious in these times."
In addition to Waddell's recognition as Officer of the Year, the Park Ridge Police Department honored Ray Rasane, a member of the Park Ridge Citizens Patrol, as its Volunteer of the Year, for more than 10 years of service with the group, and recognized Krista Wroblewski as Employee of the Year for her work with the records department.
(c)2020 Pioneer Press Newspapers (Suburban Chicago, Ill.)
McClatchy-Tribune News Service