Ga. trooper comforts 4 siblings who lost their parents on Halloween night
Trooper Nathan Bradley took the children out to dinner and had a sleepover
---
By Alexis Stevens
The Atlanta Journal-Constitution
ATLANTA — There wasn't enough red face paint to make 8-year-old Daimean Howard into an angry wizard for Halloween. The red was spread as far as it would go, but looked mostly pink.
And what about some extra candy, mom and dad?
With four costumed kids at home, a Morgan County couple made a quick run to the store late Saturday afternoon to pick up the candy and the face paint.
After getting the goodies, Donald and Crystal Howard hurried back toward home. But they drove too fast on a curvy road about a quarter-mile from the house, the Georgia State Patrol said. In a split second, the Howard family was ripped apart. The couple's SUV, a 2015 Dodge Journey, left the roadway, careened into a ditch and went airborne before smashing into a tree.
Donald, who went by D.J., and Crystal died in the Saturday evening crash. The Howards were young. Donald was 33 and Crystal 29.
Hearing details of the crash on his radio, Trooper First Class Nathan Bradley headed toward the couple's home. "When it comes to the investigation," he said, "we're a little desensitized because it's something we see all the time."
But this time was different. Bradley made the quick drive to the house, where he was greeted by the four costumed children.
The youngest, 6-year-old Tayvion, was a firefighting Ninja Turtle. Daimean, with his not quite red face, was a wizard. The boys' 10-year-old sister, Amiah, was the daughter of Dracula. And the oldest, 13-year-old Justin, was Freddy Krueger. From behind a screen door, Justin told Bradley his parents had gone to the store and would return soon.
There was no way Bradley could tell them their parents were gone. The children's closest relative, a grandmother, lived seven hours away in Florida.
Bradley could have collected the kids and turn them over to social workers until their grandmother arrived. But he said he couldn't do it. Instead, the 24-year-old trooper decided he'd just take care of the four himself.
"Anyone hungry?" Bradley asked the four.
Again, the Howard children mentioned their parents would be arriving soon.
"It was important to me that I would not lie to them," Bradley said. "I acknowledged their statement and threw out that their grandmother would be meeting with us later that evening."
Minutes later, Bradley had four passengers buckled up inside his patrol car. After a quick trip to McDonald's for fries and a Happy Meal, the group settled on Burger King.
The children and their new trooper friend turned heads, Bradley said. The restaurant manager said they could stay as long as they wanted and gave each child a crown to wear. Justin hugged her tightly and said, "We give hugs in our family."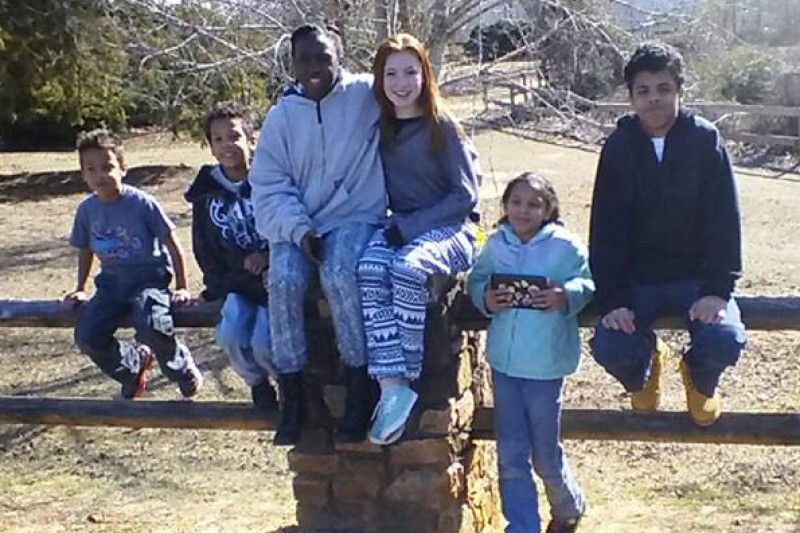 Howard Family (Facebook Image)
Bradley worked to divert the kids' attention, even telling them their grandmother was on the way for a visit. The children were chatty, telling Bradley about their parents and their favorite TV shows. It was almost as if nothing had happened.
But Justin, at 13, knew something wasn't quite right, and he pulled Bradley aside.
"Trooper, are you going to be honest with me?" Justin asked.
Bradley put his arm around the boy and looked him in the eyes.
"Buddy, everything's going to be alright," Bradley told the boy. "There will be a time for me to be honest with you, but I don't want to focus on that right now. Trust me, I will tell you everything."
Bradley drove the kids to his GSP post where everyone worked to keep them occupied.
Three residents who heard the news and felt the need to help arrived with decorated goodie bags of candy and small toys, which excited the kids. The local sheriff arrived later carrying four buckets full of candy.
After a night of movies and treats at the GSP post, all four children were asleep in makeshift bedrooms when their grandmother, Stephanie Oliver, arrived in the early-morning hours Sunday. When the four children woke up, they were told the news.
"We hoped that they would then relate the tragedy to Nov. 1, rather than Halloween," Bradley said.
Oliver called her daughter back in Florida, Sharlee Dismuke, to tell her the children now knew their parents would not be returning home. Dismuke said she was still struggling to believe her brother and sister-in-law were gone.
"I heard the little ones crying," Dismuke said.
Dismuke said she can't help but cry, too. But Tuesday, Dismuke said she forced herself to make room for four more children in the home she shares with her mother, 9-year-old son and a niece.
Oliver plans to return to Florida on Wednesday with her son's children.
Donald Howard, who had been released from the Army on a medical discharge, and his wife didn't have any real ties to Georgia. But the Howards enjoyed life in slow-paced Morgan County, where they home-schooled their kids and had six dogs. The Howards' home was filled with love and affection, Dismuke said. Hugs were plentiful.
The family is thankful the children will be able to stay together, just as their parents would have wanted, Dismuke said. But her own mother is dealing with several medical conditions and must have an additional surgery, Dismuke said. Plus, there isn't enough space in the family's current home.
"Everything's going to fall on me, and I'm stressed about it," Dismuke said. "I've only had my child and my niece. Six kids? That's a lot."
Officer Bradley said his job didn't end when the children's grandmother arrived. He wanted to do more to help, so he set up a hoping to raise enough money to have the Howards buried in Florida.
"I wanted the parents to be where the kids were going to be," Bradley said. "That was the goal."
In less than 24 hours, donations topped $33,000. By late Wedneday morning, that total climbed to more than $61,000.
"My mom can get a bigger house for these kids," Dismuke posted on her Facebook page. "God is so good!"
To donate to Howard children go to: https://www.gofundme.com/WreckOnHalloween
Copyright 2015 The Atlanta Journal-Constitution
McClatchy-Tribune News Service