How C.O.P.S. helps surviving police officers heal
Sadly, too many who will attend ceremonies during National Police Week 2014 still try to bear their burden alone — this need not be
---
One month from now — during National Police Week — family, friends, and fellow officers who have had one of their beloved LEOs killed in the line of duty will gather to honor and remember the fallen. Countless among us will descend upon our nation's capital for a series of weeklong memorial services and events, while others will stay closer to home, mourning in smaller groups during ceremonies equally powerful and moving. 
Those of us who will be in Washington, D.C. will light candles during the vigil and we'll leave mementoes at the wall. 
We'll cry. We'll gain strength not only in our own tears, but in giving another brother or sister a shoulder to cry on. Sadly, too many who will attend ceremonies during this solemn week still try to bear their burden alone. This need not be.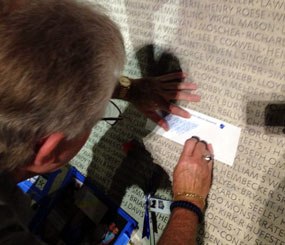 Year-Round Support
Concerns of Police Survivors (C.O.P.S.) provides a number of powerful programs to help survivors heal and learn to live fully once again. Several of those programs take place at Police Week in DC, while other C.O.P.S. events occur throughout the year to help new survivors when they need it, where they need it. Let's look at what's immediately upcoming, as well as what's on the horizon later in the year. 
During National Police Week 2014, C.O.P.S. — a National, not-for-profit organization with 54 chapters across the country — will host two events: the National Police Survivors' Conference (NPSC) and the C.O.P.S. Kids/Teens Program. 
Day one for both events is Wednesday, May 14, 2014. There is a break in each program on Thursday, May 15th so everyone can attend the National Peace Officers' Memorial Service, and the NPSC resumes on Friday, May 16th. 
Each gathering provides a safe haven for adult and minor-aged survivors to begin their grief journey after the death of their officer. During these events, survivors have the opportunity to hear from grief experts as well as build a peer network on which they will rely as they continue their healing. 
"Officers attending attend National Police Week in Washington really should consider attending the two-day C.O.P.S. Police Survivors' Conference," said my friend Pat Monaghan. 
Monaghan is the survivor of a horrific traffic collision and fire that claimed the life of his partner and friend, Mike Draeger. 
During the two-day NPSC in Washington next month, Monaghan will conduct a presentation entitled "Don't Call Me Lucky" in which he gives his firsthand perspective of an officer whose partner was killed. 
"Those escort officers who are in DC to assist the families and honor their fallen officers don't have to do anything other than show up to the co-worker sessions, and they'll walk out knowing that C.O.P.S. addresses their issues, too," Monaghan said. 
He recognizes that some officers may have difficulty talking about their incident — and their grief — while attending sessions in DC. That's why he tries to communicate to officers attending Police Week that there are other resources and events available to them. 
For example, by attending co-worker sessions next month in Washington, officers will learn about the annual Co-Worker Retreat, which takes place October 3-6, 2014 at the YMCA Trout Lodge in Potosi (Mo.). 
"We can't help our officers if they are unaware of the services that are available to them," Monaghan said. 
Survivors Speak Out
Several officers who have previously attended the events have confidentially shared their experiences, to enable survivors a glimpse into the value of those services. 
Eric Stacy is a patrolman for the Granite City (Ill.) Police Department and attended National Police Week in 2007 as the escort officer for the family of Jeremy Chambers of the Cahokia Police Department. 
"I didn't attend any classes or forums — I was determined to take care of the Chambers family," Stacy said. 
"At that time, I knew very little about C.O.P.S. and what they offered. Now, seven years later, I'm part of the Illinois Chapter of C.O.P.S. and have attended all four of the Co-Workers Retreats. I'm better for it and I feel that I continue to help others because of Jeremy Chambers and C.O.P.S."
Randy Campbell is police officer for the City of Glendale (Ariz.), and the son of Patrick Campbell who on September 22, 1985 was the first officer to die in the line of duty there. 
In October 2011, Campbell's fellow officer, Bradley Jones was killed in a shooting. 
Although he had trouble dealing with the loss of his dad and his fellow officer — and despite having received numerous invitations to C.O.P.S. events — he'd never attended, believing "it wouldn't help." 
A full two years after the death of Officer Jones, another officer in his department — who had attended the co-worker's retreat in the past — finally convinced Campbell to give it a try.
"I was skeptical and nervous to go," said Campbell, "[but] figured what I'd tried my entire life to move past my father's passing and Officer Jones' death hadn't been entirely working. When I arrived at the retreat I was met by friendly faces. I attended debriefings and seminars that provided me with tools to help be successful and also met additional officers that made me feel not-so alone."
Campbell spoke with counsellors who helped him realize that not only could he move past his own horrible experience, but that he could help others as well. He found courage to speak in front of everyone on the last day to share a small piece of his father's story 
"I assure you I would not have been able to do that the first day I arrived. I feel I helped others with a small piece of what they have been going through," Campbell concluded.
Gary Sommers just attended the co-workers retreat for the first time.
"I was involved in a 'blue-on-blue' shooting incident in 1988. I was a little apprehensive about how I would be accepted at this retreat, as I had shot and killed my partner and best friend in a narcotics raid," Sommers explained.
"I thought that I could be an example of someone who had gone through a terrible incident and survived. The other officers treated me with care and respect. My hope was to help other officers and I think I was successful, but I came away with an inner peace I didn't have before. 
"Being around all those officers who lost a friend or partner made me feel like I was not alone. The breakout sessions helped me to understand why I have the feelings I have, even after 25 years. I would recommend this retreat to any co-worker who has suffered the loss of a friend or partner. It is worth a weekend and the friends you make there can be friends for life."
For More Information
Officers, friends, and family members of the police heroes killed in the line of duty can view a complete list of the events held throughout the year here.