Hundreds mourn N.Y. state trooper who drowned in lake
Trooper James Monda's funeral drew police from across the country, as well as Gov. Kathy Hochul
---
By Brian Lee
The Daily Gazette, Schenectady, N.Y.
SCHENECTADY — Hundreds of law enforcement officers — from as far as New Mexico — and dignitaries poured into Schenectady Monday for the most somber of occasions: the funeral services for the line of duty death of New York State Trooper James Monda.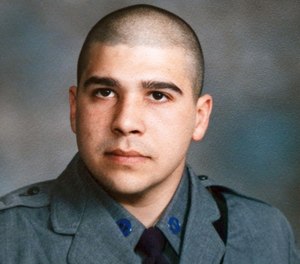 An 18-year state police veteran who lived in Rotterdam Junction, Monda was 45.
"A day like today is just a sad day for us as an organization, in addition to the obvious, which is a sad day for his family," New York State Police Superintendent Kevin P. Bruen told reporters outside Schenectady's St. John the Evangelist Church, where Monda's services were held.
Monda, a member of a marine patrol in Princetown's Troop G, died Aug. 22 working a marine detail on Great Sacandaga Lake. For reasons that remain under investigation, Monda went into the water with diving gear at the boat launch and did not resurface.
Monda was in the water on Bunker Hill Road in Northampton at about 4 p.m. and was pulled from the water after he did not resurface. The 1993 graduate of Mohonasen High School was pronounced dead at Nathan Littauer Hospital in Gloversville.
Speaking to the dangers of the profession, Bruen said "every trooper, and particularly, their families know that when you leave on a shift to work, you may not come back."
State troopers, lined up on Union Street outside the house of worship in approximately 12 rows, stood at ease. Gov. Kathy Hochul was distinguishable as she stood in the front row in black among a sea of gray-uniformed troopers.
The church seats 800 and was nearly full, according to a state police spokesperson.
Law enforcement agencies around the country, including Michigan State Police and New Mexico State Police, were in attendance, the spokesperson said.
"To have so many people come from around the country, literally, to show support, as we've done for them and will continue to do it means an awful lot to all of us," said New York State Police Major Christopher West, the commander of Troop G who worked closely with Monda.
Media representatives were not allowed inside the church, but West and Bruen spoke outside, remembering Monda's work ethic and willingness to help colleagues, even with personal matters while off-duty, and his sense of humor.
West called Monda a great guy.
"He was a hard worker. We selected him for a number of special details because of that work ethic that he had," said West, mentioning Monda's special assignments, such as the state fair, and as an ATV operator and short rifle member, in addition to the marine unit.
"When a supervisor and the state police describe someone as being a worker," Bruen added, "it may sound like kind of faint praise. But it's actually a very high compliment. It's our way of saying this is somebody you can rely on in a tough situation, who's out there all the time."
Monda, according to West, was respected and stood as one of the senior members at the Princetown station. He was looked up to by many.
West said one of Monda's station mates recalled Monda as "a guy that you could go to not only because he was a senior member of the station, but just because he was that person who would go help you out with any kind of chores or things you needed at your house, or personal things.
"And he was a jokester too, and well-liked and got along with everyone," West said.
To the collective pain the organization was going through, West said: "We're all hurting right now. But we also realize that we have an obligation to make sure that we give him a proper sendoff that he deserves, and rally around each other and we'll show we do the right thing."
Monda attended SUNY Schenectady Community College and received his bachelor's degree in criminal justice from SUNY Albany in 1998.
Prior to joining the state police in 2003, he was a corrections officer at the Ulster County Correctional Facility.
According to his obituary, he enjoyed hunting, fishing, ATVs, or anything outdoors and loved his cat, Max or any animal that crossed his path.
He leaves his fiancé, Teresa Kepler of Rotterdam; mother, Joan Monda of Rotterdam Junction; father James A. Monda of Rotterdam; sister, Jill Petitti of Rotterdam and brother Anthony Monda of Florida.
In his obituary, the family asked that memorial donations be made to the Animal Protective Foundation, 53 Maple Ave., Glenville, NY, 12302.
(c)2021 The Daily Gazette, Schenectady, N.Y.
McClatchy-Tribune News Service