Memorial for fallen Va. officer draws more than 2,000
Katie Thyne was remembered as a compassionate, understanding and empathetic officer
---
Peter Dujardin and Jessica Nolte
Daily Press
HAMPTON, Va. — About 2,500 people gathered Monday night at Liberty Baptist Church in Hampton to honor Newport News Police Officer Katherine "Katie" Thyne who was killed in the line of duty during a traffic stop.
As people filed into the church, a slideshow of photos of 24-year-old Thyne's life played on three TV screens. The images showed a smiling Thyne with friends and family including her 2-year-old daughter Raegan. Thyne graduated from the Police Academy in June 2019 and was working as a patrol officer in the South Precinct until her death on Jan. 23.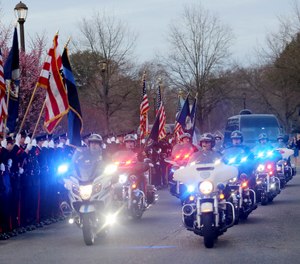 Pastor of Liberty Baptist began the service with a moment of silence, followed by applause for police officers. The Boston Red Sox sent a bouquet of flowers after the New York Yankees sent one last week.
The 24-year-old was the first Newport News police officer killed in the line of duty in more than 25 years, and the first woman officer slain on the job.
Chief Steve Drew remembered first meeting Thyne in 2018, saying she wasn't the tallest recruit but she had the biggest smile he'd ever seen
Thyne is a former Navy sailor who began with the department in November 2018, graduated from the academy last June, and was assigned as a patrol officer in the South Precinct.
Police said Thyne and another officer were questioning the driver of a parked car at Monitor-Merrimac Overlook Park on 16th Street in Southeast Newport News. The driver suddenly sped off, with Thyne caught in the door of the fleeing vehicle and dragged about a block.
Two days after her death, a large procession of police vehicles took her casket from the State Medical Examiner's Office in Norfolk to a funeral home in Newport News, stopping for a moment of silence at the South Precinct station on Jefferson Avenue.
She was flown from Norfolk to Boston on Jan. 27. A wake and funeral were held Friday and Saturday at Immaculate Conception Church in Lowell, Massachusetts, and she was buried with military and police honors will follow at the Lowell Cemetery.
Thyne graduated from Alvin High School, in Hudson, New Hampshire, in 2013. She joined the Navy right after graduation. The Navy Times reported that she served on the USS Abraham Lincoln aircraft carrier at Naval Station, leaving the service as a petty officer.
She made Newport News her home after the Navy and was still in the Navy Reserves. She was a coach of a girls three-on-three basketball team for the department's Chief's Challenge league at the Boys and Girls Club, Drew said.
The family's obituary said she met her former wife, Whitlee Thyne, in the Navy, and together they had a daughter, Raegan Grace.
Just after 6:30 p.m. Jan. 23, Thyne and another Newport News patrol officer were questioning Green on suspicion that he and a woman were smoking marijuana while sitting in the parking lot of Monitor-Merrimac Overlook Park on 16th Street.
Police said the car's driver, Vernon E. Green II refused several demands to get out of the car, when he suddenly started up the vehicle and took off. Thyne — standing near the open driver's side door at the time — became "trapped between the driver's door and frame of the vehicle" as it fled from the parking lot, court records say.
The car jumped a curb near a tree about a block away, crashing into a small red brick wall in front of a home. At one point, police said, Thyne was "pinned" between the car and tree. Thyne, found in the roadway, was pronounced dead about an hour later.
Green is charged with felony homicide — a form of second-degree murder for accidental killings committed during another felony. He's also charged with felony eluding of police and misdemeanor marijuana possession.
They teach defensive tactics, policies and procedures and other things at the academy, Drew told the audience Monday night, "But you can't teach compassion, understanding and empathy. With Katie we didn't have to ... It came from her family."
McClatchy-Tribune News Service