Port Authority PD's Pipe Band lost three members on 9/11, performed at scores of funerals
"As a pipe band, one of the most important things we do is help to bring closure after someone is killed in the line of duty."
---
By Thomas Tracy
New York Daily News
NEW YORK — When Port Authority Police Officer Brian Ahern graduated the academy in July 2001, the longtime bagpiper and Iona college grad had every intention of joining his department's pipe band, but he wanted to get settled in his new job first.
He didn't have the luxury of waiting. Three months later, he was part of the Port Authority Police Department's Pipes and Drums band, adding his bagpipes' sorrowful drone to funerals and memorial services for the thousands lost on 9/11 — including three of the band's own drummers.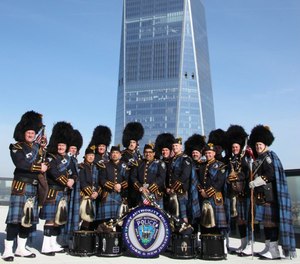 Shortly after the terror attacks, one of the band's leaders approached Ahern and said, simply, "We're going to need you to start playing."
"I said, 'Anything you need me to do.' He said, 'You got a kilt? We have a funeral tomorrow,'" Ahern, 44, said. "That was the start of me being part of this pipe band which I am extremely proud to be a part of."
After 9/11, the funerals and memorial services never seemed to end, remembered Ahern, who is currently the pipe major of the band, which celebrated its 40th anniversary in 2019.
"It was an endless wave to the point where it did get a little foggy," he remembered. "You were playing at these services and when that wasn't happening you were at work or helping at the Trade Center. When you weren't doing that you were trying to get some sleep because we were still working 16-hour shifts. Then we were back on the circuit. Sometimes we'd have two to three services a day."
At the same time, the pipe band was reeling from its own personal loss. Founding member and drummer Liam Callahan, as well as drummers Steve Huczko and Richie Rodriguez, were three of the 37 Port Authority police officers killed at the World Trade Center.
Rodriguez designed the band's current emblem and the tartan on the kilts the players wear. The tartan is registered in Scotland, making the blue and gold pattern exclusive to the Port Authority police, and is nicknamed "Clan Rodriguez," band leaders said.
At the time, the PAPD pipe band was already a small group of players. With the loss of their three drummers, their numbers were diminished even further. Luckily, they received assistance from other area pipe bands so they wouldn't miss a beat, Ahern said.
"It was a struggle for awhile, even after the services started to end from 9/11," he remembered. "We were still doing parades and medal services or just graduations and we were struggling. There were quite a few times we'd be doing a parade on the street and we didn't have any drummers."
It took a while for the band to get back to full strength. But going on a hiatus wasn't an option. To Ahern and his bandmates, being able to give a final salute was all that mattered.
"As a pipe band, one of the most important things we do is help to bring closure after someone is killed in the line of duty," Ahern said. "That was the most important part and all of these services were all very important to us. We have a great sense of pride that we were able to be with them that day."
To see the impact of their presence at all the 9/11 funerals, one has to look no further than Port Authority Police Officer Liam Huczko — Steve's son — who has been a drummer in the band since joining the department in 2014.
Growing up, Liam was his dad's roadie and would happily attend the many parades and events where the PAPD pipe band performed. He also remembered watching the band play at his father's funeral.
"I think it hit a little closer to home, because it was people we knew," said Huczko, 33. The Port Authority cop was 13 when his father died at the Towers. "There were a lot of familiar faces.
"Seeing them there and knowing that this wasn't the first one and, unfortunately, it wasn't going to be the last one they were going to do, I think the level of respect I had for the band increased. It wasn't just a band, it was a family."
Ahern recruited Huczko into the band when he graduated the academy.
"Being part of this pipe band and especially growing up with it, it's a humbling experience," he said. "I'm more or less following in my father's footsteps."
NEXT: 9/11: Reflections at 20 years
©2021 New York Daily News. 
McClatchy-Tribune News Service