The Up-Beat: Cops make bride cry tears of joy, fight cancer, pray for injured
---
By Police1 Staff
Lending a helping hand is part of the job for officers of the law — but their daily good deeds rarely make headlines. With our new series, we aim to bring some much-deserved attention to the little things our officers do for our communities every day. Check out this week's round-up of inspiring stories from around the country and send us your stories of cops being everyday heroes.
1. 'Motorcop' goes above and beyond in campaign against cancer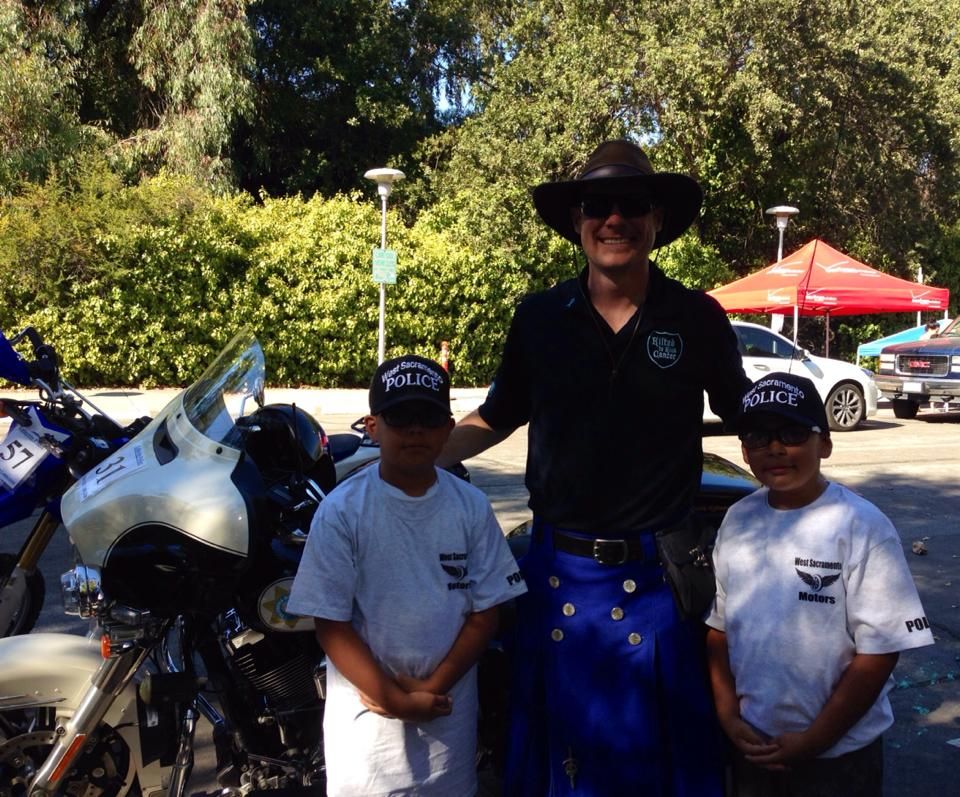 LAFAYETTE, Calif. — Most people know him by his blog alias 'Motorcop', but on Police1, we call him Officer Jason Hoschouer, our Motors and Monies columnist. 
As a co-founder of the organization Kilted to Kick Cancer, Hoschouer was at an event this past weekend to raise money, awareness and encourage others to wear kilts for the month of September in the battle against prostate cancer.
While at the benefit, a couple young fans spotted Hoschouer. He made their day by posing in a photo with them, according to Vanessa Flores, the mother of the two boys pictured.
Flores reached out to Police1 to tell us how excited her children were to meet their hero.
"Not all superheroes wear capes! As long as the kids believe Motorcop is a hero, you're a celebrity," Flores said.
Hoschouer felt humble about the whole event and told Facebook fans in a post, "From the bottom of my heart and with complete sincerity, I appreciate your reading, input, and kind words."
2. Ohio deputy helps homeless family
BUTLER, Ohio — A 25-year-veteran of the Butler County Sheriff's Office went out of his way last Sunday to help a homeless family, NBC New York reported.
Deputy Brian Bussell spotted the woman and her two children in the jail waiting room. When he asked them if anything was wrong, she told him she had been evicted from her home.
The deputy sprang into action and tried to get her into a shelter. When that proved to be unsuccessful, he paid for a hotel for her and her sons. He also took the family to Wal-Mart and bought them clothes.
No one at work knew about Bussell's kind act until the woman posted a photo on Facebook of her sons with the deputy. 
The department re-posted the photo and wrote how proud they were of Bussell.
"This is a true act of kindness," Sheriff Richard Jones wrote. "This speaks volumes in light of all the recent negativity people are saying about law enforcement. I have some of the best employees here."
The photo has over 17,000 likes.
3. Wash. officers step-in for slain deputy's daughter at her wedding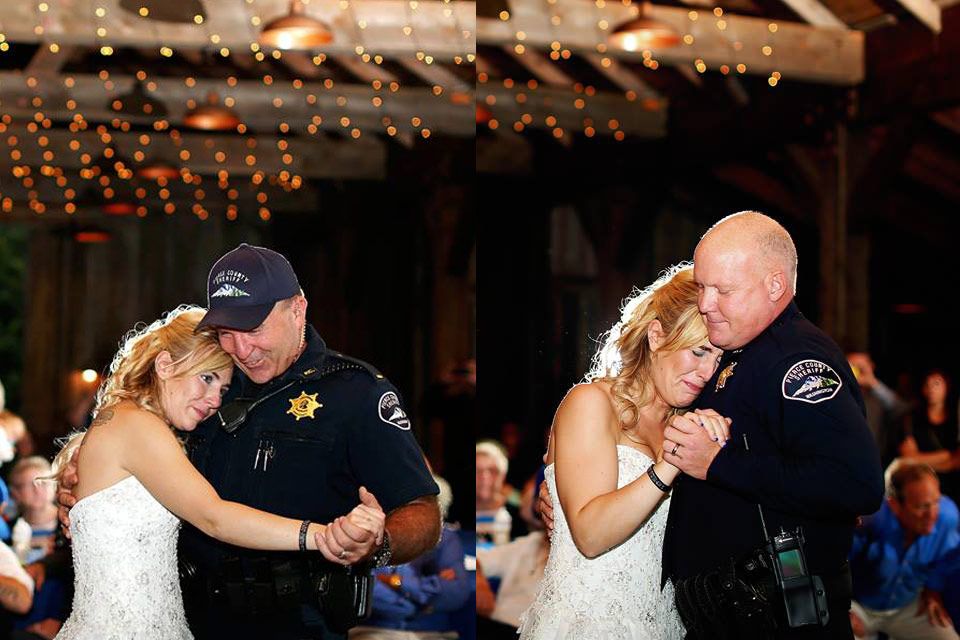 ​
BONNEY LAKE, Wash. — After Deputy Walter "Kent" Mundell Jr. was killed in the line of duty in 2009, his daughter was left without a father for some of the biggest moments of her life, Q13 Fox reported.
When it came time for Mundell's daughter, Kirsten, to get married, four officers helped make her day special by filling in her father's shoes.
Seattle Police Det. Don Jones walked Kirsten down the aisle and later at the reception, three Pierce County sheriff's deputies took turns for the father-daughter dance with Kirsten.
"It means the world to me, I know that they're always there for me no matter what," Kirsten told the publication. "They're family and they've shown that to me many times over the past, almost, six years."
The photographer captured the moments that brought Kirsten to tears and posted them on Facebook. The post has over 6,000 shares.
4. Miss. cop prays with dying man until his last breath
JACKSON, Miss. — Jackson Police Sgt. William Bright tried everything he could to save 37-year-old Anthony Boone after a fiery car crash, WSPA reported. 
Bright went through at least eight fire extinguishers trying to stop the flames from getting on Boone's body, he told the publication.
When Bright realized the situation was beyond his control, he stayed with Boone, talked and prayed with him until the end as the flames grew above his head.
"Of course I'm speaking to the good Lord," Bright told the publication. "I got there on my knees, I grabbed his hand and he grabbed mine. We were just squeezing hands together."
Bright told the publication he isn't a hero, but just doing his job. He also hopes the victim's family sees that he tried his hardest to save him.
"I had never met that man before. I didn't even know him, but he was a human being. So it was my job to do what I did," Bright said to WSPA. 
5. Off-duty Texas cop saves jogger's life with CPR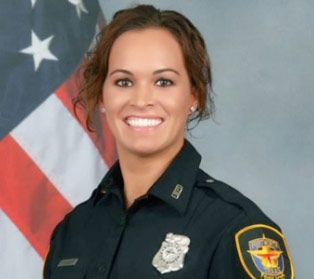 ​
FORT WORTH, Texas — Off-Duty Officer LK Bowden was in her front yard when she saw a jogger slumping over and dragging his feet, inForney reported.
As Bowden approached the man to ask if he was okay, he collapsed in the road. Bowden told the publication she noticed the man wasn't sweating even though it was over 90 degrees on Sept. 14. A neighbor stepped in to help Bowden as she called for 911.
When the man stopped breathing, she immediately began chest compressions. Bowden performed CPR for 15 minutes before emergency services arrived. The man was transported to a hospital and after a few hours, his heart began beating on its own.
Bowden stopped by to visit the man.
"He was joking around and laughing," she told the publication. "It was definitely a beautiful sight."