Trump pays tribute to fallen LEOs in emotional ceremony
President Donald Trump called the fallen LEOs "among the bravest Americans to ever live"
---
By Police1 Staff
WASHINGTON — President Donald Trump paid tribute to fallen law enforcement officers during an emotional ceremony Tuesday, calling them "among the bravest Americans to ever live."
Speaking during the 37th Annual National Peace Officers' Memorial Service on Capitol Hill, Trump vowed that his administration will "protect those who protect us," CNN reported. He also addressed the children of the fallen law enforcement officers who attended the ceremony.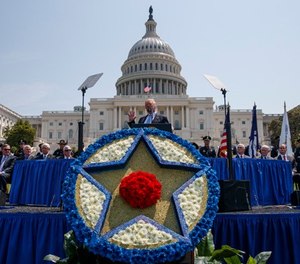 "I want you to know that your moms and dads are among the bravest Americans to ever live. When danger came, when darkness fell, when destruction loomed, they did not flinch," Trump said. "They were not afraid; they did not falter; they stared down danger, raced down alleys, chased down criminals, kicked down doors and faced down evil. Brave."
The president also shared several stories of fallen officers. He told the story of off-duty Officer Charleston Hartfield, who was killed during the Las Vegas mass shooting. Trump told Hartfield's children that their father "was a guardian angel to those in need" and that he's "keeping watch on you from heaven."
Trump also called for the death penalty for those who kill LEOs, according to CBS News. He said he's directed the Justice Department to do "everything in its power to defend the lives of American law enforcement" and to help "end attacks on our police."
"We believe criminals who kill our police should get the death penalty -- bring it forth," Trump said. "If we want to bring down violent crime, then we must stand up for our police; we must condemn dangerous anti-police prejudice."
Near the end of his speech, Trump invited the elderly mother and other family members of slain Officer Miosotis Familia, according to the Associated Press. Familia, a mother of three, was killed in July 2017 after being shot by a man who fired into a parked patrol vehicle. The gunman was later fatally shot by police.
Trump told the family it was "an honor to have you up here" and told Familia's children how proud their mother was of them.
"She's looking down, and she's so proud of you. She's so proud of you. And you are great," Trump said. "Your mom's legacy will never, ever die. You have good genes. Right? Good genes. The best genes I've ever seen."