University apologizes to daughter of slain Dallas officer after rescinding invite
The university rescinded its invitation for the officer's daughter to do an honorary serve during a volleyball game, saying the demonstration could be seen as "insensitive"
---
By Police1 Staff
DALLAS — Southern Methodist University issued an apology Friday after rescinding an invitation to the daughter of a slain Dallas officer to do an honorary serve at a weekend volleyball game.
WFAA reported Heidi Smith, the widow of Sgt. Michael Smith, posted an email from SMU on Facebook that stated her daughter, Victoria, could no longer perform the honorary serve. The email stated the volleyball program "...feels that in light of recent events and diversity within the SMU community, that the demonstration could be deemed insensitive."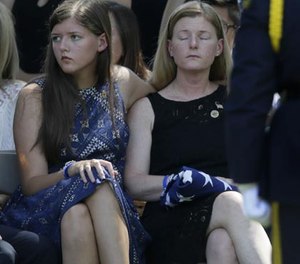 Michael Smith was one of the five Dallas officers killed in an ambush in July.
Victoria was offered an "autograph" session with the players after the game instead of the honorary serve. 
The school later issued an apology and reversed course after the email went viral. 
"The SMU Volleyball program extends its sincere apologies to the Smith family and is reaching out this morning to speak directly to Mrs. Smith to apologize and reinforce that the invitation stands. This incident does not reflect SMU values," the university said in a statement. "Due to a change in staffing, there was a breakdown in communication that led to this unfortunate situation. This communication to Mrs. Smith would never have occurred if proper approval and communications procedures had been followed. The invitation was intended to help a family heal, and we very much look forward to Victoria's first serve in the volleyball match Saturday."
Dallas Police Officer's Association President Fred Frazier said that besides an apology, the university needs to take further action. 
"For that college to sit there and slap them in the face, and rescind it, it's a slap in all of our faces," he said.