ACLU calls for 'mugshot makeovers'
Rights advocates argue that suspects "don't look their best" at the time of arrest, and that any long-term negative implications of a bad mugshot photo must be averted
---
The Chanda Lear Times
WASHINGTON — The American Civil Liberties Union thinks people suspected of criminal activities should be afforded the opportunity to "freshen up a bit" before having their picture taken at booking.
"They say a picture is worth a thousand words," said ACLU attorney I.M. Vulger.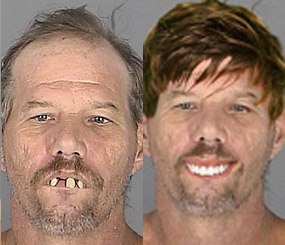 "Well, what's an unflattering picture worth? We think it could be worth a conviction. Juries are far more inclined to vote guilty for ugly people than they are for beautiful people. Probably."
Since booking photos are public record, the ACLU suggested in court filings that all booking photos be taken with soft-focus lenses, and that detainees be allowed to use Photoshop before any images are finalized.
"When cops haul people off the streets and stand them before the camera's unwavering eye, those individuals don't look their best," Ms. Vulger said.
The ACLU's most strident suggestion is that "a court-appointed barber (or beautician) must be made available... and consumer products including soap, shampoo, toothpaste, and basic beauty supplies like rouge, lipstick, and eye shadow should be stocked in police stations," according to a leaked ALCU memo dated April 1.
"If we agree that suspects are innocent until proven guilty, we should also agree that those suspects are unattractive only until the makeover."