PDs launch innovative – if unconventional – new units on April 1
Search and rescue dachshunds, skateboard patrol, and drug-sniffing rabbits – all definitely 100% for real
---
By Police1 Staff 
On Thursday, police agencies around the globe debuted unprecedented programs, all grounded in the latest policing strategies. Some of them are turning heads. 
From revamped patrol transportation to multi-species K-9 squads, here are some of the best new operations to hit the streets. 
NEW ZEALAND POLICE LAUNCH SKATEBOARD PATROL 
"We're rolling out a new form of transport. From now on, our officers will be patrolling the streets on skateboards." 
SOUTH AUSTRALIA POLICE DEBUTE DACHSUND SEARCH AND RESCUE K-9 UNIT 
According to police, the dachshunds will be deployed in small, hard to reach places like air ducts and under cars. The vertically challenged K-9s will also be harnessed to drones for tactical deployments. "It's going to be an absolute game changer," officials said. 
IDAHO POLICE DEPARTMENT INTRODUCES CERTIFIED DRUG-SNIFFING GOAT 
The Nampa Police Department in Idaho on Thursday introduced the newest member of its SRO Unit. Meet Wayne, a certified drug-sniffing goat. Wayne is the first goat to join the department's drug detection and interdiction program, according to the agency. 
IRVINE POLICE DEPARTMENT ADDS CATS TO K-9 PROGRAM 
The Irvine Police Department in California announced it would be expanding its K-9 program to other species. The new Kitten (K-10) unit will be primarily used for undercover duties, according to the agency. "Their quick reflexes, ability to slink around undetected, and fit in tight spaces," will be a real asset, officials said. 
RABBIT JOINS PD'S NARCOTICS ENFORCEMENT TEAM
The narcotics team with the Dixon Police Department in California was pleased to announce the addition of its first Bunny Uniformed Narcotics Enforcement officer (BUN-E). Officer Gyurina and partner Cinnabun recently completed a training program where Cinnabun learned obedience, narcotics detection, tracking and handler protection. According to the agency, Cinnabun has already made an arrest and is proving to be a huge success.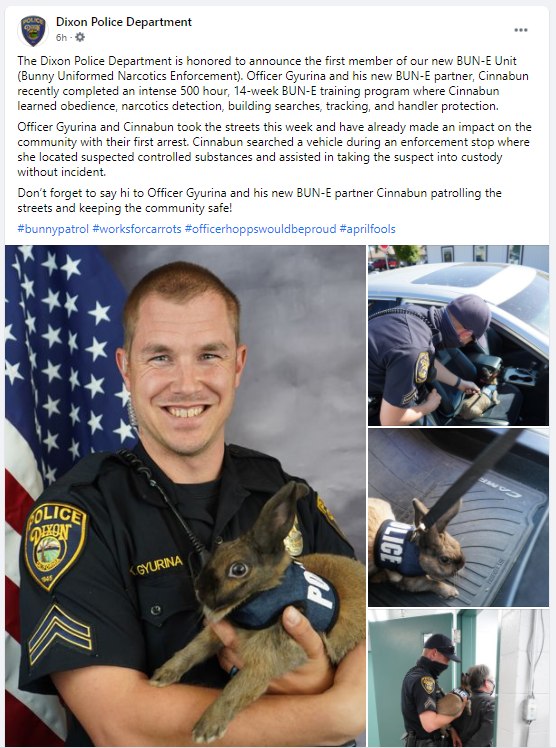 April Fools!