4 reasons to be a school resource officer
A school resource officer is not only a protector, but a role model for many kids
---
"If you want to get into law enforcement and make a difference in kids' lives, being a school resource officer is the way to do it," says Lieutenant Avrie Schott of the La Crosse (Wisc.) Police Department.
Schott spent several years as a school resource officer (SRO) at Lincoln Middle School in La Crosse, Wisconsin. She describes the school as a "little city," where she walked the halls and made many positive contacts in a day, getting to know as many kids as possible.
Here are four benefits of being a school resource officer: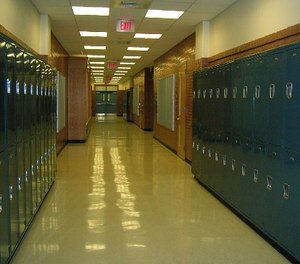 1. school resource officers Make a Difference
"This pays off when students are in crisis. They trust you and will come to you," reasoned Schott. For example, there was the time a girl came into her office on the first day of school. Schott had previously developed a rapport with the middle school student who sat down and confided that she had been experiencing repeated sexual assaults by a guardian. Schott conducted an investigation and was able to arrest the suspect, ending the torment the young lady was enduring.
2. school resource officers practice Proactive policing
As a school resource officer, Schott found many opportunities to be proactive. She was able to teach Gang Resistance Education and Training (GREAT) to six graders, educate seventh graders on the dangers of over the counter drugs and prescription drugs, as well as explain constitutional law to eighth graders, outlining why police have the authority to do what they do and how they should react appropriately when stopped by the police.
"I have given presentations on inappropriate touching and sexting."
This, as we sadly now know, is the current practice of kids sending nude and semi-nude photos of themselves from cell phone to cell phone.
"Many kids do not know that when they send a nude picture of themselves over the internet that they can be charged with distributing child pornography," explained Schott.
3. school resource officers conduct Real Police Work
Schott says that some people think that being an SRO "is not real police work." She has found this to be untrue. She explained that schools are like "little cities." The halls and lots are the streets where she had to break up fights, investigate crimes and respond to incidents where an officer is needed; much like working as a patrol officer. She was also able to address the root problems of kids at a critical age, when they are "apt to listen," as she puts it.
Instead of just writing a truancy ticket, she would often go to the home and find out why the child is truant. She has discovered that at times it has been because there have been problems directly related to the parents such as violence and abuse.
A school resource officer's daily contacts are powerful – the SRO is not only a protector and provider of safety, but a role model for many kids who sometimes have no other positive role models in their lives.
One ethics instructor who does an exercise in his academy ethics classes where he asks recruits to name role models in their life says, "In nearly every class I have done this exercise in, someone has named a school resource officer. Some of those recruits confided later that they had come from a violent home and the school resource officer had made the difference in their life."
4. school resource officers protect students
School resource officers are contacted by students not only because of their convenience, but also because of the relationship they have established based on respect and trust. During these contacts, they are told of impending fights, incidents of abuse, and the location of drugs and guns in the school.
In September 2006, a student became concerned and reported information to the vice principal and school resource officers at the Green Bay East High School. Three students were ultimately arrested and during search warrants police found their rifles, their sawed off shotgun, 20 "rudely constructed explosive devices," gas masks and their plans written out in detail predicting a blood bath at the school, which was thwarted.
The 2010 graduating senior class of Bridgewater-Rariton High School in New Jersey gave an appreciation award to its school resource officer, Arthur Akins, of the Bridgewater Police Department. They felt some of their class may not have made it to graduation if Officer Akins would not have followed up on a text message, brought to his attention by a concerned student. He immediately located the student, who sent the message.
During an interview the student told him, "I want to commit a Columbine." The student had purchased chains and locks for the school exits to increase the victim count in his planned attack. The student even admitted that a part of the plan was to cut Officer Akins' throat. The student was taken into custody and has been sentenced to three years in the New Jersey School for Boys in Jamesburg.
Schott explains that this is an example of what can happen when a school resource officer and educators "work as a team."
While Schott says the position of school resource officer is not for everyone, if the job suits you, "it is one job you can love!"
This article, originally published 12/01/2010, has been updated.