Building better officers: The importance of progression plans and rotational assignments
A formal plan that allows officers to grow and develop new skill sets will pay back dividends to your officers, your agency and your community
---
How do we help officers achieve the best possible level of performance? How do we reduce officer stress and turnover by improving job satisfaction? And how do we ensure we will always have a new generation of officers prepared for the challenging demands of leadership within our agencies?
These are issues faced by every law enforcement administrator regardless of tenure, agency size or budget that can be addressed by a progression plan and rotational assignments.
Much like competitive athletes, law enforcement officers at all levels exhibit "raw" talents, including leadership abilities. Much like competitive athletes, these raw abilities have to be refined and developed through a combination of coaching and experience in order for the officer to develop the skills needed to improve performance, as well as prepare them for career advancement.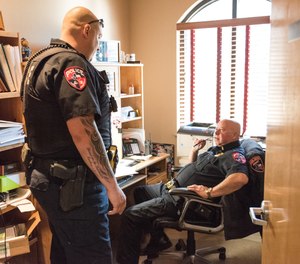 For most agencies, this structured process is known as a progression plan and normally incorporates the use of rotational assignments in job duties outside of patrol. Since individual agencies base their plan on department needs, plans vary in regard to requirements and complexity. The common theme for all comprehensive progression plans is to provide standardized training, education and experience requirements for each rank and level of leadership within the agency, along with rotational assignment opportunities for every officer to develop the skills needed to perform at each level and progress to the next.  
SUSTAINABLE PERFORMANCE
For most of us, our police career began in a highly structured environment. Every stage of our pre-hire, police academy and field training was structured so that we had to successfully complete a series of milestones in order to advance to the next phase. This structure resulted in well-defined roles and performance expectations.
Many officers, however, find that once the probationary period ends they are left with little or no career guidance or progression. The goals and ideals that brought them to pursue a career in law enforcement start to fade as the various realities of the job become more prevalent. By their fifth year on the job, law enforcement officers often describe entering a period of burnout, where the demands and realities of the job begin to overwhelm them. Feelings of indifference and apathy can have long-lasting negative effects and cause some good officers to leave law enforcement altogether.
Through the use of career guidance and enhancement tools such as formalized progression planning and rotational assignments, law enforcement leaders can create an environment where officers continue to take on new challenges in diverse roles that will help prepare them for the increased responsibilities of first-line leadership and beyond. Officers will be continually motivated and feel a greater sense of job satisfaction. A more well-rounded officer will have a broader range of experiences to draw from and be better equipped to serve their community.  
PROGRESSION PLANNING
Unlike succession planning, which delegates authority in the event of unavailability or incapacitation of one person to another, progression planning is the formal process of incrementally maturing an officer and preparing them for the next stage of their career or for the next level of leadership within the agency.
The progression plan is the "road map" for an officer's career and outlines the requirements of each level, coinciding with the agency rank structure.
Normally, the progression is divided into increments of three to five years per level, so new officers have an idea of the roles they will have in their agency over the course of a career. Agency leaders should give careful consideration to the mix of requirement ratios, so that an equal opportunity for advancement exists among officers with advanced degrees and/or military experience and/or years of prior service with outside agencies.
The line of progression up to the first-line leadership position is usually merit based, meaning that promotions are automatic once all requirements are met. Typical entry-level progression and rank examples would be probationary officer, police officer and master officer/corporal. Officers must attain the agency-prescribed mix of training, education, experience, time in grade, time in assignments and total years of service for each increment in order to advance to the next.
For example, a probationary officer may be required to satisfactorily complete all required training and achieve a satisfactory year-end review in order to progress to police officer. Progression from police officer to master officer/corporal may require a mix of four years of experience at the police officer level, five years of total law enforcement experience, and at least three years of experience in two separate rotational assignments or collateral duties such as evidence technician, first-aid instructor, or victim/witness representative.
First-line and senior-leadership progression is normally competitive based, meaning that promotions are awarded to those most qualified; examples are sergeant, lieutenant, captain, commander and deputy chief. In addition to the aforementioned agency-prescribed mix of requirements, these positions will most likely also require the candidate to fulfill additional requirements such as written job knowledge tests and oral interviews. Advanced degree completion and graduation from a command staff program or the FBI National Academy may also be required to assist the senior leadership professional in transitioning from their role as a tactical leader (skills performance leadership) to a strategic leader (mission and resource planning leadership).  
Effective and efficient strategic leadership requires a healthy understanding of the agency's role in community service, so community involvement is critical. Many departments consider including some type of civic leadership course requirement for senior and command staff. These sessions or classes are normally composed of leaders within the civic, academic and business communities and are sponsored by local colleges or chambers of commerce. These programs help participants gain an insight of their community from a different perspective, as well as help them expand their network of community contacts.
ROTATIONAL ASSIGNMENTS
Highly skilled patrol officers will always provide the foundation of operations within most conventional police agencies. By providing officers the opportunity to work in various rotational assignments other than patrol, we can build upon that base and leverage new skill sets and experiences in order to develop an officer better able to formulate solutions to both everyday and long-term challenges.
By incorporating the rotational assignments within a functional progression plan, officers gain a practical knowledge of the skills needed for each assignment while they are providing a diverse array of services to your agency and community. These skills can be built upon, so that officers are better prepared for their next assignment, as well as an eventual transition into first-line leadership.

Collateral duties
A rotational assignment may be assigned full-time or as a collateral duty. A collateral duty assignment is one that an officer can perform part time or as needed in addition to their regularly assigned duties.
Collateral duties may be part-time rather than full-time due to various reasons. Special operations and underwater dive team call outs, search and rescue missions and evidence technician responses to crime scenes are all examples of an "as-needed" collateral duty.
Other collateral duties may be performed seasonally or with the use of special equipment such as police mountain bike patrols, equestrian mounted patrols and marine patrols.
Some smaller agencies may make use of part-time collateral duties due to limited staffing. Officers who normally work patrol duties may be scheduled a certain amount of time per tour of duty where they are released from responding to routine calls for service in order to perform their collateral assignments such as crime prevention or drug education officer, as well as various specialized enforcement operations.
It is vital to remember that part-time positions still require the same initial training, equipment and continuing education as full-time positions.

Full-time assignments
Full-time rotational assignments take place in divisions other than patrol operations. Most will require the officer to accept the assignment for a term of three to five years, giving them ample time to learn the job and hone their skills before moving on to their next assignment, returning to patrol or being promoted. Traditional internal assignments are to another division within the department, while external assignments include local or regional task forces.
There are often fewer opportunities for officers to rotate through different full-time assignments in smaller agencies. This is unfortunate since it is smaller agencies that benefit most from full-time rotational assignments. However, a smaller agency can still have full-time rotational assignments with some outside-the-box thinking.
Similar to an agency partnership with its local school board to provide specialized school resource officers, there is an opportunity for everyone to benefit in situations where government offices that traditionally do not have their own law enforcement personnel such as city or county utilities, planning offices or revenue commission offices have an "embedded" law enforcement officer. The officer gains valuable experience in formulating non-traditional approaches to law enforcement problem-solving while the agency gains full-time, custom-tailored law enforcement support. The officer remains a member of the police department and an accounting arrangement is made to divide the cost between the police department and the other agency. Additionally, the cost of some positions can be further reduced by applying for salary and equipment grants.
Rotational enforcement and inspections assignments in other city or county departments can include the offices of housing authority, building/code inspector, business license inspector, parks and recreation, and environmental protection/sanitation departments. Investigative rotational assignment opportunities might be found with the district attorney, humane society, emergency management and fire departments. In any of these roles, officers will expand their resource network while learning new skills and problem-solving techniques.
WHY PROGRESSION PLANNING MAKES SENSE
Progression planning offers many benefits for both the officer and the agency. It allows officers to see what their career will look like over time. It gives everyone an equal opportunity for promotion within the agency. It provides consistency and stability by ensuring that all officers receive the same level of training and experience, which in turn allows the agency to provide a higher level of consistent service to the community. Finally, it helps to provide sustainability to the agency, as well as continuity of operations, by continually advancing officers.