Fla. sergeant fired over Parkland response to be reinstated
Sgt. Brian Miller, who lost his job after it was found he hid behind his car, will receive full back pay
---
Devoun Cetoute and Carli Teproff
Miami Herald
PARKLAND, Fla. — The Broward Sheriff's Office sergeant who was the first supervisor to respond to the Marjory Stoneman Douglas High School shooting and lost his job after it was found he hid behind his car as the first shots rang out, will be reinstated, awarded full back pay and get back his seniority, the BSO Deputies Association said Wednesday.
Sgt. Brian Miller was one of the four deputies who were terminated because of a "neglect of duty" in the Feb. 14, 2018, Parkland shooting, which killed 17 students and faculty members and injured another 17.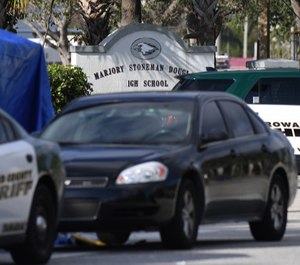 Miller, 57, was paid $138,410.25 in 2017, according to the Sun-Sentinel. The BSO veteran had challenged the decision with union backing. An arbitration ruling found "BSO violated Sgt. Brian Miller's constitutional due process rights and improperly terminated him," the union said.
BSO fired Miller in June 2019.
On Feb. 14, 2018, Nikolas Cruz, then a 19-year-old former Stoneman Douglas student, entered the school and opened fire, using a semi-automatic rifle to kill the students and staff.
BSO was criticized for its response to the shooting.
Then-Sheriff Scott Israel faced backlash from Broward Deputies Association President Jeff Bell, who said at the time Israel was going after deputies and sergeants by suspending them, but allowed Capt. Jan Jordan to resign.
Jordan took charge of the scene. She arrived within seven minutes of the first shots being fired and did not urge deputies to go into the school, according to reports at the time.
Deputies Edward Eason, Joshua Stambaugh, Scot Peterson and Miller were all fired months after the shootings. The sheriff's office internal investigation had found they all failed in their duties.
According to a report by the Marjory Stoneman Douglas Public Safety Commission, which investigated the shootings, Miller was the first supervisor to respond; he arrived as shots were being fired. He hid behind his police cruiser and did not radio in for 10 minutes.
Eason, an 18-year veteran, failed to immediately enter the high school grounds, and drove away from the gunfire to another part of campus to put on his bulletproof vest, the report found. The report also said Eason never activated his body camera and told investigators he didn't know where the shooting was coming from.
Stambaugh, a 20-year veteran, was working off-duty at a nearby private school when the call went out for help. His body camera caught the sounds of Cruz's last gunshots as he hid behind his cruiser, at one point telling a supervisor that three people were down, the commission said.
It is not known if Eason and Stambaugh challenged their terminations as Miller did.
Peterson was the school resource officer at the school and was charged with 11 felony counts, including child neglect with bodily harm, culpable negligence and perjury. His case is still pending.
As a result of BSO's response, Florida Gov. Ron DeSantis suspended Israel from his post in January 2019. The Florida Senate voted 25-15 to remove Israel in October 2019.
DeSantis appointed Gregory Tony, who is mired in a reelection battle against Israel and others seeking the top law enforcement job in Broward County. The Democratic primary is in August.
Tony recently suspended Bell, the union leader, with pay, accusing him of corrupt practices, conduct unbecoming an employee, and violations of policy on truthfulness, employee statements and discretion.
McClatchy-Tribune News Service