State your case: Should prospective cops be required to have college degrees?
"We may have a false choice to make here: college or no college."
---
In this State Your Case, columnists debate the question: Should prospective cops be required to have college degrees?
The ground rules: As in an actual debate, the pro and con sides are assigned randomly as an exercise in critical thinking and analyzing problems from different perspectives.
Our debaters: Jim Dudley, a 32-year veteran of the San Francisco Police Department where he retired as deputy chief of the Patrol Bureau, and Chief Joel Shults, EdD, who retired as chief of police in Colorado.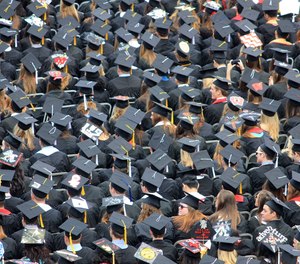 The issue: This past November, two California police organizations proposed legislation that would require prospective officers to complete some college classes that the two groups said would target specific areas to help officers better relate to the community. A month later, Assemblyman Reggie Jones-Sawyer, D-Los Angeles, introduced a proposal that would require anyone who wants to be a police officer in California to have a bachelor's degree or turn 25 before starting their career.
Jim Dudley: If law enforcement wants to truly achieve the mantle of "profession" then requiring officers to have a higher education degree is essential. 
To trace policing to its origins, we may recall brawn over brain as the most desirable trait sought by those desiring law and order. Over time, however, police officers have been tasked with being smart and efficient. 
Today's law enforcement professionals require the ability to read people, data, technology and forensics. An advanced understanding of social and psychological influences is needed to be an expert in policing. Higher education better prepares officers for what they are being asked to do in law enforcement today. 
Joel Shults: I marched into my police career with a two-year degree. I progressed over time to a four-year degree in criminal justice, then a master's in administration, and finally a doctorate in education. Along the way, I've taught in several different college environments, two police academies, and in both in-person and remote learning environments, all while remaining an active certified peace officer in both patrol and administrative positions.
In the course of my career, I've met practitioners in the field who range from adequate to brilliant in their craft. Seldom was the defining difference whether they held a college degree or not.
I am obviously an advocate of education and training. The question is, what kind of skills are gained in our academic classrooms? As a professor, I know that learning comes from a combination of exposure to facts, active engagement with the knowledge to which we are exposed, the social interaction that cements our engagement with both the facts and how they relate to us collectively and culturally, engaging with facts and skills using multiple senses, and finding relevance to knowledge in order to employ it. We find gaps in those principles in all of our current ways of becoming police officers. There are tremendous inadequacies in our academy training, field training and in-classroom training.
The solution to those gaps is not increasing college classes, but examining the real-world needs of today's police officers working in an incredibly complex milieu of demands and expectations and forging a regimen of knowledge, skills and aptitudes to equip our officers. The letters on our resume seldom reflect those demands.
Jim Dudley: Joel, you and I have very similar backgrounds (yet we always seem to disagree in this column). I too went into policing as a 21-year-old with a two-year degree. I earned my bachelor's in criminal justice and then my master's degree in criminology much later in my career. Today, I teach four criminal justice classes with 135 students currently, all of them are criminal justice majors. I am lucky to be teaching upper-division students, yet they still have many misconceptions of police, police work and the justice system. Many of my former students have gone on to be police officers, probation and parole officers, counselors, attorneys, or other careers in the justice field.
To a person, they say they obtained a better understanding of the profession from their criminal justice studies and it helped them from the police academy through to being in their permanent position. They often remark that the benefits of the college degree in the field helped them understand constitutional policing, ethics and problem solving, as well as myth-busting the urban legends they thought were true of policing.
Once in the profession, cops are asked to manage other cops and civilians, crunch data, comprehend forensics, learn and understand legal concepts, manage budgets, and conduct myriad other duties as they promote or advance to roles in patrol, analytics and administration.
I honestly believe college students learn better writing skills that will help them in their careers, as well as critical thinking and social skills. It seems that the best cops are those who can talk with people from a variety of perspectives, races, genders, ethnicities and beliefs. Of course, you can gain those skills working in a hardware store or fast-food joint, but evidence-based knowledge is a great foundation. Speaking of foundation, the National Police Foundation and others have looked at the effect of college on cops and although not definitive, most of the studies have said that better decision-making regarding use of force always seems to have a positive pattern.
Joel Shults: We may have a false choice to make here: college or no college. There may be a better way than the college plus academy track.
There are studies that indicate degreed officers have better outcomes in some areas, but that may be less from the academics and more from other things like a desire to make the time until they are age-eligible for entry into policing a productive season of life, the trait of delayed gratification, association with a diverse population, independence from their support system, and so on.
There is no knowledge wasted in law enforcement and other modes of learning and experience have great value. True reform in police training will come when we develop a career training path that doesn't immerse young police officers in college debt and indoctrination in the increasingly left-wing ideology in university settings.
Considerable changes need to be made in the function and financing of law enforcement training to create a well-balanced curriculum for the future. There is little consistency in criminal justice degree programs and great merit in non-criminal justice areas of study. That makes it apparent to me that the value of a college degree lies less in the academics and more in a variety of other life skills that could be absorbed in police academies that are longer and more comprehensive.
We have the most college-educated cadre of police officers in history right now and it hasn't solved the problems that have been identified or alleged within recent history. Until society and the profession re-imagine what we really want from our police officers, a college education is not likely to resolve the ultimate questions of our profession.
Jim Dudley: We are on track with our goals of professionalism in policing. In a recent Police1 survey of over 3,000 respondents, more than 85% had an associate degree, bachelor's, master's, or above.
Today's cops are smarter than previous generations. We demand degrees at most agencies when considering candidates for promotion. They learn academics, of course, but more importantly, they learn the social skills necessary to deal with so many segments of society. I may be overly optimistic, but I'm encouraged by the numbers of those seeking law enforcement careers who see a college education as another worthwhile endeavor on the way toward their goal. 
Joel Shults: If the great majority of officers already have college, then the problems that the profession faces are not those that will be solved by a college education. Perhaps the problems that the reformers and critics claim either don't exist, or we need a new training paradigm in response to them.
What do you think? Email editor@police1.com.
NEXT: Read more "State your case" debates here.
---
About the authors
James Dudley is a 32-year veteran of the San Francisco Police Department where he retired as deputy chief of the Patrol Bureau. He has served as the DC of Special Operations and Liaison to the Department of Emergency Management where he served as Event and Incident Commander for a variety of incidents, operations and emergencies. He has a master's degree in Criminology and Social Ecology from the University of California at Irvine. He is currently a member of the Criminal Justice faculty at San Francisco State University, consults on organizational assessments for LE agencies and co-hosts the Policing Matters podcast for Police1.
Joel Shults operates Street Smart Training and is the founder of the National Center for Police Advocacy. He retired as Chief of Police in Colorado. Over his 30-year career in uniformed law enforcement and criminal justice education, Joel served in a variety of roles: academy instructor, police chaplain, deputy coroner, investigator, community relations officer, college professor and police chief, among others. Shults earned his doctorate in Educational Leadership and Policy Analysis from the University of Missouri, with a graduate degree in Public Services Administration and a bachelor's in Criminal Justice Administration from the University of Central Missouri. In addition to service with the U.S. Army military police and CID, Shults has done observational studies with over 50 police agencies across the country. He has served on several advisory and advocacy boards, including the Colorado POST curriculum committee, as a subject matter expert.