How 3D printing can benefit SWAT teams and bomb squads
If you can draw a circle, a square and a line, you can draw just about any idea out there, and develop a product that solves your problem
---
Article reprinted with permission from Tactical Solutions Magazine, a publication of the International Tactical Training Association. 
By Harold "Skip" Harris
The Utah County Sheriff's journey into 3D printing started during Utah County Metro SWAT's "Hell Week" 2017. I was assisting with a breaching demonstration and, as early spring can be in the Rocky Mountains, it was wet, rainy and cold.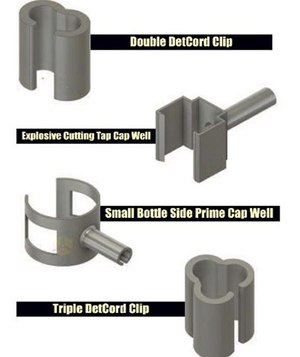 We had a newer cadre of breachers for the demo. The doors we were shooting were solid oak so we were using dual and triple strands of det-cord strip charges. We were having an issue getting the electrical tape to stick, and a hard time getting the det-cord bundled uniformly in the manner we needed for the charge to work correctly. We muddled through. Other than the tape issues, it was a great night.
The issue with the tape and det-cord stayed on my mind. I kept thinking there had to be a better way.
I had been doing some contract work with Boise-based WMDTech, which has several 3D printers, so I wanted to see if they could 3D print a clip that would hold the det-cord together quickly and securely in any weather. I could see the clip in my mind, but was unsure if I could convey the idea to the folks at WMDTech.
I explained the clip to one of WMDTech 3D Printer R&D guys – Kealyb Draper – and to my surprise, he took a break from the project he was working on, grabbed some calipers and we set out to design a det-cord clip.
Within just a few minutes, Kealyb had the clip drawn up and it was on its way to the printer. The clip worked just as I hoped it would. I was holding an idea in my hands that just a few hours earlier had been a concept in my head! ­
Taking ideas from concept to fruition
I have been in law enforcement since 1984, and a SWAT team member and bomb tech most of my career. During those years, many ideas have been drawn up on napkins while talking shop with other team members and techs. Few, if any, came to fruition due to lack of money, time and ability. But seeing how easily WMDTech had printed up the clip, it made be reconsider some ideas that had been gathering dust.
The folks at WMDTech helped me learn to draw and print my ideas, but as the company was so busy, I could not get 3D printer time, so WMDTech owner Robert Brown offered to get me a 3D printer for R&D work. Soon I was showing the guys on the bomb squad and SWAT team what I was doing, and they started to share their ideas. The best part was getting an idea, going home to draw it up and print it out overnight, and then bringing a finished product back to the station the next day.
Soon the Bomb Squad Commander Sgt. Peter Quittner was taking an interest in what I was doing. Working with WMDTech, Sgt. Quittner researched and found grant money to purchase a 3D printer. There are many different brands and types of 3D printers, so which one to pick?
How to choose a 3D printer
There are two main types of 3D printers for SWAT and bomb squad applications:
1. Fused Deposition Modeling (FDM)
Think of this printer as an automatic hot glue gun. Filament is fed into a heated head with a nozzle .4mm or .6mm in size. The head moves like a CNC machine depositing heated filament as it moves in layers.
FDM is the most common 3D printing method used in desktop 3D printing. The thermoplastic filament is heated and extruded through an extrusion head that deposits the molten plastic in X and Y coordinates, while the build table lowers the object layer by layer in the Z direction. Effectively, the object is built from the bottom up. If an object has overhanging parts, however, it will need support structures that can be removed after the printing is finished.
2. Stereolithography (SLA)
SLA has the distinction of being the oldest of the 3D printing technologies, first invented by Chuck Hull in 1983. SLA works by exposing a layer of photosensitive liquid resin to a UV-laser beam so that the resin hardens and becomes solid. Once the laser has swept a layer of resin in the desired pattern and it begins to harden, the model-building platform in the liquid tank of the printer steps down the thickness of a single layer, and the laser begins to form the next layer. Each layer is built on top of the preceding one. Like the FDM 3D printer technology, objects with overhangs 3D printed with this type of 3D printer will require support structures. And after printing has completed, the object must be rinsed with a solvent. Sometimes it's also baked in a UV oven to finish processing.
SLA is increasingly popular in industries like jewelry and cosmetic dentistry for creating molds. Waiting for two more steps was a downside to us as we did not want to go through the extra steps before we used the print.
There are several other types of 3D printers on the market, but they did not fit into the build model or price range for an entry-level printer. 
We decided the FDM printer worked best for the bomb squad and SWAT applications. Plus, it was cheaper and easier to use.
Learning how to draw and print on a 3D printer
At this point we knew we needed to put a course together to teach SWAT and bomb techs how to draw and print 3D objects. I went back to my mentors in 3D printing at WMDTech – Brown and Draper – to come up with a pilot course to teach SWAT and bomb techs how to draw and print 3D objects.
If you can draw a circle, a square and a line, you can draw just about any idea out there.
In the summer of 2017, WMDTech taught the first 3D printer course to four members of the Utah County Bomb and SWAT team and three members of Provo Police Department's Bomb and SWAT team.
Since that day, the Utah County Bomb Squad has had the 3D printer in almost constant use, sharing it with Provo. The captain of the Provo Police Bomb Squad is currently trying to get funding for a second 3D printer.
How much does 3D printing cost?
It is very cheap to print ideas. We print most of our ideas in ABS or PLA plastic. However, the Utah County Sheriff's Office printer will also print nylon, carbon fiber and a host of other filaments. The filament you use is dependent on the application.
The det-cord clip that started this journey cost a fraction of a cent to print. Most prints cost less than one dollar to print. With the small cost, if you print something and it doesn't work, you can easily modify it in the drawing and print it again.
Once you have the item fine tuned, you save that file and you can print it as many times as you like. The cost of the filament is cheap. You can get a 3 kg or 8 LBS roll of ABS for around $79 and it comes in 12 different colors. An 8-lb. spool of filament will provide many hours of printing, resulting in many prints.
Without 3D printing, the cost of creating the det-cord clip and sharing it with other breachers and bomb techs could have cost $10,000.00 for an injection mold. Then we would have had to pay for a run of 10,000 pieces at a minimum. That small part would then be $1.50 each, which is the cost just to produce and does not include other costs like shipping. If for some reason there was an issue we could not foresee, and the item had to be changed, we would have to start all over again with another $10,000.00 mold.
With 3D printing, if you need to change the item, you simply change the drawing. This is easier than you might think. You would only need to print it again.  
The Utah County Sheriff's Office has a Fusion 3-400 printer that cost $4,950.00. The cost included the extended warranty, software licenses for the slicing software and filaments to get started.  
Sgt. Quittner obtained grant money to purchase the printer. That printer has printed items for the jail, search and rescue, bomb squad and SWAT. The Utah County Sheriff's Office 3D Printer has already paid for itself and it's less than a year old.
The next step: Setting up a shareware site
We have been spreading the word and drawing new ideas every week. Sgt. Quittner and the other bomb squad commanders in the Utah Bomb Squad Taskforce are looking to use a server where we can put our designs and share them with other SWAT and bomb techs free of charge.
The goal is to create a shareware site for law enforcement only. The site will allow any vetted law enforcement officers to download or upload files for free, sharing valuable ideas nationwide. There is one big catch: the ideas on the site must remain free. You must agree that any idea you download from the site cannot be patented and/or sold.
How to get started 3D printing
WMDTech now has a 3D printer course for SWAT and EOD where you learn how to draw and print simple and complex tools that can be used in many ways.
For more information, call 800/WMDTech, visit www.wmdtech.com or email sales@wmdtech.com.
---
About the author
Sgt. Harold "Skip" Curtis has 32 years of law enforcement experience with the Utah County Sheriff's Office. Sgt. Curtis was a member of the Utah County Metro SWAT Team and is still a member of the bomb squad with Utah County Sheriff's Office. Sgt. Curtis also works as an SME for the Department of States Anti-Terrorism Assistance (ATA) program. Sgt. Curtis has trained units in a number of different countries since 2006 including Tanzania, Tajikistan, Macedonia, Jordan, Ethiopia, Egypt, Lebanon, Mexico, Afghanistan, India, Greece, Bulgaria, Philippines, Nigeria, Kenya, Kurdistan and Australia.
Request product info from top 3D Laser Scanners companies
Thank You!