PoliceOne Holiday Gift Guide
Need a gift idea for your favorite cop? We've got you covered.
---
By Police1 Staff
We've put together a variety of gift ideas for the favorite police officer in your life. From toys to training, we've got you covered in this year's Police1 Holiday Gift Guide.
MONOPOLY: Law Enforcement Edition, $39.95: Got a beef with someone in your unit? Settle it old-school, with a grueling round of MONOPOLY. In this version, the classic game has been given a law enforcement twist. Instead of collecting real estate, players compete with their fellow cops to build and take command of all the precincts and headquarters on the board. And just like in the original game, players can wind up in jail, so watch your six boys and girls. [Emergency Services Play]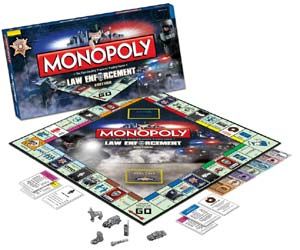 True Blue: Police Stories by Those Who Have Lived Them, by Sgt. Randy Sutton, $6.95: Sutton, a recently-retired detective with the Las Vegas Police Department, asked cops across the country to submit stories that show what the life of a cop is really like. This book is the result. New York Daily News said of the collection, "A simply great new book…funny, sad, and, at times, haunting, the essays capture mundane events, as well as tragic ones." Sounds like a good bet for the bookish cop in your department. [Amazon]
Highway Patrol Mouse, $49.95: Got a gear head on your team? Get 'em this: Chevy Camaro Series Car Mouse. Officers working a beat shouldn't be the only ones with the chance to flex some raw horsepower. Give the desk jockey in your squad a chance to zoom down the information superhighway (Get it? Highway — because it's a car!) in this replica pony car. [Roadmice]
Fox TDI Law Enforcement Knife, $38.95 - $56.99: There's a good chance this small, oddly-shaped knife is alien technology that was brought to earth in the center of a meteor. Wherever it came from (okay, not aliens: KA-BAR), this little blade is bad. Made of black powder coated stainless steel, with a textured Zytel handle, this "last option" knife comes with a hard plastic friction sheath that fits perfectly on your utility belt. [Amazon]

Ticket to Street Survival Seminar, $215 per officer, $75 for spouse: If you really want to take care of the cop in your life, get them a gift that will endure for a lifetime: knowledge. (We're pretty sure the alien knife will also last a lifetime.) Calibre Press offers Street Survival Seminars year round, with upcoming events in Atlanta, GA on January 25-26 and Atlantic City, NJ on February 9-10. According to their website, the seminar will help you gain insight into new less-lethal technologies, prepare yourself and your family for an off-duty crisis, overcome the "routine" nature of police work, and much more! [Calibre Press]

Survival Straps, $22-33: Whatever particular crisis you're dealing with — on or off duty — one thing officers can always use is a sturdy piece of rescue line. The surprisingly cool-looking Survival Strap Bracelet is actually a tight weave of up to 24' of 550# military spec paracord. Use it to lower your family off the roof or, in a pinch, tie your mattress to your car. [Survival Straps]
Do you have interesting gift ideas? Share them with your colleagues in the comments section below!