Spotlight: High Speed Pro's Silicone Rings are a safer alternative to traditional metal wedding bands.
The high performance Silicone Wedding Bands by High Speed Pro can be worn all the time
---
Company Name: High Speed Pro
Headquarters:   Bristol, Illinois
Signature Product: Silicone Wedding Band
Website:  www.highspeedpro.net/
High Speed Pro manufactures high performance Silicone Wedding Bands that can be worn all the time. The ring is tough, durable and waterproof. The Silicone Wedding Band ensures that your wedding band will never again be removed (and possibly lost).
Designed with a simple dome top and a smooth comfortable fit on the inside, High Speed Pro wedding bands are sure to stand out and get noticed. The Silicon Wedding Bands are manufactured with high quality silicone that will stretch and break in the event of getting snagged in a dangerous situation. One can wear this ring safely without worrying about it being pinched on their finger, tearing off their skin, or being conductive to electricity. Additionally, this ring is perfect for wearing to a rigorous workout without worrying about damaging a wedding ring on the gym equipment. High Speed Pro silicone rings allow you to show your commitment while staying safe.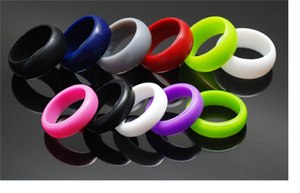 1. Why did you decide on High Speed Pro as the company name?
Being a law enforcement officer himself, Chris wanted the name to reflect the active environment in which he worked.  Professionals in law enforcement and other emergency services are constantly on the go, moving quickly in dangerous environments, and tackling anything thrown at them. Safety is paramount when your profession requires you to be constantly moving at high speeds.
2. What was the inspiration behind starting your company?
Safety on the job is the number one priority in police work. Stories of traditional bands getting caught on equipment or other things while handling calls is commonplace. During range training it was often brought up that the traditional metal band would interfere with officers and the way they shoot. We wanted to change that and make this occupation safer, even if only in a small way.
3. What is your signature product and how does it work?
Our signature product is Silicone Rings. They come in many colors and sizes. Our product works by letting users show their commitment to their spouse while still being safe in any environment that they come across. Fear of a traditional metal ring being snagged, or electrocution is gone when you put on an HSP ring while on the job.
4. Why do you believe your products are essential to the Police community?
Officers have enough challenges in their day-to-day work. Wearing a safe wedding band eliminates an on the job hazard, while eliminating a "hazard at home" of explaining to your spouse where your wedding ring is.
5. What makes your company unique?
High Speed Pro is about our community first, and a business second.
Our company is unique because we are a police family. Working within the community and supporting our family in blue is very important to us.
6. What do your customers like best about you and your products?
Our customers appreciate the variety of colors and sizes that we offer as well as the fact that they are designed with them in mind. Since we use our products every day, just like they do, we know what is demanded of them.
7. What is the most rewarding part of serving the first responder community?
Being  a part of the LEO community is amazing. Being able to experience first-hand what it's like to be an officer with a family, it is amazing to be a part of something bigger where we all come together to support each other.
8. Do you support any charitable organizations within public safety?
This year we had a great time at a golf outing to support The Kendall County Law Enforcement Memorial. We also donated all of our proceeds (not just profits) for pink and black camo rings sold during breast cancer awareness month. We are currently looking into more ways we can give back to our public safety community. 
10. Is there any fun fact or trivia that you'd like to share with our users about you or your company?
Chris and Kellie, founders of High Speed Pro have been married for 10 years. For over a decade Chris has served as a law enforcement officer in the suburbs of Chicago. Kellie is currently pursuing a degree in Graphic Design. They both enjoy working out and spending time with their family.
11. What's next for your company?
We have a few things coming up. We are currently working with our Crossfit gym for an event called the Reckless Row-a-Thon which raises money for the Silent Warrior Scholarship Fund. We are looking forward to a new year, building relationships with our customers and continuing to support our LEO family.