Spotlight: Belleville Boot Company brings the next generation of comfort to cops
Belleville Boot Company stays one-step-ahead to bring the latest boot technologies
---
Company Name: Belleville Boot Company
Headquarters: Belleville, IL
Website: http://www.bellevilleboot.com/index.php

Since 1904, Belleville Boots has met and exceeded the needs and standards established by those in the field. The commitment to these exacting standards continues to this day. Everywhere Belleville Boots serves, the company represents what happens when standards are raised and expectations are surpassed...one pair at a time, one warrior at a time.

Q&A Questions:

1. Where did your company name originate from?

Five Belleville businessmen – Adolph Knobeloch, H.E., Leunig, J.B. Reis, James Rentchler and William Weidmann – founded Belleville Shoe Manufacturing Co. in 1904 in Belleville, (IL.), employing 50 workers and making 50 to 75 pairs of shoes a day. Though none of the five had any experience in shoe-making, they were confident of their market and were selling shoes from coast to coast within a few years.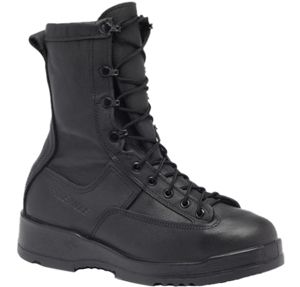 2. What was the inspiration behind starting your company?

During World War I, Belleville Shoe received its first order for military footwear. This began an enterprise that has sustained the company ever since. Belleville has evolved from a small operation to today's large, technology-driven business which develops and produces breakthrough footwear for the nation's armed forces and law enforcement community.

3. What is your signature product and how does it work?

Belleville means boots. Providing one form of comfort for the most uncomfortable situations on Earth is at the core everything we do. With over 70 styles currently offered for the military and law enforcement markets, we eat, breathe, sleep and dream and boots.

4. Why do you believe your products are essential to the Police community?

Belleville & Tactical Research by Belleville Boots brings the next generation of tactical boots to the police/law enforcement community — today. Utilizing global sourcing, athletic construction technologies, and advanced components - the boots we produce have quickly established us as a leading innovator in lightweight, high performance tactical boots. From our low-profile, "over-lasted" construction to the new MAXX Series ultra-cushioned Maximalist tactical boots, users can feel the innovation — from the laces all the way to the bottom of the soles.

5. What has been the biggest challenge your company has faced?

The biggest challenge we continually face is staying one step ahead of the ever-changing footwear market to provide the latest precision-engineered footwear solutions to the LE community. It is our mission to be regarded as a leading innovator in the law enforcement industry by introducing new boot technologies and footwear trends from other markets in to the police community.

6. What makes your company unique?

Both Belleville and Tactical Research by Belleville utilize the most advanced materials and construction methods from the athletic and hiking footwear markets. We partner with top footwear component suppliers to bring customers the highest performing boots available on the market today. At 110 years old and approximately one million pairs of military and law enforcement boots sold annually, Belleville is still the oldest and largest US military and law enforcement boot provider.

7. What do your customers like best about you and your products?

1. Comfort and quality: We strive to develop high-quality boots that require little to no break in period and are ready to wear right out of the box. 2. Exceptional customer service: Our dedicated customer service staff is extremely responsive to all requests (within 24 hours) and works to fix problems by providing solutions. We stand behind our product and are always willing to take care of our customers' needs to the best of our ability. 3. Excellent order fulfillment: Belleville invests in holding a large inventory which enables the company to ship boots out the door as quickly as possible. Last year, over 90 percent of all orders were shipped in less than 48 hours.

8. What is the most rewarding part of serving the first responder community?

It may sound trite, but being able to protect those who protect us on a daily basis by providing high-quality, comfortable and high-performance footwear is extremely rewarding. For those who are put in life and death situations all the time, the one thing our heroes don't need to be concerned about is what is on their feet. It's our job to remove that concern, which is why we try our very best to do so with each and every pair we make.

9. Is there any fun fact or trivia that you'd like to share with our users about you or your company?

Just a fun fact: In the 1950's and 60's, Belleville Shoe branched out into athletic shoe production, making baseball, football, golf, soccer, bowling and track shoes under the Rawlings brand. Baseball great Stan Musial was Belleville's best customer; he would typically go through six or seven pairs in a season. According to the New-Demo-Crat at the time, "the majority of Olympic track stars and almost all major league baseball players wore shoes made at Belleville."

10. What's next for your company? Any upcoming new projects or initiatives?

Inspired by the maximalist footwear trend coming out of the ultramarathon running community, Tactical Research by Belleville is introducing a new and unique product to the tactical marketplace – the MAXX series. Designed with a unique performance Fatt Maxx™ midsole that features higher volume, softer density, and greater rebounding foam than standard tactical boots, the Maxx series of boots allows the foot to sink deeply into the midsole for greater support, stability, uniformity of stride and overall comfort. The MAXX series is currently offered in 3 styles: 8" black side-zip, 6" black side-zip and 8" black waterproof side-zip.