Spotlight: LALO Tactical provides top-tier footwear for those that rise to the toughest occasions
With proper footwear, cops can reduce energy expenditure and injuries
---

Company Name: LALO Tactical
Headquarters: San Diego, CA
Signature Product: Tactical Footwear
Website: www.lalotactical.com

LALO Tactical uses top- tier materials to create some of the best and hardest working tactical boots and athletic footwear for those that rise to the toughest occasions. LALO footwear is a direct result of briefings received from Special Forces operators who needed lightweight, packable, breathable footwear they could cross train and run in – footwear they could count on, whether training or deployed. LALO's designs put an emphasis on noise reduction, support and game day performance; gear that hits the mark time after time. Whether your path leads you to a career in the military, competing in an adventure race, cross training, tackling an urban athletic workout, or running a 5K, LALO has the shoe for you.

Q&A Questions:

1. Where did your company name originate from?

The name came from our concept of a high speed, low drag operator. LALO stands for Light Assault Low- vis Operator.

2. What was the inspiration behind starting your company?

The difference between a Special Forces operator and a professional athlete is choice and opportunity. At the end of a game the athlete gets an ice bath, massage, and a team of people to help them recover and get ready for the next game. The operator gets an MRE (meal, ready-to-eat), hard bunk (if they get back to base at all), and very little or no support to get ready to go again for the next mission. Time and space matter for those that put themselves in harm's way and we should do everything we can to ensure they have all of the advantages available to them. LALO exists to deliver technologies to the "tactical athlete" that aren't traditionally found in the tactical space.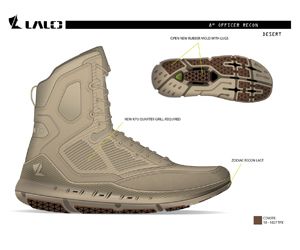 3. What is your signature product and how does it work?

Our signature product is the LALO Shadow Amphibian tactical boot. It is designed to fit into a swim fin and be a completely water born, over the beach boot. It drains within seconds and is completely hydrophobic. The plate in the boot makes it 20 percent to 35 percent more efficient to walk in (depending on the weight of kit the user is wearing). The boot has a metal climbing arch, Super Fabric toe cap for abrasion resistance, and TPU grills to keep debris out while allowing the boot to breathe.

4. Why do you believe your products are essential to the police community?

LALO makes products driven by the needs of the end user. For the police community, we know how much time LEOs spend on their feet. With proper footwear, we can reduce energy expenditure, injuries and make the user more comfortable day in and day out.

5. What has been the biggest challenge your company has faced?

The biggest challenge LALO has faced has been production delays and keeping up with demand.

6. What makes your company unique?

We don't have any rules about what we are allowed to build and not build. We focus heavily on the needs of the end user and all products we design and manufacture are driven by those needs.

7. What do your customers like best about you and your products?

Our customers love our products because they are light weight, innovative, efficient to operate in, and don't have a break-in period.

8. What is the most rewarding part of serving the first responder community?

The great feedback we get from the officers and first responders after they have used the product and knowing that we can continue to do better for them — and we will.

9. Do you support any charitable organizations within public safety?

We do – our focus is supporting causes where the family has suffered a loss and we can contribute directly to them.

10. Is there any fun fact or trivia that you'd like to share with our users about you or your company?

We are based in San Diego, close to the Naval Special Warfare base and one of our board members is a retired command master chief that stood up the BUD/S Prep program in the Great Lakes and was responsible for the BUD/S program as his last command.

11. What's next for your company? Any upcoming new projects or initiatives?

We have a few new products we are working on – the most exciting for the LE community is a cross between our Zodiac Recon shoe and our 8 inch tactical boot (see photo). We estimate it should be less than one pound, easy on the body, and high speed, low drag.