ShotStop's light, thin rifle insert plate does not disappoint
ShotStop trusts its product so much the company sent one to me and said "shoot it" without any restrictions. Here's how it performed
---
How I tested ShotStop's Advanced Body Armor Plate was a bit unusual: they sent one to me and told me to shoot it.
Body armor manufacturers typically want you to see the product perform under controlled circumstances. They invite you to their range facility to shoot carefully selected rounds using carefully selected equipment.
In my 20 or so years of doing product reviews, no one has ever let me test armor on my own range.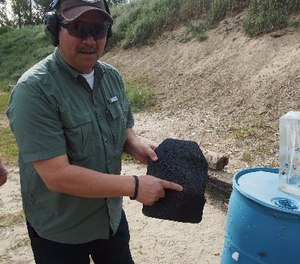 About Body Armor Plates
There are generally three choices in the body armor plate business: ceramic, steel and polyethylene. Each has its merits.
Steel is the heaviest, but it is much more durable.
Materials like ceramic are effective bullet stoppers, but they are subject to cracking, and multiple hits can be a problem.
Poly plates are usually lighter, but they are often rated for a narrower range of projectiles. Unlike the other materials, the spin of the bullet – which partially melts the plate and causes the bullet to stop – is required for them to work correctly. The good thing about poly plates is they are lightweight and can take multiple hits in the same place.
Armor plates with the correct NIJ rating have to be able to stop the rated projectile on its own. A recent innovation in plates called "in conjunction" means the plate is designed to stop the threat when combined with the vest worn under it.
ShotStop's Advanced Body Armor Plate Specs
ShotStop's Advanced Body Armor Plate is a stand-alone, lightweight plate made with ShotStop's patented (and patent pending) duritium technology.
The plate weighs 2.1 pounds and is .6 inches thick. It is 8.75" x 11.75" and buoyancy positive (it floats). 
Independent testing from Chesapeake Testing Labs has certified that this plate will stop 7.62 x 39 MSC rounds.
The Testing Process
I ran two Federal TRU .308 rounds – one of the best LE cartridges out there – through a 20-inch Noveske barrel. I put these bullets side by side. ShotStop's Advanced Body Armor Plate stopped them.
I did not approach my testing unscientifically. I placed the plate in front of a block of Clear Ballistics gelatin and shot it at 25 yards. I used Federal 165 Grain TRU rounds, which generally have a muzzle velocity of 2670fps. I used this cartridge because I shoot it often, and putting two rounds on top of each other is a cinch. In fact, I do this regularly at 100 yards with TRU.
The bullet pierced multiple layers of material and bulged the "this side toward officer" side, but did not make it through. This is tremendous bullet resistance.
I held on to this article for a couple of weeks until I could validate some information from an original source. This product hasn't been around long, but it has had its first confirmed save.
All of the law enforcement officers on the range that day said exactly what I was thinking. ShotStop trusts its product so much the company sent one to me and said "shoot it" without any restrictions. ShotStop trusts this product. I do too.