Argus BWC: Empowering law enforcement with advanced AI, redaction and officer safety features
This next-gen bodycam helps keep officers safe by recognizing common phrases and automatically activating to capture footage
---
By Ron LaPedis
Body-worn cameras (BWCs) have become essential tools for modern law enforcement agencies. One study showed that complaints against police dropped by 17% and use of force fell by nearly 10% when officers were wearing bodycams.
Most BWCs are passive, acting as a witness after the fact when video is uploaded and analyzed. That is, until now. The Argus BWC from Kustom Signals, Inc., isn't a passive witness, it's like a bird on your shoulder, ready to cry out for help when you need it.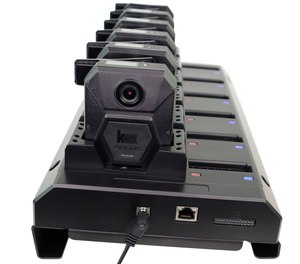 Argus BWC features
The IP67- and MIL-STD 810G-rated Argus BWC puts advanced AI to use powering features such as event detection that will alert dispatch if the officer issues common phrases, falls, draws a gun, or is in a foot pursuit. To aid responding officers, the Argus BWC live streams the triggered camera over 4G LTE cellular or Wi-Fi for assessment of the situation at hand.
Argus BWC is programmed to recognize common phrases, which allows for automatic activation to capture audio and video. Agencies also have the option to customize phrases for Argus to learn. This important feature can trigger the camera based on language that local or regional gangs might be using. Officers also can trigger recording with their own voice commands, so they are sure the BWC is recording when needed or if they are in trouble.
Does your agency run 10-hour shifts or keep officers on overtime when working a case? Argus has a hot-swappable 12-hour battery. While the battery is being changed, Argus continues recording. With a quick charge time, this allows for virtually unlimited run time.
The Argus BWC companion mobile app, Argus Insight, is available on Android and iOS. Insight lets officers review footage in the field, classify evidence, annotate and add bookmarks, making it easy to manage evidence data on the fly without the need for a computer.
Evidence management system
As part of the Argus BWC suite, the company is launching Argus Data Vault (ADV), an evidence management system designed for administrators. Running on-premise or in the cloud, ADV makes it easy for users to classify and share evidence.
Normally, redaction processes can be labor-intensive, taking hours to edit and redact a 30-second clip. ADV's AI-powered one-touch facial redaction lowers the burden on admins when prepping for court cases or responding to public information requests. All faces present in your footage are instantly identified and redacted so all you need to do is click to remove footage with nudity, inside of people's homes, and other sensitive subjects.
ADV allows your agency to share encrypted files efficiently and easily with other law enforcement agencies, government officials, the media and more. Users can cut, mix and shorten footage as needed while maintaining the integrity and chain of custody of the original footage.
One-touch redaction is more powerful than you might think. In today's well-connected world, it's rare to come across someone without a cell phone. We know cell phone footage, sometimes termed "citizen journalism," goes viral in minutes and often is the first publicly shown footage of law enforcement at the scene of an incident or arrest. However, it's the BWC recordings that can carry the most weight – if you can redact and post the footage fast enough. And this is where the AI-powered redaction feature shines.
The quick public release of police body-worn camera footage can have multiple benefits, especially in high-profile cases. Social media videos may entice viewers, but video reporting from the view of the police BWC can present a more accurate account of the incident.
The built-in connectivity of the Argus BWC allows dispatchers to monitor the location of all Argus devices in the field, as well as live-stream footage from those cameras.
For more information or to request literature, click here.
Request information from Kustom Signals Inc.
Thank You!