More than accountability: 5 unique uses for body cameras
There are many less publicized benefits of body cameras that far outweigh the concerns for privacy - here are five
---
By Police1 Staff
Since body-worn cameras began gaining momentum in law enforcement, the main arguments for and against them (respectively) have been that they hold everyone accountable and raise privacy concerns — for both the public and the officers who use them.
But there are many less publicized benefits of body cameras that far outweigh the issues privacy raises. In a study conducted by PERF with support from the Department of Justice's Office of Community-Oriented Policing Services (COPS), benefits which affected both police and the public included the following: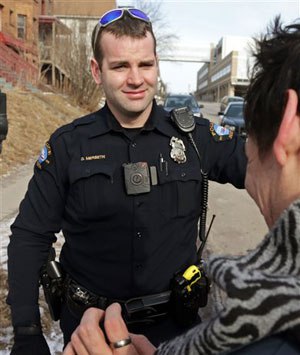 1. Providing evidence in domestic violence cases.
2. Improving evidence collection at accident scenes.
3. Assisting in exiting consent decrees.
4. Helping command staff recognize patterns of officer behavior.
5. Decreasing complaints filed against officers.
Body cameras document everything from encounters with witnesses, suspects, and victims, to the crime scene, interviews, interrogations, and even arrests — making cases that are typically difficult to prosecute, more probable.
1. Providing evidence in domestic violence cases
Domestic violence cases have historically been difficult to prosecute for a number of reasons. A lack of evidence and a victim unwilling to testify are two of the most common hurdles.
"Oftentimes we know that the suspect is repeatedly abusing the victim, but either the victim refuses to press charges, or there is simply not enough evidence to go to trial," Daytona Beach (Fla.) Police Chief Michael Chitwood said, according to the PERF study on body cameras.
Officers at Daytona Beach are advised to, with the victim's consent, record victims' statements at the scene using their body cameras, which gives police enough evidence to continue with a case even if the victim later decides not to prosecute.
"The footage shows first-hand the victim's injuries, demeanor, and immediate reactions," said Chitwood.
According to Chief Ron Miller of the Topeka (Kan.) Police, showing suspects in domestic violence cases the on-scene body camera footage has led to a guilty plea without going to trial.
2. Improving evidence collection at accident scenes
If the above scenario wasn't proof enough that body cameras collect a higher quality of evidence, consider what the technology has done for evidence collection at accidents:
Chief of Police Jason Parker of Dalton (Ga.) says that body cameras have put an end to conflicting reports from victims and witnesses when they're asked to repeat the details of an accident later.
"Unlike in-car cameras, body-worn cameras capture everything that happens as officers travel around the scene and interview multiple people," said Parker. "The body-worn cameras have been incredibly useful in accurately preserving information."
3. Assisting in exiting consent decrees
Civil rights divisions have said that they believe body cameras are a big solution when it comes to officers facing external investigations and consent decrees.
"We want to get police departments out from under consent decrees as soon as possible," said Roy Austin, deputy assistant attorney general for the Civil Rights Division at the U.S. Department of Justice. "What is important is whether you can show that your officers are engaged in constitutional policing on a regular basis."
Footage of officer interactions with their community can demonstrate that officers are improving policies and practices within their agencies.
One agency whose officers are eager to use the body cameras to prove exactly that is New Orleans, which is deploying more than 400 body-worn cameras to their officers.
"The hardworking officers say, 'Chief, just give us a chance to show everyone that we are not like the people who went astray after Hurricane Katrina,'" said New Orleans Superintendent Ron Serpas. "The one thing that New Orleans police officers want more than anything else is the independent verification that they are doing what they're supposed to do."
4. Recognizing patterns of officer behavior
Body cameras have elevated agencies' abilities to improve tactics, communication, and customer service among other areas, by using the footage to provide scenario-based training to newer officers and identify areas in which more or improved training is needed.
Footage also allows command staff to identify questionable or abusive behavior so that it can be addressed, corrected, or otherwise handled before the problem grows worse.  
Evidence provided by the cameras is also used to identify wide-reaching structural problems within a department, which can lead to revising training, policies, and protocols.
Chief of Police Hassan Aden of Greenville (N.C.) shared a story in which in he said a local community alleged their town had a problem with racial profiling.
"We went back and looked at the footage from these officers' body-worn cameras and found that there was indeed a pattern of using flimsy probable cause when making stops. However, we determined that it was a training problem and immediately changed the relevant training protocols. The organization that had raised the complaint was happy with the outcome. They appreciated that we had the body-worn camera footage, that the officers' behavior was investigated, and that we used the video to help us improve."
5. Decreasing complaints filed against officers
One of the most favored advantages brought about by body cameras is the noticeable decrease in filed complaints against officers — whether the presence of cameras is improving the conduct of civilians, officers, or a combination of the two.
In the last year alone, many claims have been refuted thanks to body cam evidence — from faulty sexual harassment claims to alleged racial bias.
Many agencies, according to the report, found that officers with a history of complaints are the ones eager to request body cameras. Many of them know it's not their own behavior that generates complaints, but because their position or jurisdiction yields frequent contacts with criminal suspects, and the camera is a useful tool in protecting them.

Request product info from top Police Body Cameras companies
Thank You!