New 360-degree hand-held camera shows promise for law enforcement
With a 360-degree camera, police investigators can see incidents from every angle
---
Extreme sports enthusiasts are testing a new 360-degree camera to capture paragliding, snowboarding and aerobatics. However, the camera may prove useful for police officers on patrol as well as criminal investigators seeking to capture a panoramic picture of a crime scene.
Launched by former Apple engineers and currently in the Kickstarter stage, the 9-ounce CENTR is a 4K resolution panoramic camera that lets users capture 360-degree video at 60 frames per second.
The technology was developed to let people create videos that capture everything, said Bill Banta, CEO.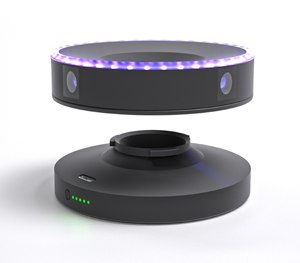 "There are many situations in which conventional video fails to capture all the relevant aspects of a particular moment," Banta said. "CENTR's panoramic video allows people to capture everything around them; stories are captured in full and information is more complete.   
The donut-shaped camera stiches together video footage from four HD camera modules — all in real time. An option is to shoot with just one of the four cameras or create bigger files, such as 20MP 360-degree time lapses.
The video is viewed on centrcam.com website or through a dedicated mobile app. The app can control camera settings or show a live-preview of the recorded footage via Wi-Fi link.
The CENTR battery lasts two hours and is splash proof. It is also compatible with both standard tripod and GoPro mounts.
In the Field
Banta said the device provides police with increased situational awareness during police patrols, among other applications.
"From a forensic standpoint, the complete capture of what was going on around an officer during an incident will allow for a better understanding of the conditions an officer faced in any particular moment," he said.
It also offers correction officers 360-degree security cameras to provide "a complete and persistent view of large areas both inside and outdoors" of correctional facilities, Banta said.
Military personnel can use the device for increased situational awareness for soldiers and unmanned vehicle operators.
"It offers increased awareness for occupants in armored vehicles and low-cost persistent surveillance solutions for field use," Banta said.
In addition, the video can be used for training purposes, he said.
To reserve a camera, pledge $300 on the project's Kickstarter page.  Banta expects the CENTR camera to be available during the first half of 2015.

Request product info from top Police Body Cameras companies
Thank You!