Battle Mug: A Father's Day gift idea for police officers
The Battle Mug starts off as a 13.5 pound solid block of 6061 T6 billet aluminum and becomes one awesome heirloom item into which a person might pour 24 ounces of their favorite 'frosty adult beverage'
---
Let's assume for a moment that you've got an officer in your department who is nearing an important milestone — a promotion, a retirement, or some other such celebratory event. We could alternately assume for the moment that you have a son, a daughter, or a spouse who is a cop fitting this description. You want to give them something special, but you're stumped. Well, you've come to the right place.
The Battle Mug, invented a couple of years ago by a friend of mine named Joe Lundberg, starts off as a 13.5 pound solid block of 6061 T6 billet aluminum and becomes one awesome heirloom item into which a person might pour 24 ounces of their favorite "frosty adult beverage."
The Battle Mug website says that this product is made for "hardcore gun guys who like to drink, or hardcore beer guys who like to shoot," and while that's accurate, it's not the whole story. So, I spoke via phone with Lundberg today to catch up with him a little bit and to get the back story on Battle Mug.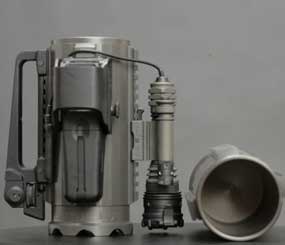 "Battle Mug came about because we were sitting around trying to figure out how to use a bunch of M4 carry handles we had lying around. In the AR world, most rifles at one point were coming with carry handles but nowadays most people are discarding those and upgrading to optics or backup iron sights or something like that. So a lot of people—myself as well as others—had all these carry handles that weren't being used for anything. We just asked ourselves, 'What can we use these for?' So... we came up with the Battle Mug."
Be advised, you would not buy a set of 12 Battle Mugs to outfit your "LEO man cave" — at around $200 a pop, the price simply prohibits it — but it is one of those things you might get for someone when you want to go "a little over the top" with a gift.
"We were looking to create an heirloom-type item — something that cold literally go into battle with somebody if needs be, but more importantly, something you could give to mark an important milestone in someone's career. We've had people give these to brand new law enforcement officers who just graduated the academy and they've been given to a variety of police officers at their retirement parties. We've also had people give them to cops in the Reserves and National Guard being deployed over to Iraq and Afghanistan," Lundberg told me today.
Lundberg served in the United States Army for two decades — he was 11B during Iraq One, and did stints in top tourist destinations like Bonsia and Macedonia. Consequently he's sold a LOT of Battle Mugs to men and women in our armed forces. The Battle Mug website says that among the warriors who own Battle Mugs are individuals from:
• Air Force Special Operations
• 1st SFOD/CAG/Delta guys
• 5th, 20th, and 1st Special Forces Groups
• Navy SEALs and EOD guys
• Super Secret Squirrel OGA-types
• Ground-pounding 11Bs
• Law Enforcement SWAT members
• State Troopers, Police Officers, and Sheriff Deputies
• Several have been presented at the Air Force Academy and OCS at Ft. Benning
• A bunch of aviator types, to include secret squirrel units whose names we can't even mention
The Battle Mug website states also, "Built to military specifications, Battle Mug features a M1913 rail interface system which allows the operator to mount a standard issue M4 carry handle, tactical light, laser device, holographic sight (we call them beer goggles) or even a bayonet for close-quarters, high-risk operations. Each individually serialized Battle Mug features Mil-Spec Type III anodizing and a crenelated base and is built with the operator in mind."
I basically have three hobbies — I don't count raising my son as a hobby, although it is one of the things I spend the most time doing and one of those things I most enjoy doing. My three hobbies? I read stuff, I shoot stuff, and I drink stuff. Battle Mug brings together two-thirds of my leisure-time activities in an extremely elegant and cool way. I want one, and in my humble estimation, the Battle Mug would make for a truly top-notch Father's Day gift for any police officer whose interest are anything similar to my abovementioned hobbies.
Lundberg, who had once served as a Reserve Lieutenant with the Franklin County (Ky.) Sheriff's Office, told me today that he will run a special promotion for Police1 Members throughout the month of June (June 1st to July 1st). Enter the promo code LEOfreeship and your shipping charges will be waived.