June-July 2009 MHz Update: Mesh WAN, DTV, NYC, and more...
---
The Police1 MHz Update provides a quick look into what's current in mobile communications and computing for law enforcement. Today we look at a new mobile deployment in New York City, a Mesh WAN solution that delivers wireless connectivity at "highway speeds," a group of citizens recognized for using the mobile network to report crimes and save lives, and we ask the question: "Why should you care about DTV conversion?" But what follows is far from a complete list. What do you think are the most important problems (or solutions) for mobile data and voice communications for Law Enforcement? Add your comments below or send us an e-mail.
Digital TV conversion — why you should care
When the much-ballyhooed transition of traditional broadcast television off a swath of analog spectrum and onto a digital signal (via satellite, cable, or converter box) takes place later this week, it will mark one more step toward the eventual creation of a nationwide mobile broadband data system built in a 10 MHz swath of the 700 MHz spectrum. At least, that's the hope.
The FCC's Web site aimed at providing information about the digital transition lists among its list of advantages for the move the ability to free up parts of the broadcast spectrum for public safety communications.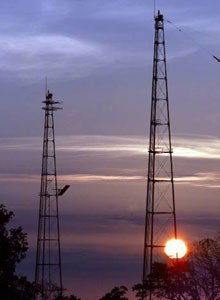 Unfortunately, the only readily visible sign that progress toward a resolution is taking place are the myriad PSAs being aired on most major networks during the past several months. Very little has seemingly been done about the matter — that is, other than people listening to themselves talk.
Danielle Coffey, vice president for government affairs at the Telecommunications Industry Association said in an online press event late last week that the FCC should develop a "broadband public-safety network capable of protecting all communities in the event of further domestic disasters."
At a general session meeting of the International Wireless Communications Exposition (IWCE) Conference in Las Vegas a few months ago, chairman of the Public Safety Spectrum Trust Harlin McEwen said that a failure to take advantage of the current climate regarding the development of a national interoperability network would mean the loss of a "once-in-a-lifetime opportunity."
As Police1 has previously reported, the so-called "D-Block" of spectrum set aside for use by public safety agencies failed to garner even a single meaningful bid in the FCC spectrum auction last year.
The FCC has reportedly made plans for a D-Block re-auction to take place in August 2009. We'll see about that.
Motorola announces a new device for wireless connectivity at "highway speeds"
Police cars have become advanced technology hubs, with computers, cameras, and other advanced communication devices installed in a typical squad car. The trouble is, when you're moving at speed, you're likely to outrun some of the most commonly found wireless broadband signals.
Motorola recently announced that a new device — dubbed the Vehicle Mounted Modem (VMM) 4300 — is designed deliver wireless broadband connectivity to public safety vehicles moving "at highway speeds."
Motorola says that the data rates provided by the MWAN 4300 network "far surpass those available through operator data cards, enabling new applications, such as streaming video from the moving vehicle or accessing real-time video surveillance footage for better situational awareness."
The device has a high-powered radio that can be configured in a 5.8, 5.4 or 4.9 GHz band for wireless backhaul connectivity and is "easily installed in the trunk of a police car, providing megabit data connections even during high-speed maneuvers."
Chip Yager, director of operations for Mesh Networks Product Group said in a written statement that the VMM 4300 can help public safety professionals "leverage live video surveillance footage for improved situational awareness en route to incident scenes."
The new device, available for purchase in North America starting in the second quarter of 2009, uses Motorola's MeshConnex routing technology and Opportunistic Radio Link Adaptation (ORLA) to "enable reliable and secure mobile access to multiple voice, video and data applications."
Citizens recognized for using mobile network to report crimes and save lives
Since 1990, the wireless industry has recognized the efforts of individuals who exemplify the importance of safety first and use wireless technology in extraordinary circumstances. Every day, 911 centers receive more than 296,000 calls from wireless devices providing eyewitness accounts of car accidents, health emergencies, street crimes, drunk driving, domestic violence, and other dangerous situations that threaten lives or safety. During a special ceremony this week, the Wireless Foundation will name eight so-called "Wireless Samaritans" who have saved lives and fought crime using wireless technology.
Former football star Steve Largent now serves as the president of The Wireless Foundation and is CEO of CTIA (the wireless industry's version of IACP, FOP, and C.O.P.S, all rolled into one). In a written statement issued this week, Largent said: "The wireless industry is proud to present these eight individuals with the VITA Wireless Samaritan Award for their quick-thinking and selflessness."
Wireless Samaritan award honorees include:
• Dalton Bray from Sanwich, Ill. used the cell phone he received for his twelfth birthday to dial 911 and help save his mom's life after he found her in a semi-conscious state.
• Paul Healey from Spanish Fork, Utah dialed 911 from his cell phone and provided GPS coordinates to the dispatcher after he and a friend discovered a horrible accident in a remote part of American Fork Canyon in Utah. A tree had fallen on a truck, through the windshield and impaled the driver's stomach. Paul's action enabled responders to locate and save the injured driver's life.
• Kathie Waiveris from Sandisfield, Mass. was nine months pregnant but walked into the snowy woods near her home after hearing distressed cries for help. She came upon a hunter who had broken his leg and had initial signs of hypothermia. Kathie used her cell phone to call for help and bring the man to safety.

Massive mobile broadband infrastructure deployment in New York now up and running
The New York City Department of Information Technology and Telecommunications (DoITT) and Northrop Grumman Corporation recently announced that the public safety wireless network built for New York City DoITT using mobile broadband infrastructure from IPWireless is now operational across New York City's more than 300 square miles.
New York City Wireless Network (NYCWiN) is a high-speed, mobile data network "representing the most aggressive commitment by any municipality in the United States to provide a next-generation public safety infrastructure," DoITT and Northrop Grumman said in documents obtained by Police1.
DoITT and the New York City Police Department are now working toward the installation of wireless modems in 1,800 marked patrol vehicles, which will enable officers in the field to access critical applications via NYCWiN previously available only from their desktop computers.
Steve Harte, DoITT's associate commissioner of wireless technologies said in a written statement that NYCWiN "provides data transfer speeds 100 times that of our legacy networks and enables us to deploy a wealth of broadband applications — inncluding streaming video to increase situational awareness among our first responders," said. "Leveraging this capability, we have also created an interoperable video management system (IVS) that allows the New York City Mayor's Office, NYPD, Fire Department, Office of Emergency Management, and a variety of other agencies to access shared, incident-based video feeds as needed."
"The development of NYCWiN represents a major accomplishment and opportunity to transform the way New York City government operates, by improving the capabilities and efficiency of public safety and service agencies" said Tom Shelman, vice president and general manager of Northrop Grumman Information Systems' Civil Systems Division. "NYCWiN is a model for how states, cities, and counties can deploy and manage their own mission-critical communications infrastructure."
Designed and engineered to improve public safety mobile workforce communications, the system supports dozens of discreet applications as varied as traffic light management, automated water meter reading, automatic vehicle location, full-motion streaming video, and myriad handheld inspectional programs are now planned or underway. Specific to NYPD, the solution will allow officers to do mobile fingerprinting, mobile field reporting, and will provide thousands of officers with high-speed mobile access to mug shots and crime databases from agencies connected to the system.

Request product info from top Police Communications companies
Thank You!