Public safety apps: Providing usable modern technology for first responders
A reliable communication network can provide responders with more info on demand
---
By Kyle S. Richardson, Senior Public Safety Liaison, FirstNet
Public safety personnel are embracing an array of new technologies in their jobs. Body cameras, in-vehicle computers, smartphone applications, license plate readers, facial recognition technologies, and mobile consoles for fingerprint reading are just some of the innovative tools gaining rapid adoption.
The real value of all this technology is to empower the first responder in the field and improve safety, situational awareness, and efficiency. With modern broadband technology, data can be pushed directly to a number of diverse devices, resulting in a seemingly revolutionary shift in operations.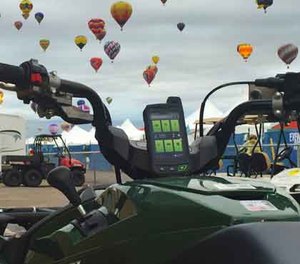 We are able to see the jobs of public safety personnel changing whenever an incident occurs. Take the recent blizzard that hit the east coast in January 2016 as an example — social media was used heavily by a diverse set of agencies to push important information such as travel advisories, snow removal timelines, and location of plow trucks to the general public.
Real-Time Information Sharing
Additionally, public safety apps are assisting responders seeking to maximize their operating efficiency — providing them with a variety of tools to use at their fingertips. By integrating records management, emergency call systems, map-based modules and more, apps allow public safety personnel to have a vastly larger operating picture to work from.
Public Safety App Expert Glenn Branam has seen technological innovation used in practical ways in law enforcement operations, and he is applying it in his current work. During his time as an Auto Squad Sergeant for the Columbus (Ohio) Division of Police, he recalls the use of covert GPS trackers, night vision equipment, body wires, pole cameras, and video and audio recording equipment — while doing investigations of motor vehicle and equipment thefts. This got him thinking how helpful it would be to access these types of technology through apps. As a result, he now works for a company who specializes in public safety mobile system development.
Branam is certain of the efficiency that public safety apps — specifically location-based apps — will offer. "The ability to have real-time locations of units and real time information sharing via a mobile device is huge," he said.
"Resources will be able to be moved or deployed based on real-time info and the supervisors on the ground will be able to actually watch the deployment happen on a map while info is being shared. I also believe it will eventually allow public safety to use fewer personnel during events which will save money in overtime, etc.," he said.
Branam is relying on his experience on the frontlines to encourage adoption of public safety apps by public safety agencies. "I specifically remember once, a query was submitted [to dispatch] and we had no idea how long it would take to get a reply. We would often have to wait up to four to six minutes for a reply, if the system was working properly," Branam said. "It happened around 2009 when I responded to a situation where a fellow officer became involved in a foot chase with a suspect."
"We eventually arrived in the area, but it took me and the responding units several minutes (which seemed like hours at the time) to locate the officer, who had been knocked out and was lying behind a building. If we would have had the ability to track the officer using real-time location technology, that would have been a huge help."
Supplementing Existing Communications Channels
A quick search on your favorite app store, or on APPComm — the Association of Public Safety Communications Officers (APCO) Application Community — will likely lead you to several apps that may be used to assist with the above scenario.
"Real-time location tracking and the ability to share encrypted texts and pictures with everyone on the team by the simple click of a button would take a lot of the guesswork out of law enforcement officers' jobs," Branam said. "Eighty percent or more day-to-day radio traffic could be eliminated using public safety apps that are now available."
An increased amount of data is being pushed out to first responders in the field, in many different forms. A reliable communication network — which FirstNet is developing with the input of public safety agencies across the country — can equip responders and provide them with more info on demand.
"Interoperability is the name of the game when it comes to multi-agency events such as major disasters or terrorist events," Branam said.
FirstNet's strategy for maximizing interoperability is to leverage — to the greatest extent possible — open, standards-based solutions for network infrastructure and services, and data access and applications. By doing this, FirstNet envisions vastly improving the public safety user experience when it comes to new communications services, data access, and apps.  
FirstNet will be implementing an app test and certification process that vets new and existing public safety apps for interoperability, security, and usability. Creating a vibrant application developer ecosystem that enables collaboration and communication between developers and public safety users on innovative new apps will be a welcome change from the current developer environment. The ecosystem can help enable the migration of existing, proprietary applications to more open, interoperable standards.
Some apps are being used in public safety operations today, and they are providing unique lessons learned that will influence the apps strategy for the FirstNet network. During the New Mexico State Fair, for example, first responders got a preview of the operating environment they might be able to look forward to when FirstNet is deployed. Users were connected to New Mexico's early builder network, and they welcomed the enhanced capabilities that came with it.
"The fact that the system was a private LTE network that could only be accessed by public safety was a huge plus during the event," said Branam. "New Mexico State Police and other agencies that provided public safety during the event were able to have full function of their Band 14 smartphones when the local commercial LTE networks started to fail due to the number of people at the fair trying to use their smartphones."
Coverage, capacity, reliability, priority and pre-emption, network speed, and interoperability — these are a few of the key differentiators that the FirstNet network plans to provide. "Any cop that has worked a large event knows commercial networks do not function properly when they are overloaded," Branam said. "Having access to a public safety only network would be revolutionary."

Request product info from top Police Communications companies
Thank You!