PRESS RELEASE
EPC's Air Pro Wireless Motorola APX Combo Kit now compatible with all your favorite wireless earbuds
---
Look for more radio options coming soon.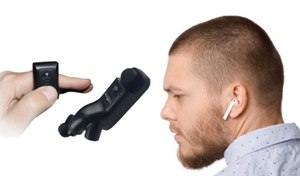 VALENCIA, Calif. — EPC's new Air Pro Wireless Motorola APX Combo Kit is now compatible with all your favorite TWS wireless earbuds* like Apple Airpods, Beats by Dre and AfterShokz to name a few. Blend in, go undercover and experience the freedom and comfort that true wireless brings.
The Air Pro Wireless Combo Kit includes our new Motorola APX Multi-Functional Adapter (BTD-34-EC-S) and the Bluetooth Remote PTT (EP-PTTW1). Look for more radio options coming soon!
Simply pair the Bluetooth Remote PTT to activate your wireless earbuds with your finger remotely. Perfect for undercover operations! Mount to a handle-bar, weapon or attach to your finger to key up remotely. *Wireless earbuds are not included. View the video demonstrating the Air Pro Wireless Kit below.
The Motorola APX Multi-Functional Adapter (BTD-34-EC-S) delivers dual connection (wired or wireless) with a simple switch. Motorola APX Multi-Functional Adapter (Part# EP-BTD34EC-S) allows you to pair Bluetooth microphones or wired units. 
Connect via Bluetooth with your favorite wireless earbuds.
Connect via Bluetooth with cutting edge accessories like the Interceptor Bluetooth Speaker Microphone or Nighthawk Bluetooth Lapel Microphone.
Connect wired microphones like the Hawk EC Lapel Microphone using the exclusive Easy-Connect system.
With true dual connection (wired or wireless), the user is always prepared. Watch below for a brief video outlining all of the benefits and features.
The Motorola APX Multi-Functional Adapter includes an innovative "On/Off" kill switch. "On" activates your Bluetooth devices and the "Off" will automatically revert to radio talk and listen. This safety net ensures that an officer is never without essential communication.
Another key feature that ensures reliable communications is the "Bump-Free" PTT/Pairing Button. With many manufacturer's adapters, there is an issue with inadvertently keying the radio up unintentionally. With EPC's new design, the button is flushed so that your PTT button is only activated when you intend to do so. This ensures both efficiency and safety.
The Air Pro Wireless Motorola APX Combo Kit (EPBTD34EC-S-PTT) is compatible with all APX Series models as well as Motorola XPR6300, XPR6350, XPR6500, XPR6550, XPR7550 and XPR7550e radio models. The new combo kit is available for purchase now, click here to learn more. The adapter can be purchased a la carte or in combination with one of EPC's Bluetooth Microphone kits. Or, visit your local uniform store and ask if they carry EPC two-way radio accessories. Look for more radio options for Kenwood and Harris multi-pin radios coming soon.
About The Ear Phone Connection
Our approach is simple. We listen closely to officers in the field, then design and build tactical communication accessories specifically for their needs. Every officer knows, a radio is only as good as what it's connected to. Earphone Connection introduced the first wireless microphone with push-to-talk, the first quick release cables and many other ground breaking products to redefine the status quo. No one likes to settle for mediocre. Situational awareness is critical for police in a dangerous encounter. An earpiece allows officers to hear communications clearly and prevent bad guys from hearing what could turn the situation against them. Earphone Connection offers new comprehensive solutions that improve comfort, safety and efficiency in 2018. Tell us what you need. We'd love to help.
Request more info from The Ear Phone Connection Inc
Thank You!