Enhance your multi-agency training with Pat-Down Props
There are non-functioning replicas of crack pipes, needles, brass knuckles and even handguns
---
The second day of SHOT Show started out with a "Why didn't I think of that?" moment when I discovered a very simple product: Pat-Down Props.
This is a collection of molded plastic replicas of weapons and everyday items. These bright yellow replicas are designed to create and maintain training standards without using the dirty or hazardous stuff from the property room. 
There are non-functioning replicas of crack pipes, needles, brass knuckles and even handguns.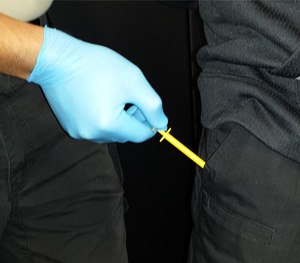 Stick these things in the waistband, sock or in a pocket for a more realistic search. Not only is this ideal for an academy tool, they can be used by scenario actors for in-service training. These simple plastic things could greatly enhance a multi-agency training in shooter response where there are non-threat players at the scene. 
Pat-Down Props can be purchased in a single, double, or Academy Pack. A single pack includes 16 props, including metallic tape to enhance metal detector training and a carrying bag.
MSRP is $179 for a single pack, $339 for a double, and $645 for the academy pack. 
For more information visit Patdownprops.com.

Request product info from top Corrections Products companies
Thank You!