4 reasons G-Shock's Mudmaster is the best watch for cops
You can put the days of having a cheap "duty watch" behind you with the Casio G-Shock Mudmaster GG1000-1A5
---
Sponsored by Casio G-Shock.
By Police1 BrandFocus Staff
Is there any profession more unpredictable than law enforcement? As a police officer, you may spend weeks battling the boredom of handing out traffic tickets and playing mediator to parents sparring with their kids before suddenly finding yourself administering first aid to a crash victim, breaking up a street fight, and chasing down a suspect – all in one shift. You put on a ton of different hats and tackle a wide variety of challenges that are both physically and mentally taxing.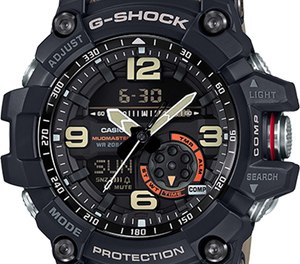 It's tough work, and it calls for a watch that's just as tough as you are. Here are four reasons why the Casio G-Shock Mudmaster GG1000-1A5 is perfectly suited for the unpredictability and intensity of life on patrol.
1. It's shock-proof.
Big drop, hard hit, you name it – this watch is designed to take a beating. Casio's unique G-Shock technology incorporates the watch's interior module into a hollow design that essentially "floats," which means it can take heavy abuse without breaking. Whether you're sharpening your skills on the gun range, learning a new defensive tactic, taking down a suspect, or enjoying an intense outdoor activity like mountain biking, the Mudmaster is designed to be your go-to watch, on and off-duty. Gone are the days of leaving your nice timepiece at home and taking a cheap one to work; the Mudmaster's high vibration and impact resistance is more than equipped to handle your demanding, active lifestyle.
2. It's water-resistant.
Police officers need no reminder that the job sometimes calls for dealing with water. There are countless stories of police officers saving citizens from drowning. And just last year, LEOs braved a series of hurricanes that left a historic level of damage in their wake. The Mudmaster resists water from depths up to 200 meters, and is built to withstand extreme weather conditions, no matter how unrelenting. The watch's water resistance also makes cleaning a breeze.  
3. It's mud resistant.
From search and rescue operations to woodland manhunts, cops need a watch that can handle tough terrain. The Mudmaster gets its name from the gaskets built into it that keep mud and dust out.  Its band, made of high-quality resin, is easy to clean when work gets dirty.
4. It's bright.
The watch is equipped to handle long nights on zombie shift or any environment where visibility is limited. A high-brightness auto LED backlight that illuminates the face of the watch means your Mudmaster won't ever leave you in the dark.  
A Durable, Reliable Timepiece
Through workouts, training, outdoor activities, and law enforcement operations, the G-Shock Mudmaster GG1000-1A5 is built to meet the demands of your on and off-duty life. To read more about the watch's features, including a built-in thermometer and compass, click here. And even if the Mudmaster GG1000-1A5 isn't the right fit for you, Casio offers over 100 G-Shock watches to suit your needs. Find yours here.

Request information from G-Shock
Thank You!