BLACKHAWK!'s new bag is a great tool for undercover investigators and off-duty officers
The new messenger-style bag from BLACKHAWK! is spacious enough for a full-sized laptop, books, a Glock, and three extra mags — I even put a Level III panel in it
---
I was recently introduced to the new BLACKHAWK! Diversion Wax Canvas Messenger Bag. The Diversion Wax Canvas Messenger Bag is made of heavy 10.10-ounce Martexin Original Wax Canvas, which has the same durability as the Army-issue material, except it has a softer, brushed feel.
The Diversion bags by BLACKHAWK! are designed primarily for users to carry their operational gear in innocuous looking cases. This is not a new concept, but BLACKHAWK! has taken it to an extreme with items like bright-colored Diversion Racquet Bags, which make the user look like they are headed to the cabana, not the crucible.
This is an excellent everyday bag for office work, off-duty carry — and it is also a great covert tool for undercover investigators. Here are some of the highlights of this great new product.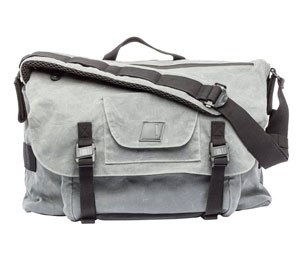 Spacious and Adjustable
The bag is 1,220 cubic inches, which is slightly larger than the most often-used size of messenger bags. With the courier style strap (two straps are supplied, the other being a standard shoulder strap), a full sized laptop, books, my Glock 38 and three magazines, sit comfortably on my back. The bag rides well into the back when I'm on my bike.
The Messenger Bag is treated, and the top of bag is a little higher than usual on the non-flap side. There is a pass through zipper, allowing the user to draw contents out without flipping the flap up. This zipper is recessed into water-resistant seals.
Users can mount all kinds of optional BLACKHAWK! accessories like radios, firearms, magazines, and less lethal on the padded loop lined inner compartments. They are rigid enough for a sub gun mount and padded enough for a laptop. Using the pass through zipper, one can reach in and grab a tool in the divided compartment without letting the world know what's in the bag.
When I began carrying this bag, I put a Level III panel in it, which really placed it well over vitals when flipped from back to front, using the courier strap. If I ever had to use the panel, it would place a reasonable amount of padding between the threat dissipation and my body. 
There is also an accessory storage compartment on the back of the bag with two sets of two way zippers. These zippers have quick indexing loops, designed for rapid deployment. This compartment is also loop lined. I tried a BLACKHAWK! Hook Back Adjustable Holster here and there is no "print" whatsoever. I have to be honest, though. Although I carried Glock 22 on my back and even found everything drew smoothly, I'm a strong side user. This carry method is for that extra gun.
The top flap uses Fidlock Buckle technology. These are buckles that use powerful magnets to click them together. They go in straight, but must be slid horizontally in order to be released. They are so cool and secure that I suggest users do not show them to their friends or they will play with the bag every time one sets it down. The buckles jump together whenever they are close, and they are fun to watch.
My Messenger Bag has a front compartment that includes a key lanyard, dual mesh pockets and elastic office supply holders. There is an additional outside pocket with a magnetic closure perfect for a SOG Trident and a Power Bar. There are mounting points for additional pouches, but I think that would take away from its covert look.
I spilled my burrito over the top of my bag, not for testing purposes, but out of clumsiness. While my MacBook Pro was still inside, I took the bag outside and hosed it off. One might say I trust the inherent water resistance of this product. The salsa from my favorite place is handy for removing rust from camping gear, but it did not stain my Messenger Bag.
MSRP is $235.45. 

Request product info from top Police Bags and Cases companies
Thank You!