Tactical lights at SHOT show: How the companies stack up
The current marketplace is full of options at varying price points that should be able to meet the requirements of even the most discerning officer
---
Two of the larger and best known companies, Streamlight and Surefire, have maintained their traditional line of lights. Surefire has added a AA battery-powered Scout Light to their inventory. They've also released two styles of wrist-lights for officers whose departments may not allow weapon lights on handguns.
The 2211-X is a variable 123A powered wrist-light while the 2211 is the rechargeable version.  They also have a 2211 Luminox variable-output rechargeable light that includes a Luminox watch.
HDS Systems uses a rotary dial at the back of their good-looking, comfortable aluminum-bodied tactical flashlight to adjust for brightness levels.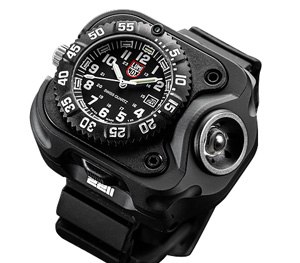 Their two tactical lights go up to 250 and 325 lumens with a MSRP of $269 and $299 respectively. The adjustable light allows officers to use the appropriate amount of light for a task and the individual brightness levels progress from .02 lumens up to the maximum output rating for the light.
Nightstick also offers a wide range of illumination options for the public, law enforcement and other first responders. Nightstick believes that dual use as a handheld and a weapon light is possible and offers 21 different tactical lights which fit onto their long-gun light kit. Prices can vary and the company sells through distributors and on Amazon.
They offer many of their products with both an aluminum and polymer body.
Nightstick also offers lights that can use both a lithium-ion charging pack as well as the CR-123s. They have an interesting offering with their larger duty lights that comes with a smaller, less intense LED on the side of the flashlight.
According to the company's literature, this dual-light design combines "a flashlight and a floodlight into a single light with the ability to turn both on simultaneously for added versatility and safety..."
Maglite has re-entered the law enforcement/security market with a variety of new illumination systems. One is the NTOA-approved ML300 LX LED D-cell powered flashlight that squeezes 625 lumens out of the three D cell batteries.
The two-cell gets 524 lumens. The lights has four activity-based programmable functions to choose from: general, outdoor, law enforcement, and tactical. Once programmed, each offers three functions based on the number of clicks of the activation button. The law enforcement function set includes momentary, full power, and a low-light economy mode that provides 58 lumens with an extended run time of 68 hours for the 2-cell and 117 hrs for the 3-cell version.
The company is also offering the MAG-TAC LED rechargeable flashlight. The light offers four functions selected through the tailcap switch. The four are momentary, full power (543 lumens for a 2.5 hour runtime, power save (112 lumens for a 4 hour 15 minute run time), and strobe. The aluminum bodied rechargeable light also comes with a USB cable, a 12 volt DC adapter, as well as a 120V AC converter for charging both in the home, officer, or car.
At SHOT this year there were nearly thirty vendors offering a variety of illumination options for both tactical and traditional applications. Officers (if they have the inclination and are willing to spend the money) have a huge number of illumination choices that can meet individual needs. Just like one gun doesn't fit everyone, one flashlight may not fit the needs of every officer.
The current marketplace is full of options at varying price points that should be able to meet the requirements of even the most discerning officer.
Request product info from top Police Flashlights companies
Thank You!