For plain-clothes and off-duty carry: Imbed your badge into custom Kydex
This innovative concept ensures that you'll never be without your real official tin while you're carrying
---
Last year, I wrote about the concept popularized by Bob Cook of Cook's Holsters, where an image of your police badge could be infused into and become part of a custom Kydex holster. I was recently introduced to a new twist on the badge-infused concept. 
Jace Powell is a medically-retired Army combat veteran and CEO of Powell Custom Holsters based in Deltona (Fla.). He has perfected a patent-pending technique where he uses an actual badge during the holster manufacturing process – embedding it directly within the Kydex material. The finished product is unlike anything I have ever seen. 
Notwithstanding the fact that you'll be left without a wallet or shirt badge, this innovative concept ensures that you'll never be without your real official tin while you're carrying off duty — or on-duty if you're a plainclothes officer.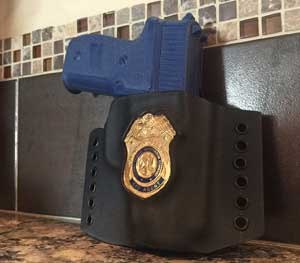 An Innovative Idea
Unlike Cook's badge-infused process — which transfers an image of your shield into the Kydex material and which, according to Cook, works best on light colored (tan or grey) Kydex holsters — there is no restriction as to the color of the holster with Powell's process. In fact, his best-seller is a black Kydex OWB rig. The only limitation is the size of the badge. Powell can work with badges up to three inches high and two inches wide.  
Speaking as a retired supervisor, any prospective buyers should run the idea by their brass before turning over their issued tin. Powell's process requires removal of either the pin clasp (for shirt or jacket badges) or clip (for wallet badges) as the badge permanently becomes a part of the holster. It would take a hammer and chisel — and a few hours of work — to pull the badge out of the rig. 
Powell also offers the image transfer process similar to Cook's for those troops who don't want to fork over their actual tin and have it become a part their duty rig. Both Cook's and Powell's Kydex rigs are weapon-specific, And since agencies have been known to upgrade makes, models and calibers, you may not be using the same holster for your entire career. Unless you can score a duplicate badge should your agency change guns, you'll be sans badge if you opt for Powell's innovative process. 
The company is working with a couple badge manufacturers and exploring the possibility of producing a dedicated badge just for the holster so you won't have to give up yours to the Kydex gods. But one look at the finished embedded-badge rig will make you drool. 
Made in the USA with all-American materials, Powell's custom badge-embedded holsters are really a work of art.
The rigs are priced at $140.00. 
For an infused image (photo transfer) rig, the price is $85.00.
Contact Jace Powell via email at Jace@PowellCustomHolsters.com or online at PowellCustomHolsters.com.  

Request product info from top Police Holsters companies
Thank You!