Sticky releases its much-awaited Custom Kydex Holster
Sticky Custom Kydex Holster is the first clipless Kydex holster ever designed exclusively for — and at the request of — professional law enforcement
---
I'm a big fan of Sticky Holsters — those IWB concealed carry holsters that stick to your body. 
Since Sticky Holsters hit the cop market a few years back, owner/developer — Mike Christoff, a former cop — has been hearing from the die-hard Kydex fans. It seems that a lot of cops have been screaming for Mike to develop an IWB Sticky Holster rig made from Kydex. 
So, for those Kydex cops out there, the Sticky Custom Kydex Holster is here.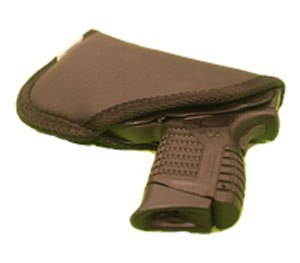 For 10 Popular Autoloaders
What Mike and his brain crew at Sticky Holsters have done is  modify any one of the three sizes (small, medium, and large) Sticky Holsters by replacing the Cordura nylon interior with their proprietary sticky material so a weapon-specific Kydex insert/shell fits snuggly into the holster sleeve. The new Custom Kydex Holster still retains its sticky exterior thereby securing the rig to the body. And since the hard shell Kydex insert is weapon-specific, the pistol remains secure in the holster until you want it out. 
This design also allows the officer to mix and match similar sized Kydex shells using the same Sticky sleeve. It is the first clipless Kydex holster ever designed exclusively for — and at the request of — professional law enforcement.
Presently, Mike has in stock Sticky Custom Kydex rigs for the ten most popular police autoloaders, including the new Glock 42, the Ruger LCP, Sig P238, Smith Bodyguard, Taurus 738, and Kel-Tec P3AT. Custom Kydex rigs for the Glock 26/27 will be available soon. (Note: See their website for all ten available models. If you don't see your make or model, contact Mike). 
Mike has made the marriage of the Kydex insert to the new Sticky Holster outer sleeve simple and easy by a unique color-coded dot system. When you order your Kydex insert, Mike will insure that you get the proper sleeve. 
For example, if you carry a Sig P238, the Kydex holster fits in the small (yellow dot) sleeve. Likewise, if you carry a Sig P938, you'll want the Kydex insert for that weapon which will fit in the medium (blue dot) Sticky Holster sleeve. For those "bigger gun" folks out there who pack the Ruger SR9c, the Smith Shield, or the Springfield XD-S 3.3", you'll need the large Sticky Holster sleeve (red dot) for your Custom Kydex holster. 
Sticky Holsters continue to offer a 15 percent discount for law enforcement, military, firefighters, and EMS first responders — active and retired — as well as emergency dispatchers and ER nurses. 
The Sticky Custom Kydex has not replaced the original and highly popular Sticky Holsters. The Custom Kydex is a whole new product specifically geared to those officers who want the retention and rigidity that only a hard shell Kydex holster can offer, but still want to retain the comfort and simplicity of the original Sticky Holster. The Custom Kydex can also be used in conjunction with the Sticky Anklebiter rig and the all new Travel Mount. 
Prices
All three  Sticky Custom Kydex Holster sleeves cost $24.95 each, and all 10 sizes of Kydex inserts each cost $34.95.
As usual, all Sticky Holsters —even the new Sticky Custom Kydex hard shells — are 100 percent American-made. 
And as usual, Mike is always available to take your calls and answer your questions.
For more information, visit www.stickyholsters.com. 

Request product info from top Police Holsters companies
Thank You!