PRESS RELEASE
DetectaChem releases MobileDetect for drug detection on smartphones
---
STAFFORD, Texas — DetectaChem, developer and manufacturer of rapidly deployable, super-compact and easy-to- operate threat detection systems, is proud to announce the release of the MobileDetect smartphone application for drug detection. MobileDetect delivers a revolutionary new drug detection platform for law enforcement, EMS, hazmat, event security, customs and border protection, concerned parents or family members, probation officers and more.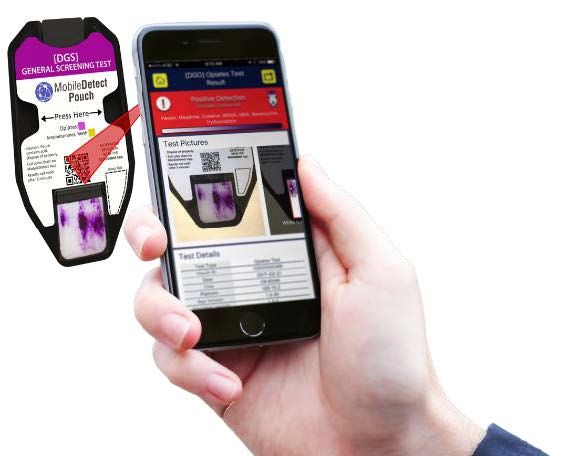 Evolving out of the globally deployed flagship SEEKER product line, MobileDetect was designed to meet industry demand for trace drug detection at a mass adoption price point. MobileDetect uses the same patented automated colorimetric technology used by the SEEKER that detects trace or bulk quantities of drug material. Users can easily send PDF result reports through email, text, Dropbox and more with additional pictures, GPS location and custom notes directly from the app.
MobileDetect utilizes the MobileDetect Pouch consumable that provides presumptive chemical reagent identification of key drugs including heroin, fentanyl, cocaine, THC, methamphetamine, synthetics and more.
The U.S. opioid epidemic has reached emergency level and MobileDetect provides a critical new detection solution. MobileDetect can accurately detect various fentanyl analogues and heroin from bulk quantities and street cuts down to non-visible trace residue.
"The MobileDetect fentanyl pouch fits a long sought-after trace detection need that all in the first responder community need to be aware of. MobileDetect is a game-changing solution at a price point that is affordable for any and all responders," says Christina Baxter, former CBRNE Program Manager with the U.S. Department of Defense and current CEO of Emergency Response Tips, LLC.
Drug detection on your smartphone. Enough said. MobileDetect is available now through the Apple and Android app store and can be downloaded for free with five test scans included. Contact DetectaChem for full license pricing options.
For more information: www.DetectaChem.com
About DetectaChem
DetectaChem is a Texas, USA-based privately-held company and manufacturer of rapidly deployable, handheld, intelligent, and easy-to-operate detection systems. Our products enable threat detection for safety and security operations throughout the world. DetectaChem products are simple to use and maintain, yet sophisticated in function and design. DetectaChem takes pride in being fierce supporters of law enforcement, first responders and the U.S. military.

Request more info from DetectaChem
Thank You!