Building the Barbie: Accessories for your AR-15
What do you get the Police1 editor who pretty much has all the AR-15 accessories he will ever need or want? A bag to put it all in!
---
Christmas is almost here, and although my own personal shopping is now completed — and presents are even wrapped, no less! — I'm certain there are folks out there whose list has yet to be completely checked off. If you're at all like me, the folks who tend to be last-minute purchases are those with whom you spend most of your waking hours: your colleagues. And if you're at all like me, your friends and colleagues are shooting enthusiasts.
During the past few years, I've chosen — sometimes by process of trial, error, and elimination — a group of accessories for my AR-15 that I can endorse as being top-notch gift ideas for your LE loved ones. Here I will briefly describe a few products I personally own and rely upon whenever I strap on my rifle, beginning with one of my most prized possessions: my NRA Lifetime Membership. I use that membership hundreds of times a year to continue my always-ongoing education on all issues related to firearms, and strongly suggest NRA membership to any firearms enthusiast. Enough said on that one...
Okay now, there are hundreds of "Barbie Doll" accessories and options out there, and my omission of any/all is in no way meant to disparage or disrespect those products. The below list is simply what works for me, my shooting skills — such as they are (mediocre, at best!) — and my budget. I am totally open to other suggestions here, so simply add a comment below or send me an email. Let's get started!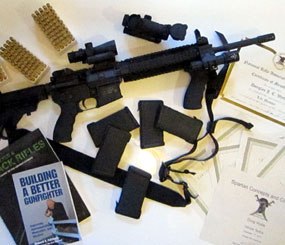 Seeing is Believing
Being the editor of Police1 has some really awesome benefits, one of which is that I get to learn all about new products like the Titanium 4X32 Combat Optic from Browe. A gal representing the company sent me email on this thing and I took her up on the offer to test one out. I have yet to really put it through its paces — more on that toward the end of this column — but I can say for certain that it is a top-quality piece of gear. There's a tiny little computer in it which measures the target light levels and automatically adjusts the brightness to properly contrast while avoiding sensor errors. A sensor in the light path behind the objective lens provides greater sensitivity and accuracy by automatically adjusting the reticle to match target lighting conditions. Very cool engineering.
Speaking of engineering marvels, even as I begin to get familiar with that new Browe optic, I have another optic I absolutely have to mention here. An Aimpoint red-dot optic is practically a must-have for any AR-15 owner, and I'm no different. I own the new Aimpoint Patrol Rifle Optic (PRO) and the optic is, in my humble estimation, one of the best things I've ever gotten for my system. With its 2-MOA red dot (ideally suited for engaging both close-qarters and distant threats) target acquisition is unmatched. The dot produced is easily visible no matter what the lighting conditions. There are lots of red-dot optics out there, but in my view, Aimpoint makes the very best.
Ready to Rock
For when (not if!) the zombies attack, I want to have a significant number of magazines ready for the rock-and-roll show. I'm a huge fan of Magpul products, and have a bunch of PMAGs. Unfortunately, they're the California-legal, 10-rounders in the 20-round form factor, which I find far easier to manipulate than those tiny little 10-round metal mags so widely available. I won't reveal here how many of those PMAGs I own — just in case the zombies choose to read my columns before coming to eat my brains — but will suffice it to say I've got "plenty" — alll of them loaded with top-quality ammo.
Also for the impending zombie attack — which is most likely going to take place at night — I have a Viking Tactics Surefire VTAC-L4 and Light Mount Combo. This setup is super-low-profile, lightweight, and packs a nice little 200-lumen punch. The mount is rock-solid, and Surefire make some of the best flashlights on the market.
Speaking of Viking Tactics, I also have the VTAC Sling. The quickly-adjustable length has helped improve the stability of my barrel, particularly when shooting while moving. It's a marvelously well-made alternative to the ho-hum slings I had tried out prior to getting my VTAC. There are a host of attachment options, but my preference is to simply loop the back end through the slot on the stock, and the front end to the optional Stud Sling Adapter. 
Get a Grip!
After trying out a fairly wide variety of alternatives, I have finally settled upon Ergo Grips (pistol grip replacement and forend grip) by Falcon Industries. I've never been a fan of the standard pistol grip on most AR systems, and although there are a lot of other great forend grips out there, my hands seem to fit best on these products.
Speaking of keeping a good grip, I never knew how great a grip I could manage until I got my BattleComp tactical compensator. Created by a group of law enforcers — with the assistance of a bio-medical engineer who specializes in fluid dynamics — the BattleComp has reduced the muzzle jump on my rifle, without any increase in muzzle flash or noise. Compared to the old A2 which came on my rifle... well, BattleComp is so vastly superior to any stock A2, there really isn't a comparison! To quote my friend and Police1 Colleague Dick Fairburn, who wrote a review of the BattleComp 1.0 a while back, "To put it succinctly, the BattleComp works." 
The Most Important Accessory!
During the NTOA Conference in Virginia this autumn, I asked my friend Don Alwes to do a series of video tactical tips related to the topic of patrol rifles. Check out his excellent video on accessories for the AR-15 weapons system below. In it, he quite correctly says that there is not a single accessory on the market that is more important than training. Regular readers of this space know that I spend a lot of my "off time" in a wide variety of trainings — both on the range and in classrooms — and am delighted to report that within the next six weeks I will complete a full week's worth of training.
On my dance card for early 2012 is a two-day Force Science Institute seminar presented by some friends of mine at San Francisco Police Department Training Academy, followed by two days on the range with my friend and Police1 colleague Ken Hardesty. Regular readers will recall that Ken runs Spartan Concepts and Consulting in addition to his full-time job at a major police agency in the San Francisco Bay Area. I'll attend a daylong 'Intermediate Carbine' class to work on the building blocks I've established over the years, paying particular attention to increasing speed and aggression while engaging multiple adversaries (zombies!). Then, the very next day in 'Carbine II' Ken has promised to "push the comfort level" a little bit.
I close out my weeklong training with another classroom event I have promised the organizers I'd keep quiet about here in this public venue. I'll merely say that it will be as intellectually challenging as any classroom course I've ever done, so I'm already studying for it.
While I'm on the topic of study, here are two more items to add to the Christmas list. I regularly refer to my copy of Kyle Lamb's excellent book, Green Eyes and Black Rifles, and no firearms training book has had as much of a positive influence on my abilities than Building a Better Gunfighter by the abovementioned (and incomparable) Dick Fairburn.
Okay, so what do you get the Police1 editor who pretty much has all the AR-15 accessories he will ever need or want? Well, I could use a bigger range bag to put it all in! I've "conveniently" left the latest catalog from 5.11 Tactical out on the kitchen table, "conveniently" opened to the page with a nice new bag "conveniently" circled.
Stay safe my friends.
Video: Accessories for the Patrol Rifle