Product review: DoubleStar's 9mm upper makes AR-15 training more affordable
Training with 5.56mm ammunition can be expensive – DoubleStar offers an excellent solution to the problem
---
When we look at the AR-15 market, there are a lot of brands, materials, calibers and accessories. A crowded marketplace offers us nearly endless possibilities for duty, competition, hunting and training.
The vast majority of ARs sold for competition and law enforcement are chambered in 5.56mm which makes using the same rifle possible in both arenas. However, if you do a lot of training with 5.56mm ammunition, you know this can get pretty expensive compared to the cost of handgun ammunition.
DoubleStar recognized this expense and has provided an excellent solution to the problem with the availability of a complete 9mm upper.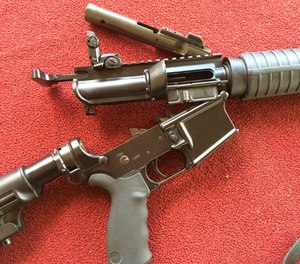 A long history of making AR parts
DoubleStar, an AR manufacturer from Winchester, Kentucky, has been around for quite some time. Unlike some fly-by-night AR manufacturers, DoubleStar evolved from J&T Distributing, a well-known supplier of AR parts and accessories for 40 years. The institutional knowledge accumulated by J&T Distributing was put to good use and since the beginning DoubleStar has garnered a well-earned reputation for making quality, dependable firearms that are built to last.  
DoubleStar sent me a complete DoubleStar 9mm upper with a flat-top A4 upper assembly including charging handle, bolt carrier group, brass deflector, handguards, standard front sight post, sling swivel and A1-style flash hider. The company included a mag well adaptor, two 30 round magazines and a heavier recoil buffer so you have everything you need in one package without having to order additional parts.
When I examined the upper, I immediately noticed the quality workmanship. The finish was evenly applied and the bolt carrier group fit snugly, but moved smoothly and easily. There are a couple noticeable differences between the 5.56mm upper and this 9mm version. The brass deflector is oversized compared to a standard AR-15. The ejection port is smaller and the dust cover has been shortened to fit into the smaller ejection port. Installation was as simple as it gets: remove the 5.56mm upper and replace it with the 9mm upper.
Putting the Doublestar 9mm AR to the test
On the range, we had a variety of 9mm ammunition to use including 115 grain Speer Lawman and American Eagle factory loads. We also had a variety of 115 and 147 grain reloads that we use for training and competition shooting. Using the 115 grain Speer Lawman ammo, we decided to zero it the same way we would normally zero our 5.56mm rifles so our sight off-set would be the same as with our other rifles. Once zeroing was complete, we made sure the rifle was put through its paces.
Initially, we had some issues getting magazines to properly seat on a closed bolt and an occasional failure to feed. But, after an initial break-in of about 200 rounds, we didn't experience any other malfunctions. The 9mm upper ran flawlessly and extremely accurately for over 600 rounds before the first cleaning. To date, we have over 1,500 rounds and counting with no other malfunctions.
This is impressive considering that one of the side effects of shooting in Central Oregon is the fantastic mix of volcanic ash and sand that we call soil. These environmental particles are known to cause some serious firearm problems. The particles infiltrate every opening and clog up firearms faster than dog hair in a bathtub drain. However, after the initial break-in, not even the nasty dirt combined with mixing different ammo brands and different bullet weights could slow down the 9mm AR.
This 9mm upper assembly is a shooter. One-hole drills were simple and precise. As a matter of fact, this 9mm upper was so accurate, that we tried engaging a variety of steel targets at 100 yards. The results were surprising.
My wife was easily able to launch multiple 9mm rounds downrange hitting the 6 inch paddle on an Action Target PT Hostage target using her beloved iron sights. This is pretty impressive accuracy out of a handgun round.
In addition, shooting was a pleasure with a significant reduction in noise. Recoil was similar to a 5.56mm, so follow-up shots and split times displayed familiar times on the shot timer.
Tremendous cost savings
Aside from impressive dependability and accuracy, the best thing about the DoubleStar 9mm upper assembly is the cost savings from using 9 mm rounds instead of 5.56 ammunition. A thousand rounds of hard-to-find 5.56mm training ammunition can cost $350-$400. By comparison, 9mm training ammo can be found for around $250 per thousand.
An AR chambered in 9mm can provide shooters with a significant amount of additional training rounds for the same money. The money saved on ammo easily covers the cost of the complete upper.
Another benefit to using the DoubleStar 9mm upper is utilizing steel targets at handgun distances. Most of the time when we're doing close-quarter and medium range training with our rifles we use paper and cardboard targets inside 50 yards. But using the 9mm upper, we were able to get the full benefit of using steel targets. Instant feedback on your hits and less downtime taping and changing paper generally results in higher-quality training sessions.
Finally, having the ability to swap this upper onto your duty or competition lower provides you with the same trigger feel to which you have become accustomed. The only difference is now you're shooting 9mm rounds instead of 5.56mm.
After putting a lot of ammo downrange and flinging a bunch of empty 9mm cases out the side, the DoubleStar 9mm upper keeps on chugging along – both accurate and dependable. It has given us additional training options but has kept the familiar look and feel of our 5.56mm rifles. With an MSRP around $550, and probably available for less, it represents an incredible training value that pays for itself after a few thousand rounds.

Request product info from top Police Firearm Accessories companies
Thank You!