Product review: Rail-mounted lights and lasers
While one trend is for lights and lasers to get smaller and smaller with some customized to fit specific pistols, another trend is to combine them
---
With the inexorable move to handgun-mounted RDS (red dot sights), you might think that rail-mounted lights and lasers are old hat.
One of the biggest advantages of RDS over lasers is that the threat does not know they are being targeted by seeing a dot on their body, nor can they follow an RDS "back to its source" to target the officer holding the weapon. That is, a red dot won't compromise your position, which is a big deal in a tactical situation.
On the other hand, since a laser is visible to the threat, there's a chance that seeing the dot may prompt them to comply or, at the very least, make them less motivated to attack.
Another difference is that with RDS (and iron sights), your head needs to be behind the gun to aim. With a laser, you can shoot from just about any position as long as you or someone else can see your target. For example, your hand could be on one side of cover while your head is looking out from the other side, or a partner who can see the target but might not have a clear shot can direct your aim.
While one trend is for lights and lasers to get smaller and smaller with some customized to fit specific pistols, another trend is to combine them.
Light/laser combinations
Several manufacturers make light/laser combinations.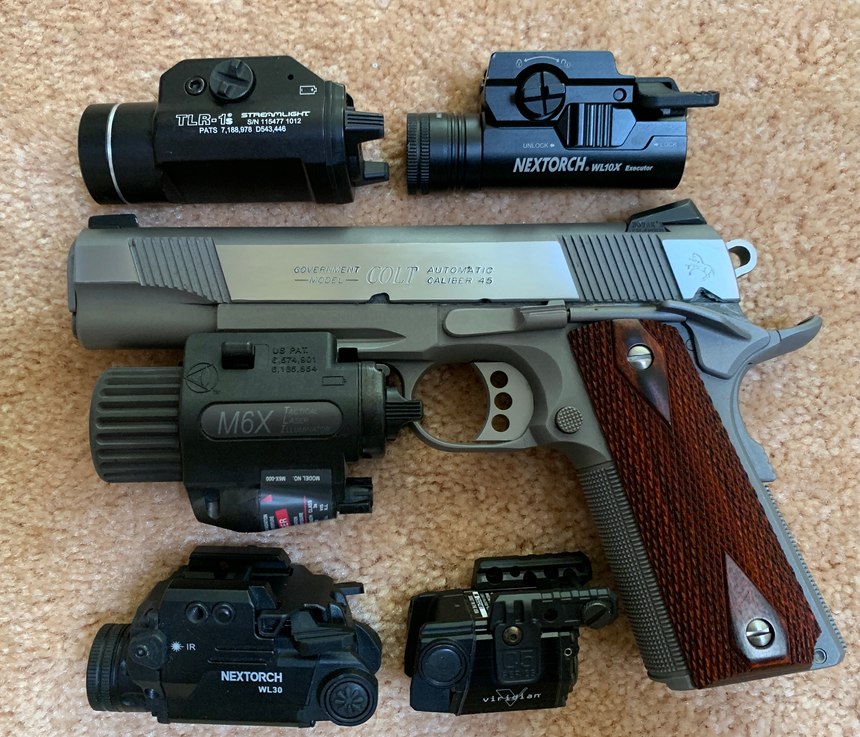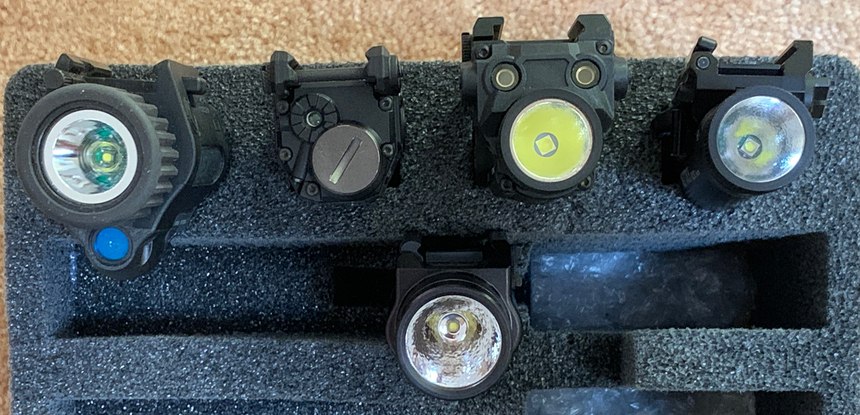 The 4 oz/115 gram NEXTORCH WL30 combines a 400-lumen white light, a green laser and an infrared laser, each with individual switches. Figure 3 shows the blue LED at the back of the unit, which illuminates for safety when the IR laser is powered.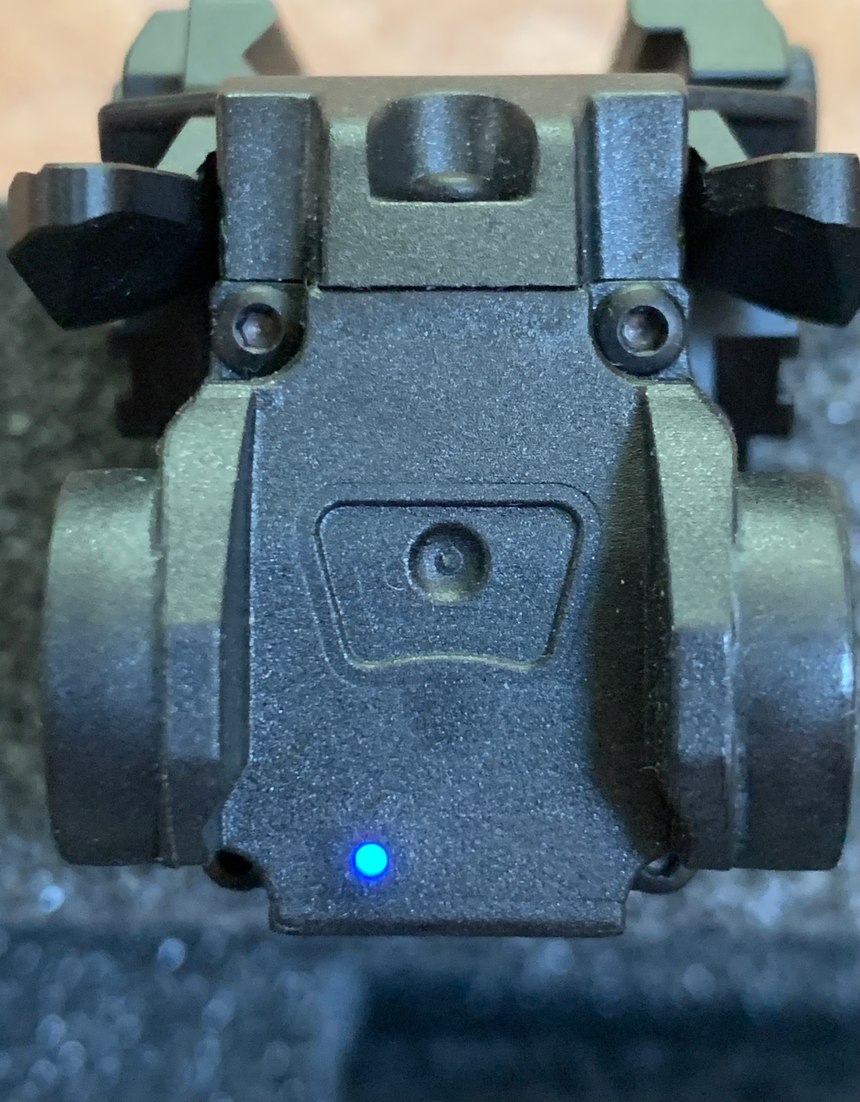 The highly ruggedized 150-lumen Insight M6X tactical laser illuminator was designed and built for U.S. Special Forces personnel and will perform under the most rigorous conditions, remaining waterproof at depths of up to 66 feet. While this device is discontinued, it may still be available in the marketplace. Although not as rugged as the M6X, the manufacturer recommends the Olight BALDR Pro or Streamlight TRL8 series as replacements. Both offer integrated lights and target lasers.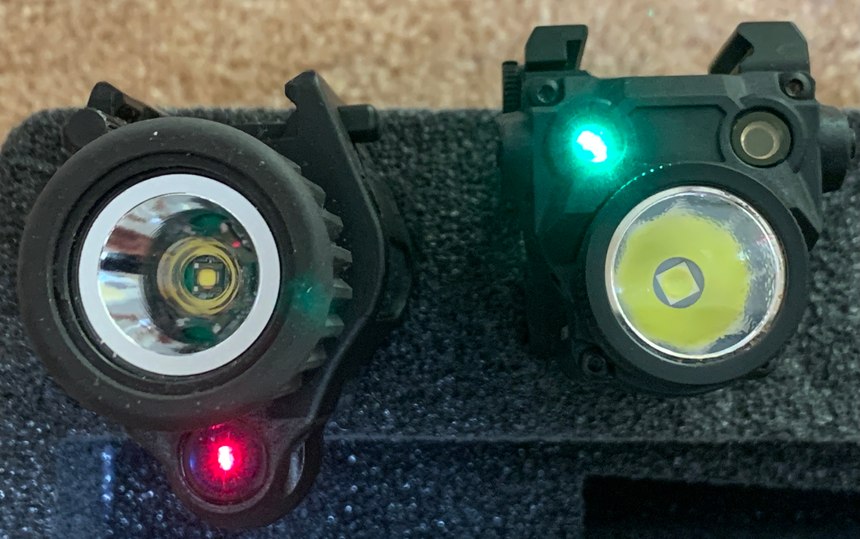 The NEXTORCH WL10X weighs 3.9 oz/110 grams and throws 230 lumens for up to 80 minutes but is only rated for 1m of water. It is controlled by a rear-mounted ambidextrous off/momentary/on rocker switch.
Streamlight's entry is the 4.18 oz/118.6 gram TLR-1s which will put out a regulated 300 lumens for up to 2.5 hours. A double tap of the off/momentary/on rocker switch within 0.4 seconds activates a strobe that can disorient your adversary.
The Viridian C series for compact pistols consists of the original C5 green laser (discontinued), the C5L green laser/light, C5L-R red laser/light and the CTL tactical light. Each one weighs 1.6 oz and uses a CR2 battery rather than the CR123 used by the other units in this article. All put out 100 lumens constant and 140 lumens in strobe mode and feature Viridian's "instant on" when used with a compatible holster.
More information
This is just a sampling of the units I have relied on for my work, but dozens of reputable manufacturers make similar products. Key to your search will be the specifications needed to support your missions; runtime, laser color and output, light output and beam pattern and drop/water/recoil ratings. And one very important specification: Will it fit your firearm? Not all pistols with rails use industry-standard spacing so the light might not fit properly. Make sure to check the specifications carefully. For more information, see the PoliceOne Firearms Accessories section.

Request product info from top Police Firearm Accessories companies
Thank You!