Product Review: Shooter app for Droid
The Shooter app is currently only available for the Google Android operating system
---
Technology wise, I am somewhere between a caveman and a geek, but I have always managed to master any technology that has a real-world purpose. Almost 25 years ago, I rewrote a BASIC language exterior ballistics software code, adapting it from an Apple II to my Atari 64 computer. Ever since, I have had at least one exterior ballistics package available for my rifle shooting and training. Nowadays, some of the free online sites like JBM Ballistics are as good as any commercial software.
A few months ago I upgraded to a smart phone. The salesman convinced me a Google Android phone was the way to go, and so far I'm very satisfied. Discovering the world of "apps" was really cool, but I still restrict myself to practical apps (no games). For snipers and firearms trainers, the "Shooter" app from designer Sean Kennedy (seankndy) is a must have. There is a free "lite" version that I didn't even try, because I somehow scraped together the ridiculously reasonable $9.99 and got the full version. The accuracy of the trajectory calculations is spot on, matching both the numbers generated by the JBM Ballistics site and my own range-verified tables.
You start by building an ammunition profile for one of your loads — this is only done once and can even be stored on an online server. Shooter includes a database of ballistic coefficients for most projectiles. As always, you should set your muzzle velocity at the value measured by chronograph from your load in your rifle, for maximum precision. Once the ammo profile is complete, you enter the local shooting conditions and generate either one-shot details for a single trigger-pull event or a range table for comparison use. Like the muzzle velocity, the more accurately you measure the local conditions (wind speed/direction, temperature, humidity, elevation above sea level, etc.), the more accurate the results.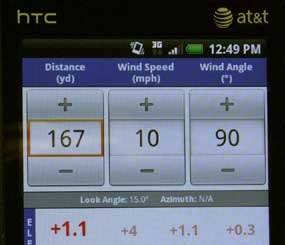 Using the inherent tools in a droid phone, Shooter can search the web for local weather conditions and even plot your position with GPS if you want it to calculate the trajectory altering factors of the Coriolis Effect. Don't worry about if you don't know what the Coriolis effect is — unless you routinely need surgically-precise accuracy past 300 yards — because it's splitting hairs for most of us. The app doesn't require Internet access and is fully useable in the most remote locations.
The app will also factor in a projectile's spin drift if you give it the bullet length and barrel twist rate. For the ultimate in techno shooting, you can get a free add-on which will allow a Kestrel 4000 series handheld weather meter to download the local atmospherics into your droid via Bluetooth wireless connection.
This app, combined with a laser rangefinder and Kestrel weather meter make up a military sniper's dream package, and is being used by military shooters in the Global War on Terror. Even though Shooter offers high-end users every possible calculation, you need not be a ballistician to use it or understand the output.

A police sniper could use the Shooter app in the following way: Setting up for a potential shot on a given window at a hostage/barricade situation, you (or better yet, your spotter) will determine the range to target via laser or reticle comparison (more on that later), then call up the ammo profile, say a Federal 168 MHP load in your .308 Win sniper rifle. He will feed in the distance, local temp and humidity and the wind direction and speed. The Shooter app will then generate a "come up" and wind adjustment value for that particular shot in Minutes-of-Angle (MOA), Mils, or Inches-Per-Hundred Yards (IPHY). We all know steeply angled shots require an adjustment to our normal flat-range ballistics table, but determining the angle can be tricky.
The Shooter app calls it the "look angle" and allows you to "get" the look angle using the droid phone's inherent capabilities. When you tell Shooter to "get" the look angle, you lay the phone on the rifle barrel, or the ground if the slope matches your shooting angle, and it will determine the angle and instantly factor that into the come ups value. Wow!
The developer also has a free app called Reticle Ranger, which simplifies the use of a scope or binocular reticle to determine the range to target. If you're using a MilDot reticle, simply feed in the two data values; the size of the target — say a 12 inch wide license plate, and the reticle measurement – say 2 Mils, and the reticle ranger will calculate the distance (167 yards). You can input target dimensions in US or Metric values and reticle measurements in Mils, MOA, or IPHY.
The Shooter app is currently only available for the Google Android operating system. A sniper friend who uses an iPhone says he hasn't found an exterior ballistics app for his phone that can begin to compare with the capabilities of "Shooter."

Request product info from top Police Firearm Accessories companies
Thank You!