SHOT Show 2016: C-More Systems reveals new red dot, laser sight
The company is known in the competitive shooting world for their red dot sights on handguns
---
C-More Systems revealed some new products at SHOT Show 2016. The company is known in the competitive shooting world for their red dot sights on handguns. I have used one since 1992 and they're great for handguns if you are doing a frame mount. The company has a new, smaller red dot sight called the RTS2 that is designed to be mounted on the slide or on a custom frame mount. A preliminary inspection showed a bigger sight window than found on some other red dot sights. However, it did sit up high enough that even suppressor sights are not going to co-witness on the slide. Professional shooter Chris Tilley used the RTS2 with a custom frame mount to win the 2015 USPSA Open division nationals, so the window size is more than adequate for keeping the red dot in view during rapid shooting.
The company also has a slide mounted laser system that attaches via a very strong rare earth magnet. It fits over the top of the standard rear sights (Glock is the one I saw). It has a tab at the back to turn the laser on and off along with adjustments for windage and elevation. A small set of adjustable backup sights is also part of the unit, although the approximately 1.5 inch sight radius isn't much. It takes considerable effort to take the laser unit off the slide so it's likely that it won't fly off in recoil.
Why not get a dedicated laser unit and leave it on the gun? How well does it return to zero when you take it off and put it back on? I asked C-More these questions and was told that the product is for people who carry a regular Glock in a regular holster and want to have a laser. It won't be super-fast to draw and turn on quickly but, in theory, that is what the back-up sights are for. It is certainly quick enough if you had some prior heads up of something going down and had the weapon out. As for repeatability, I was assured that it holds its zero even with multiple cycles of off and on the gun.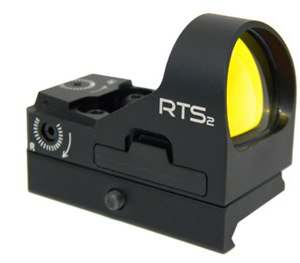 It could work for a bedside gun as the concept is simple and it won't get in the way of a weapon mounted light while still providing an aiming beam. Time will tell how popular it will get. I did find it interesting as I had never seen anything like it before.

Request product info from top Police Firearm Accessories companies
Thank You!