SHOT Show 2017: Hiperfire says two-stage triggers are for creeps
Hiperfire has made a name for themselves in the 3-gun arena
---
I chatted with Terry Bender, owner of Hiperfire, about their new full auto triggers for AR-pattern rifles. While not as well-known as that trigger maker that starts with G, Hiperfire has made a name for themselves in the 3-gun arena, where some of the fussiest shooters hang out. Lena Miculek is just one of their fans, and Terry says that their buyers won't go back to anything else.
But I'm getting ahead of myself. Hiperfire started life when Terry designed a 50-cal semi-auto rifle and approached investors. While they were hesitant to fund yet another 50-cal, they liked the trigger and asked if it could be adapted to work in an AR. Terry made it happen and the single-stage AR10/AR15 Hipertouch enhanced duty trigger (EDT) fire control group was born.
Today's line of ten single-stage products also includes the 24 series and the Eclipse. These triggers are unique in that a patented adjustment system uses small replaceable coil springs and a movable trigger shoe to create 15 different trigger pulls.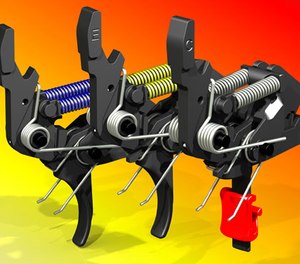 Terry says that two-stage triggers are a compromise since the first stage is just making up for trigger creep. His top of the line triggers have virtually no creep at all, so as soon as your finger is on the trigger you are at the second stage of a traditional two-stage trigger. This provides for a much smooth pull leading to more accurate shots. The MSRP for Hiperfire's semi-auto triggers run from $89 to $275 and spare springs are available.
Full Auto is on the Way
And that brings us to their new full-auto triggers, which are based upon two proven designs already known to LE and the military; the Enhanced Duty and 24 series. The only differences between the semi- and full-auto triggers is that the trigger frame has been modified so that a sear extension can rest directly on the selector. Pricing is yet to be determined and the made in USA products should be shipping in May.
But Wait, There's Still More!
During my firearms instruction, I find that my students gain a much better grasp of trigger control if they can see exactly what the fire control group is doing. It makes it much easier to explain how everything works. So I was excited to see HiperShot's cutaway demo unit. The Hipertrain works with any AR fire control group and can be used for demonstration or muscle memory development since you can dry fire to your heart's content without breaking anything.

Request product info from top Police Firearm Accessories companies
Thank You!