SHOT Show 2017: Modernize your AR with Daniel Defense
If you already have any DD patrol rifles, you are eligible for free training
---
In this article, PoliceOne's Todd Fletcher cautions against building a "Frankengun." His definition is a rifle built by a department armorer or individual hobbyist using parts that are purchased from a variety of sources. But not every department can afford to buy even a handful of patrol rifles, much less one for every car.
Joe Marler, Joseph Scull, and Dave Steinback from Daniel Defense (DD) took us step by step through building a modern patrol rifle out of an older or confiscated AR at low cost using their parts and rail system along with a Geissele fire control group.
Now while this sounds like you are building a Frankengun, you sort of aren't. What you are doing is modernizing an existing platform that you already have, using existing resources, and saving money in the process. And as the DD staff showed, modernizing an AR is not that difficult if you have the right knowledge, instructions, and tools. If you already have any DD patrol rifles, you are eligible for free training; all you need to do is pay your own expenses.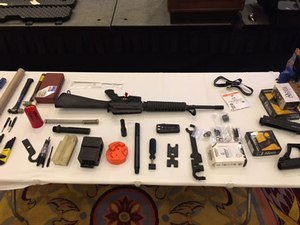 While I won't go into detail, parts which can be individually swapped out to modernize an AR include the upper receiver, buffer tube (using a carbine length for better maneuverability), buffer, buffer spring, stock, front sight/gas block, handguard (replace with a rail system), and fire control (hammer and trigger). If you are on a tight budget, prioritize your replacements. If they are worn out, you should replace the lower receiver, lower receiver parts, barrel, gas tube, and the bolt carrier assembly. If a carbine spring is shorter than 10-1/8" then it needs to be replaced too.
If you decide that this is for your agency, get trained and get the right tools. By buying all your parts from the same manufacturer, you know that they should work together, giving you a modern, reliable patrol rifle that is only part Frankengun.

Request product info from top Police Firearm Accessories companies
Thank You!