Properly mounting red dot sights
The first step is understanding the forces that act on an RDS
---
There are plenty of articles on the benefits and issues surrounding RDS on pistols, but few on how to properly select and mount a specific sight to your firearm. Unlike just about every long gun's Picatinny rail, there is no standard for pistol-mounted RDS.
Because early manufacturers each chose a different footprint for their RDS, Glock Modular Optic System (MOS) pistols come with four adaptor plates to allow mounting of the most popular footprints:
Eotech, Doctor, Insight, Meopta, Vortex;
Trijicon RMR;
C-MORE;
Leupold Delta Point.
While other brands may match one of these footprints, there are a whole lot more RDS for which a stock plate isn't available.
If you want to mount an Aimpoint Acro P1 or SIG Romeo Zero on a Glock MOS slide you need to buy the Aimpoint or SIG adaptor plate in addition to the sight. Many RDS manufacturers sell adaptor plates that will support their sight on popular RDS-capable firearms that don't have a plate available from the firearm manufacturer. But what if you want to mount a RDS on a pistol that isn't cut for a RDS in the first place or if an adaptor plate is not available for a slide that has an incompatible cut?
Physics
Before we go any further, we need to understand the forces that act on a RDS.
In the September/October issue of American Handgunner, an ad states that a 1911 slide develops nearly 2000 Gs when fired. If you look at RDS adaptor plates or manufacturer slide cuts, you will see two or more machined bosses that fit into cutouts on the RDS. It is this metal and not the two tiny screws that keep the RDS in place. What this means is that you cannot take a non-RDS slide and machine a flat cut and drill holes for the RDS mounting screws. Without bosses to take the G forces, the screws will shear off and your RDS will either launch into your forehead or downrange.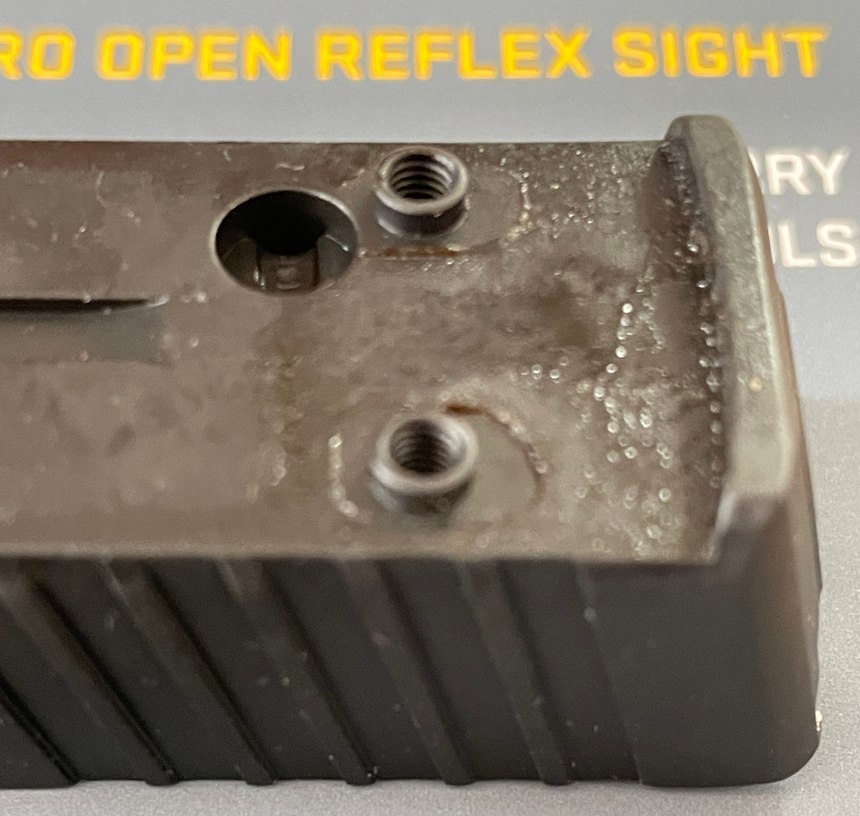 The other issue with mounting a RDS on a firearm not designed for it is that the slide spring is tuned to the mass of the slide. If the mass or balance of the slide changes substantially, that may lead to your firearm jamming or not going fully into battery. Do some research to see if others successfully have mounted a RDS on whatever firearm you are considering and what loads they use with it.
Because Glock slides don't need to be fitted by a gunsmith, there are several companies which market drop in aftermarket slides for them with various RDS cuts.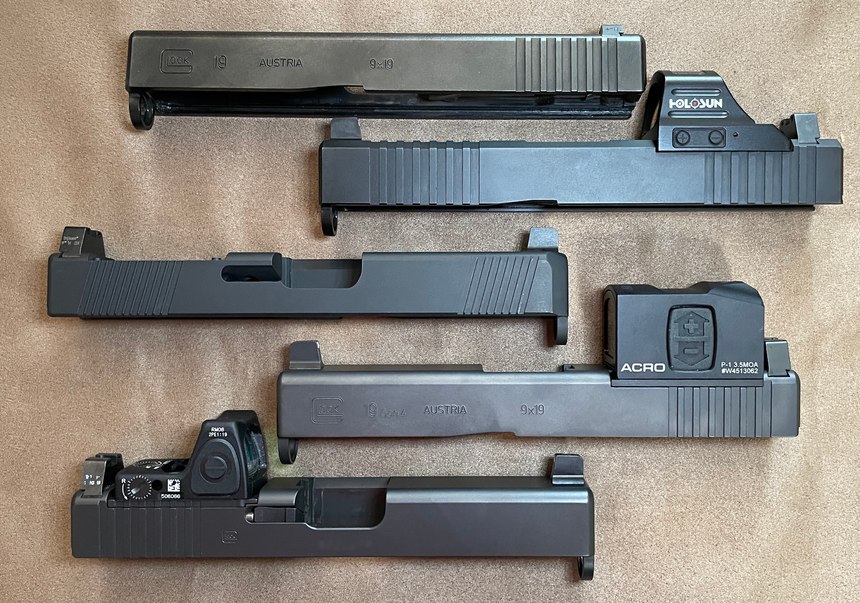 If you have a firearm that uses a fitted slide or barrel, then you either have to send the slide in to have it properly cut by an expert or you can send your frame in to have a new RDS-cut slide/barrel fitted to it. Do your research so that you don't get back a badly machined hunk of metal.
It is personal preference, but I prefer to keep my original slide in its factory state and buy a replacement slide so that I can go back to the original configuration if needed.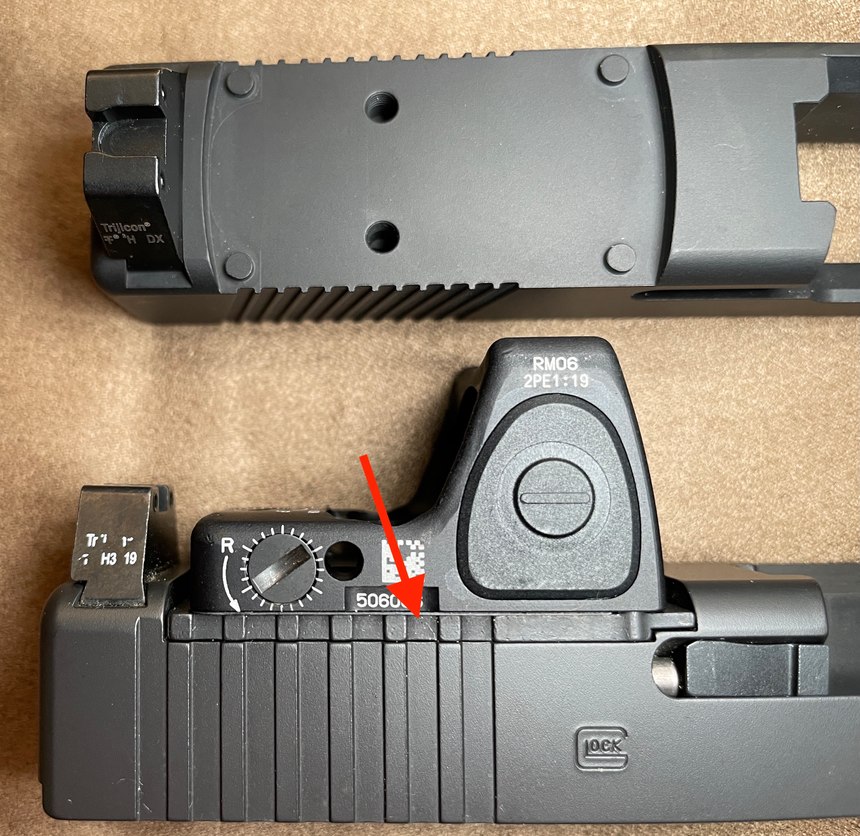 Mounting the RDS
Once you have the sight and the proper slide or adaptor plate for it, the last part is getting it mounted. As I said above, usually two tiny screws, often Torx drive, are used to mount the RDS, but your kit may come with 4 or 6 screws. Why so many?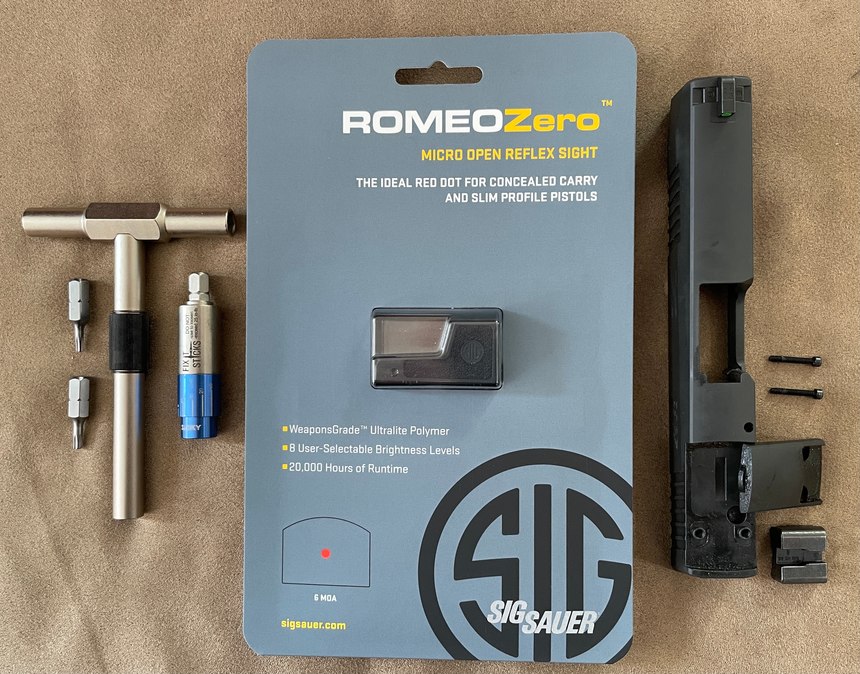 This is a good time to read the mounting instructions carefully. Additional screws may be included for different uses. It could be that a shorter screw goes on the ejection port side and a longer screw goes on the non-ejection port side for additional strength. Or different screws are designed for specific firearms or adaptor plates. Using the wrong length screw could either not properly secure the sight or could interfere with the firearm's action.
Once you have selected the correct screws for your firearm, using a drop of thread locker is a good idea but use blue Loctite or its equivalent and not red Loctite or another permanent thread locker unless you never want to remove the sight – and many sights need to be pulled to replace the battery.
The last part is tightening the screws. There is a fine line between properly securing the RDS to the slide and shearing off the screws leading to an expensive fix. The manufacturer usually will include the torque specs in the mounting instructions. For example, SIG specifies 9 inch-pounds for the Romeo Zero and Trijicon states 12 inch-pounds for the RMR.
How do you ensure that you have the right torque? You can go from experience and make the screws "very snug, but not excessively tight," or you can use a torque wrench. I use a kit from Fixit Sticks that has multiple fixed torque limiters along with the bits required for most gunsmithing where an inch-pound torque wrench is needed. I also added a variable torque limiter to my set. Fix It Sticks has a torque specification page on their website listing the most-used settings for firearms.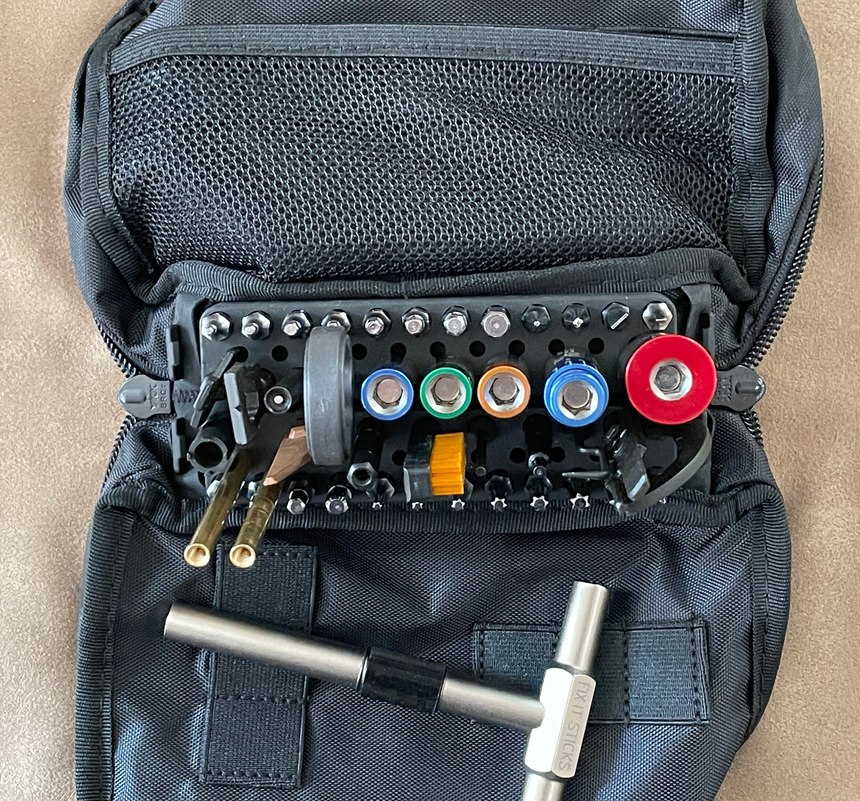 Summary
Once you have decided you want a RDS on your pistol, you need to determine which RDS you want, what footprint it has and whether or not it can be mounted on your firearm directly or with an adaptor plate.
If the footprint is not compatible with your firearm, you may want to choose a different RDS, look for a compatible drop in slide, have a new slide fitted to your firearm, or have your own slide cut by a competent machinist. Before fitting an incompatible RDS, do some research to see if anyone else has done it before and if it affects the reliability of the firearm.
Decide if you want to replace the stock sights with suppressor-height sights that you can co-witness with the RDS and will be useful if the RDS fails – check out this article for more information.
When you are ready to mount the RDS, ensure that you are using the proper screws, thread locking compound and torque. Take your time and don't make guesses. If you have to, seek out expert advice and be wary of online videos that may not come from a trusted source.
And finally, after you mount an RDS on your pistol, train with it like your life depends on it. According to Scott Reidy, director of training at SIG Sauer Academy, training is mandatory, and he recommends a minimum of two days of training before you carry a firearm with a RDS. His train-the-trainer agenda can be found at sigsaueracademy.com and includes a substantial number of drills pertaining to variable lighting, down optics, barriers and holdover/offset due to the optic.
For more information about how to buy firearms optics, download this Police1 guide.

Request product info from top Police Sights and Scopes companies
Thank You!