SHOT Show 2014: Meprolight's multi-function sniper's riflescope
---
By Police1 Staff
Meprolight, a manufacturer of electro-optical and uncooled thermal sights and devices, fire control systems, LRF, and night vision solutions, is introducing its multi-function sniper's riflescope at SHOT Show.
MEPRO MESLAS, the first fire-controlled sniper's riflescope 10x40 the company has introduced in the U.S., is a compact, lightweight, programmable, multi-function system that incorporates a single-pulse laser rangefinder operating in an eye-safe spectral range (invisible to night vision devices), a sniper's telescope, and a fire-control computer.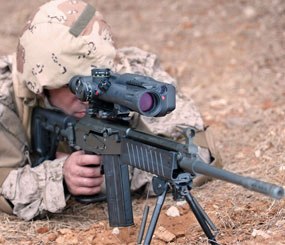 Its capabilities include automatically calculating elevation angles according to the ranged target accurate adjustability, as well as a tolerance for shocks, vibrations, and other environmental conditions. It offers optional measurements of temperature, humidity, and axis angle sensor for ballistic calculations.
Meprolight is also showcasing the MEPRO M5 Red Dot Weapon Sight and Self-Illuminated Tritium Night Sights.