What I learned from attending a red dot sights train-the-trainer course
A 2-day course from NLEFIA shows why your department should adopt RDS for duty pistols
---
Red dot sights (RDS) are becoming a crowded market with plenty of offerings from multiple manufacturers. 
Some agencies may think the technology is the whizbang upstart on the block and not worthy of much attention. The reality is, RDS can potentially improve multiple areas of concern regarding officer-involved shootings. 
I recently attended a two-day, instructor-level course on how to implement RDS into an agency. The course was taught by the National Law Enforcement Firearms Instructors Association (NLEFIA). The NLEFIA instructors spent 16 hours teaching firearms instructors how to implement and train their officers on the use of RDS. I found the class to be of excellent value.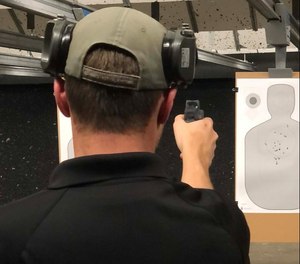 WHAT'S BEHIND THE TRANSITION to red dot sights in law enforcement?
Some administrators may still be wondering if there is any advantage in switching to RDS. This is a valid concern, though it is answered best by someone who teaches handgun skills. 
With the advent of iron sights, we moved away from an almost instinctual method of aiming. Before this development, we relied strictly on hand-eye coordination, pointing bows, spears, even slings with a powerful target focus. This means we used to only look at the target when we fired a projectile. Modern sights require us to put our targets in the background and focus on the front sight. RDS revert the order to the way of old.
Now, shooters using this modern technology must see their target clearly and superimpose the red dot over it before firing. You don't look at the dot – you look at the target but see the dot over it. While numbers are still being collected on this relatively new (to law enforcement) technology, target focus should create some demonstrable benefits like fewer mistake-of-fact shootings, improved accuracy, quicker follow-up shots and better situational awareness (shooting with both eyes open). On top of that, it's often easier for aging eyes to attain sight picture.
While many things are the same when it comes to shooting fundamentals, training back into a target-focused method takes some doing and some challenges come with achieving this goal.
NLEFIA PROVIDES EXPERTISE
When you implement new technology you need training. This is particularly important for something as critical as officers using firearms. NLEFIA recommends a minimum of 16 hours for officers to transition from iron sights to RDS. Law enforcement leadership considering the change would be wise to send their instructors to an RDS course. When these instructors get back, they can craft a program that will smoothly switch their entire force to the new technology.
In my course, I was fortunate to be paired with Commander Paul Gregory, my POST handgun instructor and fellow Police1 contributor. Together we worked through some of the challenges that come with switching to RDS. 
One of the first was learning the technology, then zeroing the optic at 10 and then 15 yards. While this wasn't too onerous, simply finding the red dot once you present your handgun was the next challenge. The NLEFIA instructors drilled us continually, running us through hundreds of repetitions of drawing from the holster and firing after seeing our dot over the target. The most common mistake students make is holding the muzzle too high upon presentation.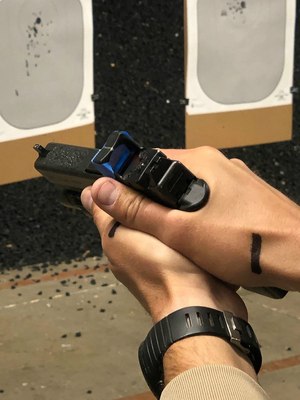 Once we had the general idea of how to find the dot, we learned drills that divided our attention, forcing us to look, move, look, reacquire sight picture and fire. 
NLEFIA preaches three pillars as the foundation of their RDS training and their drills are focused on instilling and reinforcing these: 
Finding the dot during presentation
Finding/recovering the dot from shot-to-shot
Manipulating the slide
Number one is pretty challenging and takes a lot of practice to consistently present your firearm with the dot on target. The second one is not as bad as long as your grip is pretty solid. If recoil is minimal you will pick up your dot quickly after each shot. The third pillar is pretty easy because you actually have something more to grab now, though NLEFIA gives you a few options to see which you prefer.
CONSIDERATIONS
Everything has trade-offs and RDS is no exception. The instructors taught us about these and how they have addressed them. NLEFIA teachers have a wide breadth of experience, are police officers and competition shooters, and travel across the US and Canada teaching this material. They leveraged that knowledge in our class. 
Parallax is an actual issue with RDS though it isn't nearly as bad as you might think. The instructors taught us how to address this. We also delved into a lot of areas I had not considered:
What happens if the front of your optic is occluded with mud, blood, rain, or something else? 
What if the entire optic is blocked or it shuts off?  
What about brightness settings? 
We used a great indoor range at the Fort Collins Police Department and had ample light control. We shot in the light, dark and dim conditions, used flashlights and weapon lights, and even had emergency lights flashing behind us to see how they affected the RDS. All of this experience enriched the class as the instructors could then address questions from their students later.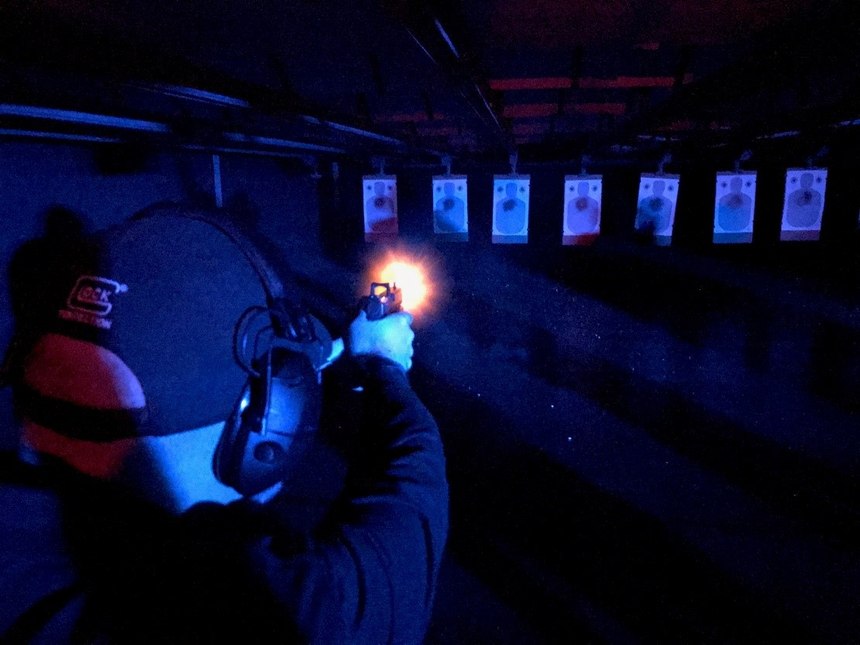 FIND A NLEFIA RDS COURSE NEAR YOU
If your agency is considering the move to RDS there are a lot of things to consider. You'll need to look at physical items like optics, mounting options, holsters, armoring and what firearms to integrate them with. You'll also want to develop policy, training and requirements for the implementation and use of red dot sights. In the class, NLEFIA instructors Joshua Anderkin and Matthew Chuey answered tons of questions, gave out contacts for gear and even shared resources on research some major agencies have conducted on RDS. There is no need to reinvent the wheel.
Special thanks to NLEFIA and Sgt. Paul Wood of Fort Collins Police Services for hosting the RDS course.

Request product info from top Police Sights and Scopes companies
Thank You!