3 reasons cops should check out the new Colt Cobra
Originally released in 1950, this gun was one of the most coveted back up revolvers for officers
---
Colt just announced the release of the new Colt Cobra in .38 Special +P. This is a double action six shot pocket-sized revolver in satin stainless steel. Colt revolvers have always been called legendary. The new Cobra continues this legend. 
Actually, this is a new (old) Cobra. You see, this gun was originally released in 1950. For decades, it was one of the most coveted back up revolvers for officers like Rick Grimes, who carries a Python.
Why did many officers carry Colts as backup to their duty guns (including me)? There were three reasons. First, most snubbies carried five rounds, Colt pocket guns carried six. Second, Colt used leaf springs in their actions, rather than coil springs. When coil springs are compressed, their relative pressure can increase, or "stack." Leaf springs give a constant trigger pressure throughout the stroke. It's part of the legend. Third, Colt revolvers always pointed better when they were drawn from the pocket.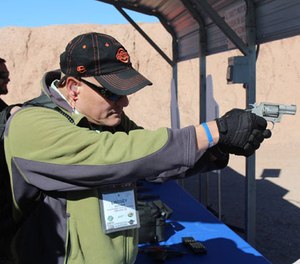 The new Colt Cobra is a true Colt design, except the original Cobra was a lightweight alloy gun. This is a 25 ounce steel one with a fiber optic front sight, more like the (third series) Detective Special, which I carried. It does have the non-stacking, smooth double action trigger, which made me long for another Colt.
I ran some full cylinders of DoubleTap .38 jacketed rounds downrange. The new Cobra has a slightly set back soft rubber grip that soaked up recoil. The trigger area and action is definitely glove friendly and has the "old school" Colt smoothness. Colt calls the new leaf spring its LL2 Linear Leaf Trigger System. They spec the double action trigger at 7.9 pounds.
I do believe this will be my next new wheelgun.
MSRP is $699.

Request product info from top Police Firearms companies
Thank You!