3 winners at SHOT Show industry day at the range
I found three products for you that really shifted my perspective
---
Greetings from SHOT Show 2022. Industry day at the range was incredible and unusual. First the unusual part: While there were plenty of people in attendance, there wasn't half the number of attendees I expected. Several prominent companies were also forced to withdraw their attendance at the last minute. The most noticeable absence was Springfield Armory. I really, really, wanted to shoot the new Hellion.
If you are not familiar with the extreme demands of SHOT Show attendance, don't judge those who had to pull out. I know many of the product reps from these companies, and they agonized over these decisions. I was talking with some experienced firearms reps, and we coined a new term. Many of the other companies are attending "on paper only." This week will be very interesting.
Now the incredible part. I found three products for you that really shifted my perspective. Let's see if they shift yours.
If you're not familiar with Rubber Dummies, the company makes a three-dimensional rubber torso and head-shaped target. This target, now a fixture on many law enforcement ranges, provides officers with different engagement angles and therefore more realistic scenarios. I use them and strongly recommend them.
I know that motorized target systems are not new, but this one is an improvement. It is made with AR 500 steel and can take a rifle hit in areas that would ordinarily generate a department letter and an ENDEX. It is powered by dual lithium batteries but can run independently on a single battery. The drive motors run independently.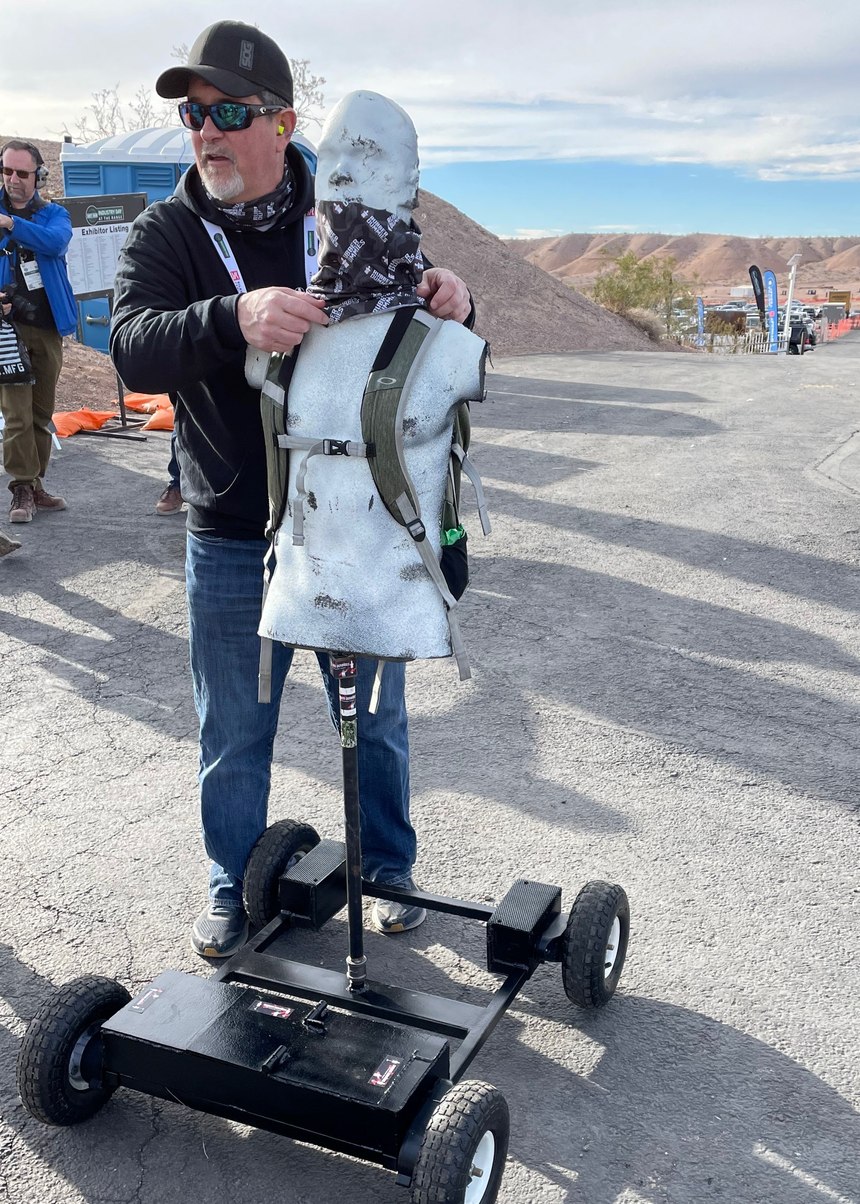 Robert Ruiz, the designer and instructor at Rapid Fire Training demonstrated the system, which is so new it doesn't have a name. It is quick - think charging suspect quick - and turns on a dime, without pitching over, even on uneven surfaces. It also quick charges and is good for 4-6 hours of range time.
The MARS Orion is an AR-10-like platform that shoots like no other battle rifle I have ever known. At first glance, it looks like a typical piston AR-10, complete with a side charging handle. It is neither typical, nor is a piston gun.
I would have passed up the MARS display, except Gene Whisenand, one of our photo guys, grabbed me and said, "You gotta see this." He then loaded up a magazine of .308 and hammered the 200-yard target, almost rapid fire, without muzzle jump. Alex Frampton, another guy behind the lens, said, "It's kind of a push-pull recoil," describing the reciprocating action where the barrel and action slides towards the shooter on a chassis, then returns to its original position.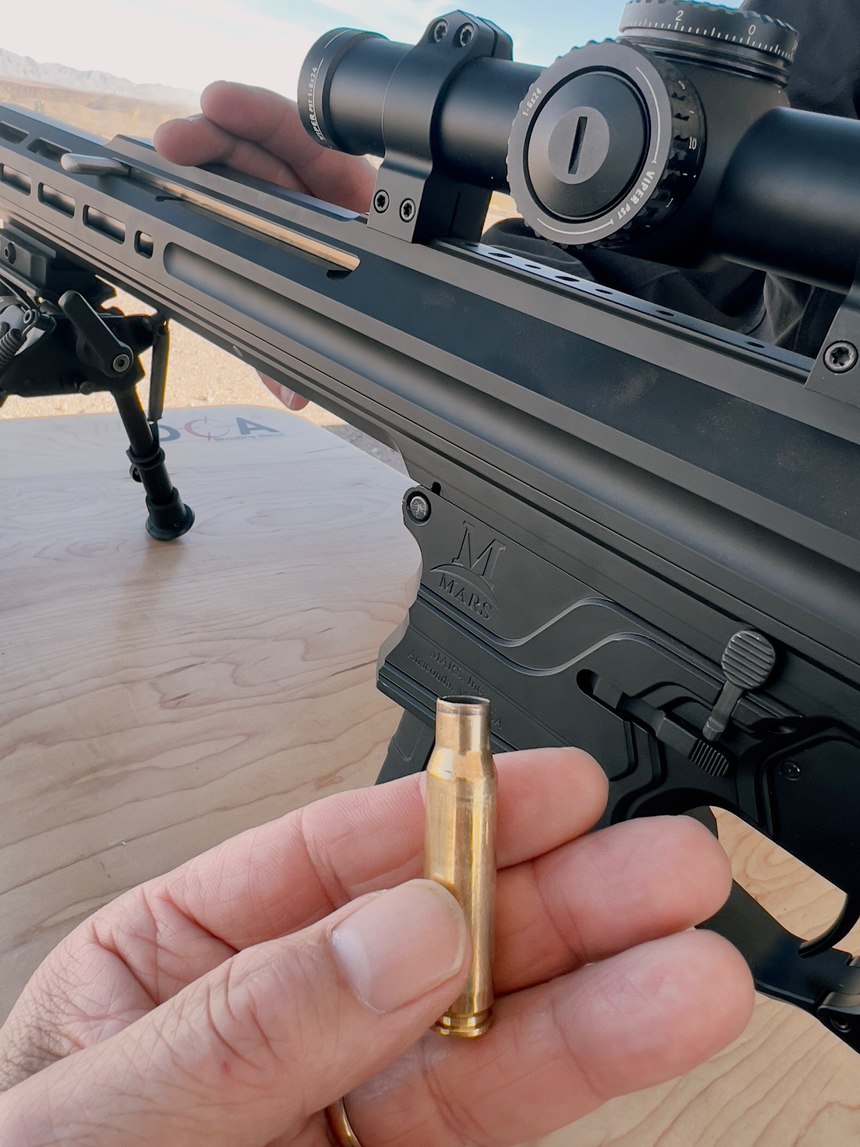 The application of this concept is a smooth cushioning of the action, despite the fact that we were putting Norma Tac .308 rounds on a target downrange. There is also an unusual phenomenon when this action runs. The ejected brass comes out clean, looking almost brand new. The MARS team was running this gun all day without cleaning it. There were stacks of empty cartridge boxes next to the Orion.
The MARS Orion uses standard spring compression for the action, but the chassis that connects the barrel reciprocates into a scissor-like lockup. It is lighter than some .223 guns, despite the meager 8 lbs.
Let's connect to LE use: It is right in the middle of the scale when it comes to the weight and size of an AR-10. It can put 150-grain bullets downrange at 2600fps, accurately on target, one bullet after another.
The FoldAR Double FoldAR is a full-sized, full-feature AR-15 that has two hinged folds, designed to stow an AR-15 into a pack the size of a large IFAK. It uses a unique upper design that hinges at the BCG and barrel extension, and the buttstock. The front hinge mechanism uses a positive latch that recesses into the handguard. Once deployed, it is almost indistinguishable from a standard AR-15. The manual of arms is identical.
There is no learning curve for the FoldAR, and nothing changes as far as accuracy and durability. It uses a standard lower and handles any standard accessory or component for an AR.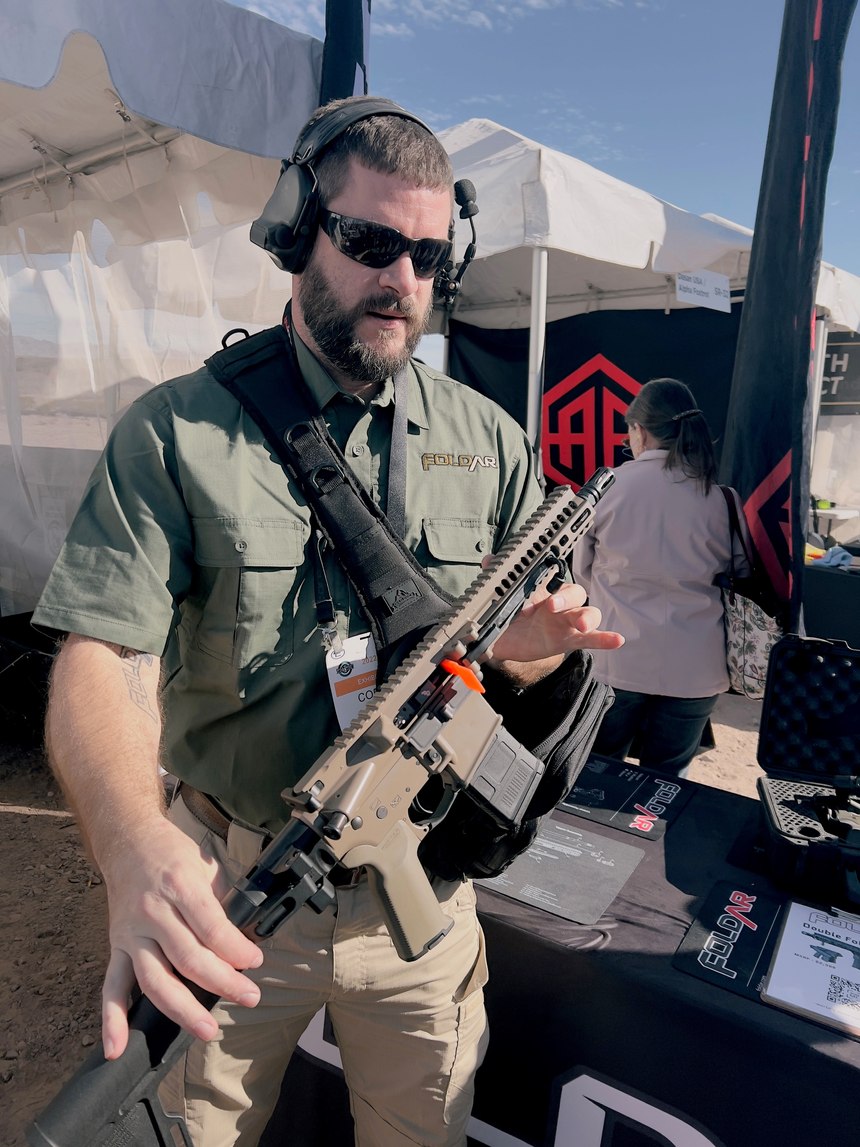 Corby Hall of FoldAR demonstrated how quickly the system deploys from a shoulder pack. We wanted a video of this deployment and got our phones out. Before I pressed "record," the gun was "hot." It folds down that quickly as well.
For those of you who are AR-15 armorers, you should see how they did the gas tube. This thing is cool.
Would this be something that could be used for LE? You bet. I know you're thinking asset protection, however, this is an excellent low-profile tool that an officer can wear as a sling pouch, and put in service as the tactical situation changes. It also may be a great solution for pilot survival kits and armored vehicle drivers, whose equipment is generally stowed.
These are the three products that grabbed me as I was walking around SHOT Show 2022 Industry Day at the Range. I have some less lethal and ammunition reports to share with you soon.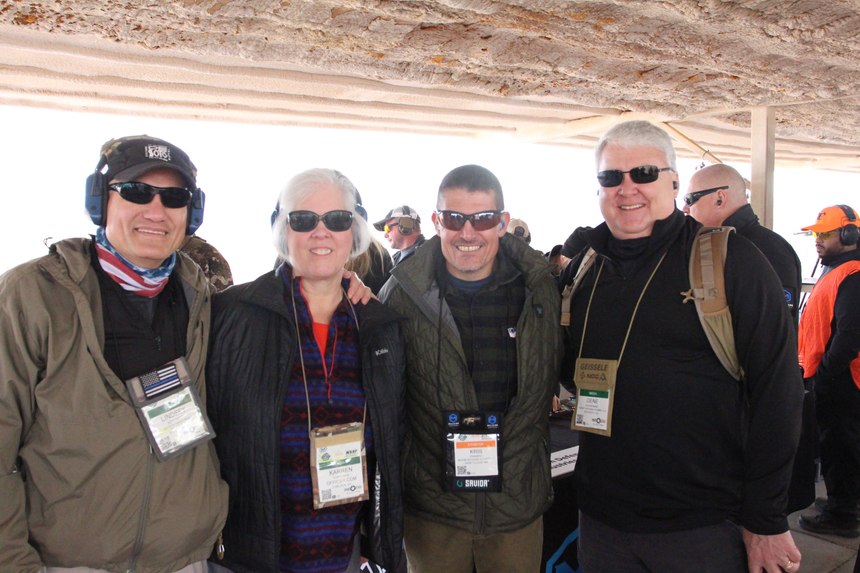 Request product info from top Police Firearms companies
Thank You!