6 things to know about the Glock Gen5 G17
The latest version of the G17 offers the reliability you expect from Glock, plus some upgraded features
---
In late August I covered the introduction of two new Glocks from the Gen5 line, the G17 and G19. I wanted to spend more than a casual weekend with the weapon for an in-depth review, so Glock kindly sent me a G17 for that purpose. I have spent over a month with the G17 and the results are outstanding.
First impressions of the Glock G17
While the new G17 looks largely the same, there are some notable differences.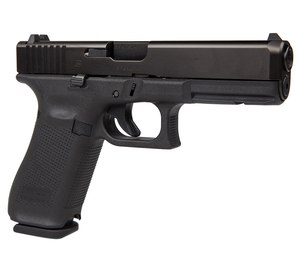 The finger grooves are gone from the grip and the muzzle is beveled down. In addition, there is a new slide stop on the right side of the weapon. This does not automatically make the Glock fully ambidextrous, but by switching the mag release over to the right side, which is a carryover feature from Gen4, it can be.
Finally, the new Glock is über black. Gone is the nitride finish of old in exchange for a new coating called nDLC, which is supposed to be even tougher than the previous iteration. The accessory rail, sights and backstrap system all hail from previous generations.
Testing of the Glock G17
I've learned that Glocks need a break-in period of several hundred rounds before you make any judgements. It's similar to working with a new partner – you don't know if you're going to like them until you see them perform under stress. I stressed this gun, enlisting the help of several of my fellow firearms instructors and students to help me in this endeavor. It did not fail. Not once, after close to 1,000 rounds.
This is no surprise for those familiar with Glocks; however, running various types of ammunition from different shooters through different drills, I began to notice some trends:
1. Trigger is smoother
People love the trigger. The internals have been changed here and there, but the serviceable portion of that knowledge is the trigger is smoother. The transition from trigger reset to follow-up shot is a little quicker. With practice, this levelled out for me and I was able to not only get used to it, but take advantage of it.
2. Flat shot
I could not believe how flat the G17 shot even compared to the Gen4 I carry on duty. Muzzle flip is the enemy of anyone who vies for accuracy from multiple rounds. After you pull the trigger, you have to contend with recoil. It tends to throw your sights off and you have to spend time establishing sight alignment and sight picture again. This Gen5 G17 shoots flatter than any production pistol I have ever shot before. Follow-up shots were quick and authoritative. Even running the gun hard, I was able to dump rounds downrange without the typical spread I would expect in my shot group. Instead of a shotgun blast pattern, a large, ragged hole began to form. Other shooters noticed the same thing and were impressed.
3. Ambi-slide stop lever
I don't care about the ambi-slide stop lever. I don't utilize a technique that involves it, and I don't teach people to use one, whatever side it's on. But I applaud Glock for evolving their product and realizing that law enforcement isn't their only market. The finger grooves on the grip never bothered me, but many people are happy with their demise. I did have people who use rigid holsters (Kydex, plastic) report the tapered muzzle helped with re-holstering.
4. Flared magwell
Some other observations from multiple shooters related to newer features of the Gen5. The magwell is amazing. If you've ever been on the fence about whether a flared magwell is worth looking into, let me assure you, it is. It is surprisingly subtle. It's not like you're driving a motorcycle into an airplane hangar, but the difference is definitely noticeable.

5. Quicker reloads
Reloads are quicker and more solid. A drawback of Glocks, if you run your mags full, is potentially not having the magazine fully seat during a reload. This results in the magazine falling out when you pull the trigger instead of the bang you were hoping for. The flared magwell helps ensure good lockup when you ram that magazine home.
6. Orange follower
Another appreciated upgrade is the orange follower in the magazines. These clearly identify an empty mag through the chamber like never before. Additionally, they are visible in the round count "window" in the back of the magazine.
The sights are traditional Glock, they are functional.
Total package
Between seven shooters and five different types of ammunition, the Gen5 G17 had no failures whatsoever. I did not clean the weapon between range days. Accuracy is said to improve with newer rifling in the barrel, but I did not test this specifically. I attributed much of my control to the improved trigger, but my groups were tighter. A co-worker who shot the new model went out and bought a G19 afterwards. He appreciated the fact that Glock Blue Label was available and kept his cost well below $500.
This weapon is ideal for any police officer on the street, particularly because of the 9mm caliber and adjustable grip size. With a total carry package of 52 rounds and at such a light weight (32.12 oz. loaded), the G17 can serve a whole department. With 9mm's recently improved ballistics and controllable recoil, anyone can shoot the pistol effectively.
Glock Gen5 G17 Specifications
Manufacturer/Model: GLOCK Gen 5 G17
Caliber: 9mm
Action Type: semi-auto
Barrel: 4.49"
Magazine: 17 round 
Sights: stock Glock
Weight: 22.26 oz. (unloaded)
Overall Length: 7.95"
MSRP: $599.99, Blue Label $398.20

Request product info from top Police Firearms companies
Thank You!